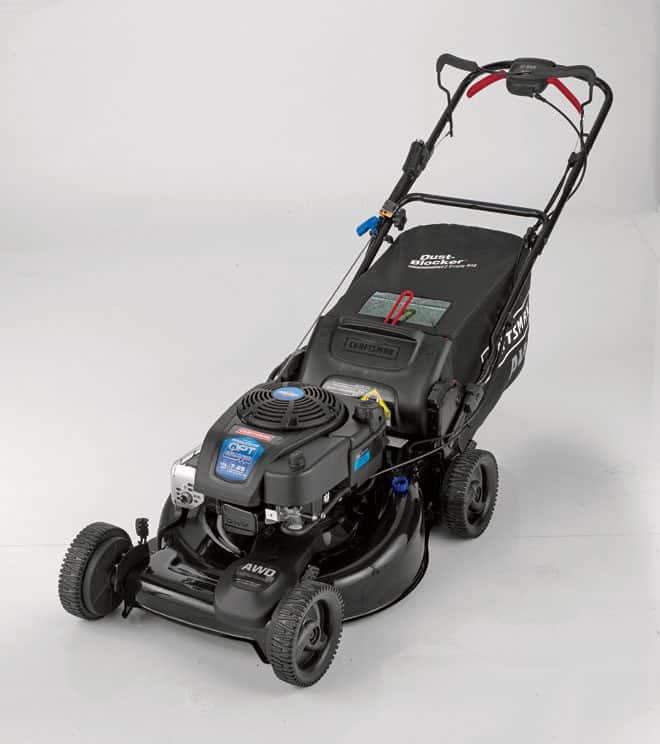 Lawn mowers continue to evolve and two brand stalwarts, Craftsman and Briggs and Stratton, have come together to develop a new quiet lawn mower that solves the top complaint of most operators, a loud engine. The Craftsman Quiet All-Wheel Drive Lawn Mower (also available in front-wheel drive) is so quiet it will allow you to mow day or night with no worries about disturbing your neighbors of family and if you need to have a quick chat with someone you no longer have to turn off the mower as it won't drown out your conversation.
The Briggs & Stratton Quiet Power Technology engine, designed to reduce the sound and vibration, resulting in a quieter, yet still powerful, lawn mower. The Craftsman brand also developed quieter mower blades to further improve sound quality, making this mower 65 percent quieter than a similar Toro lawn mower model (20371).
This mower features a 22″ deck with 3-1 capabilities for mulching, bagging and discharging.
Other features:
All-wheel drive with variable speed lets the mower do the work so you don't have to
EZ Store access for easy removal of clippings
22-in high-performance deck for exceptional bagging, mulching and discharging
D Straight Underbail with overmolded handle reduces fatigue
EZ Deck wash for no-hassle cleanup
2.6 Bu Dustblocker grass bag helps keep dirt and debris away from you while mowing
9 cutting positions (1-1/4-in. to 3-1/2-in) four individual cutting height adjustments for optimal cutting versatility on flat, hilly or uneven terrain
Installed side discharge
Push-button start
8-in. front tires
Weight: 92 lbs.
Available in all 50 states
Protect your hearing and consider the Craftsman 175cc OHV Briggs & Stratton with Quiet Power Technology Engine. It's currently available for $475 on Craftsman.com