We've visited the Craftsman Experience last year to check out their Winter Wonderland and help build the Ultimate Sleigh so we were excited to make a return trip this summer and participate in their first ever DIY Blogger Summit. It was an amazing event and at one point I feared for the lives of a few bloggers which always makes for an exciting trip.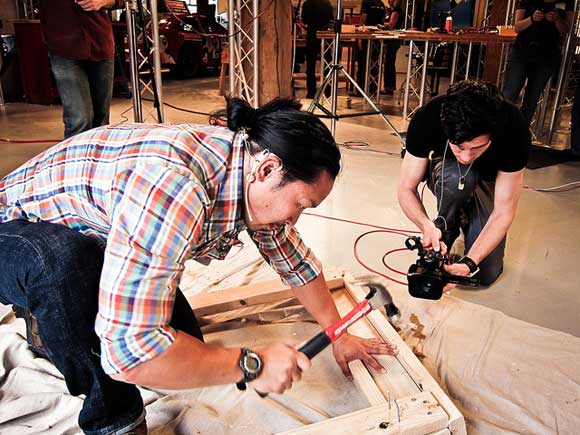 photo: courtesy of C.C. Chapman
Craftsman invited 20 bloggers of various backgrounds (not just DIY or tool bloggers) to build projects from 5 bloggers including myself. I was honored to be chosen as an instructor but at a loss for what to build, or more importantly teach others to build. I decided to stick with the sawhorses which have been popular this year and hopefully the bloggers would have fun building them.
Another twist to this event was a build-off between the 5 instructors before the event started. We were all asked to build a birdhouse with no restrictions and then the top two birdhouses as voted on by Craftsman Facebook fans would face each other in another build-off challenge at the event.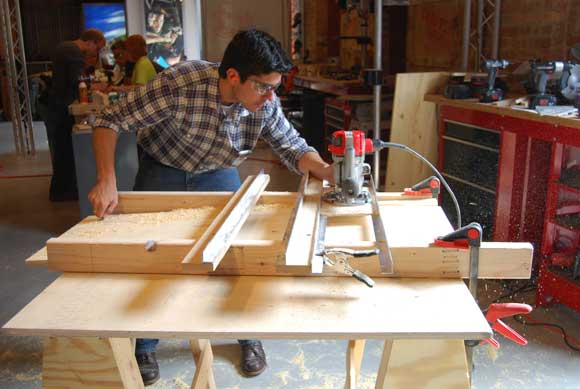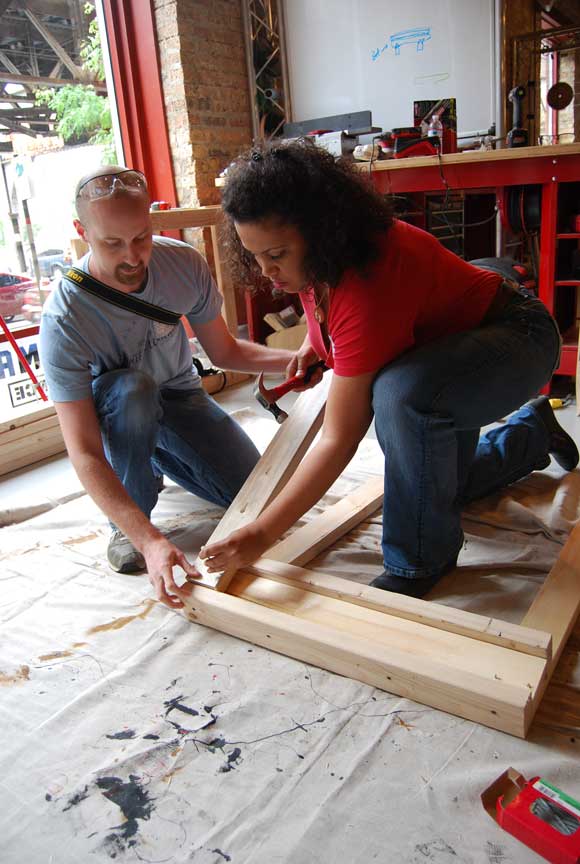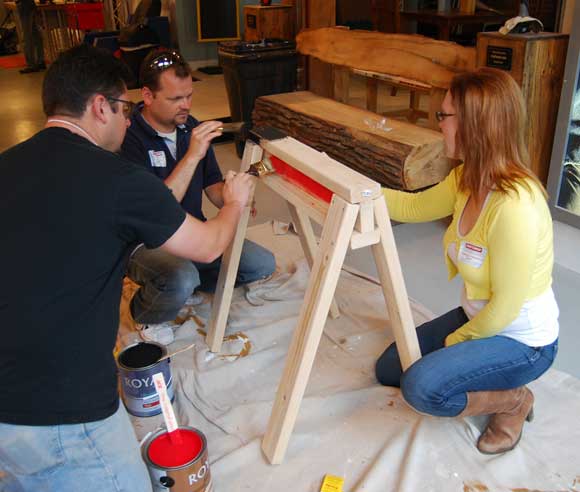 It was a close race between my Modern Birdhouse and my friend and fellow DIY blogger Mike Senese's Secret Surveillance Birdhouse. The two of them couldn't be more different as I went with a clean simple look and Mike took it to the next level with the remote camera and door setup. We both made the top two and faced off at the blogger build-off to build a mystery project in two hours (keep reading for more on that).
I need to mention the birdhouse entry from Holly Conrad who is a costume designer in LA and specializes in costumes of the monster variety as you'd find in video games. Her birdhouse was the least traditional and featured a monster eating through a birdhouse.
Before the final build-off we worked with notable bloggers such as C.C. Chapman, Tanis Miller, Ethan Hagan, Andrew Snavely, Brett McKay, Shawn Burns, Jim Lin, Miss Lori, Mr Lady, Louise Bishop and Tools in Action. They all did an incredible job with the sawhorses and finished them with time to spare. They also painted them and one team in particular come up with a very creative style while another put the sawhorses to good use in other ways.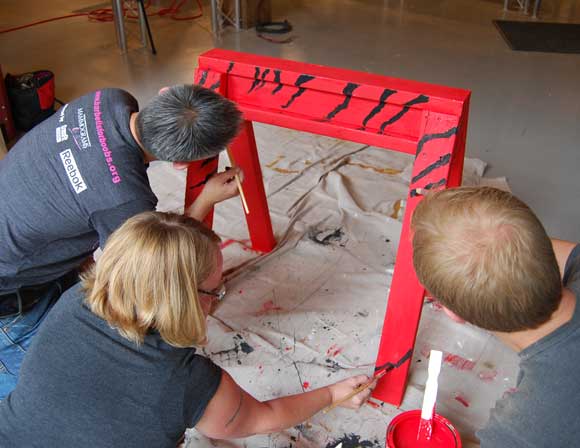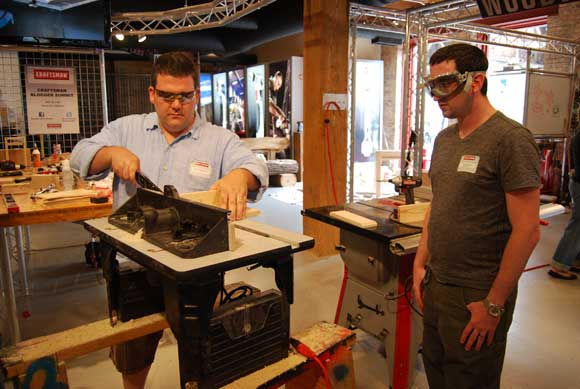 At the end of the day while everyone was enjoying some Chicago deep-dish style pizza, Mike Senese and I were given the task of competing to build the ultimate mailbox. We had two hours to complete the project and the only rules were that we must use whatever materials were available in the studio. Because they shoot projects everyday and livestream them from the Craftsman Facebook page there are plenty of materials on hand and of course any tool you can imagine at our disposal.
We were given a basic mailbox template and they started the clock. With the help of Andrew Nutt who works at the Experience I finished my mailbox on time but because I was rushing I didn't have a chance to take any photos. The final video isn't available yet but you can catch a glimpse of what went down in this teaser trailer from Craftsman.
Mike's an amazing fabricator and gadget guy so I knew he'd come up with something awesome which he did in the way of a mailbox that shreds junk mail (literally). I went lowbrow and came up with the "Monster Mailbox" which fights back. Kids have been known to take a bat to mailboxes where I grew up and if you do that to this mailbox you'd be in for a rude awakening.
First I added armor plating to the mailbox from scrap tin and aluminum. I used the Craftsman auto-hammer to I give my tin roof a "hammered" look and then built a door on the front that when opened unleashed a sharp whip of metal on an unsuspecting snooper. I placed my mailbox on a swivel and and inserted circular saw blades into it so if it gets hit with a hammer it spins around and the blades do damage. Plus I added some throwing stars that were made that day of MDF from Holly Conrad's project that were also flung out when the mailbox spun around.
This was a concept project and not a working prototype but of course the host, Alex Sherman, decided he needed to take a bat to the thing which I guess I was asking for after drawing a bulls-eye on it. It's all on video and again I didn't get a chance to take any after photos because the mailbox never made it that far.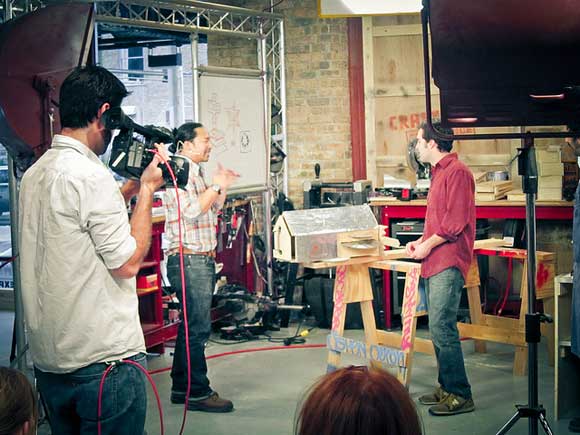 This photo from C.C. Chapman might be the only photo of my mailbox before it was destroyed but it did win the final challenge which I'm still shocked about but it was nice to know I didn't miss out on Chicago deep-dish pizza for nothing.
Here's a teaser trailer of what went down (notice how I slowly walk backwards as he starts to swing).
When the final video is posted I'll share it, but I was truly a little concerned where all of those blades would fly but fortunately no one was hurt and it made for some great entertainment.
The event was a success. I met some great people, build some cool stuff, saw some cool tools and no one got hurt. I'll be back at the Craftsman Experience.
More photos from the event on our Facebook page.
disclaimer: Sears Craftsman has provided travel and lodging but the opinions of this event and experience are solely that of Timothy Dahl of Charles & Hudson which abides with WOMMA Ethics Code, FTC guidelines and social media engagement recommendations.