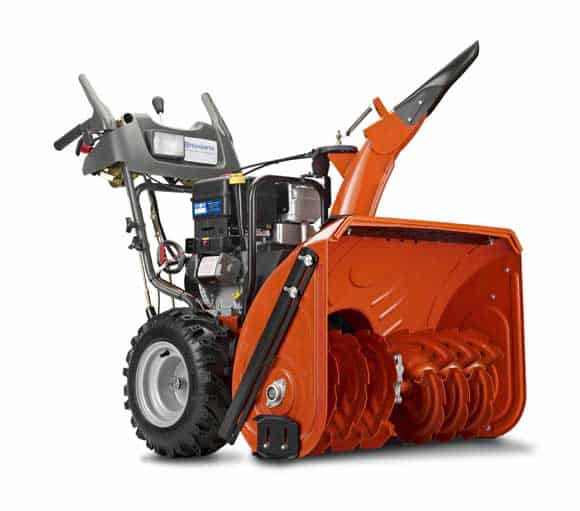 When reviewing tools having a job to take on is half the battle. The constant barrage of snow New York has seen this winter proved the perfect setting to put the Husqvarna 1650EXL snow thrower through its paces. This review goes over the performance, pros and cons.
Hits: Robust power and throwing distance, electric start, hydrostatic transmission and LED light.
Misses: Control design.
Uses: For clearing 18-20-inches of snow on large driveways.
Hits:
When the snow thrower arrived it took about 30 minutes to assemble. The first time out I cleared 6-inches of snow and because of the electric start, the machine roared to life with the push of a button. This thrower launches snow about 30 feet away, clear over cars, mailbox post and fences.
The unit is well designed and easy to use once you master the hand controls. The hand warmers are a nice touch, but not something that makes or breaks the purchase. On the second snow event I pulled the Briggs & Stratton engine to life with just two tugs of the ripcord. Muscling a 30-inch wide machine around is a loosing battle, especially on a slope.
The hydrostatic transmission is smooth and makes moving this monster around the driveway easy once you learn the controls. At every turn the thrower left a fine 1/8-inch thick layer of snow on the ground, fine enough to see the blacktop through it.
At night the LED cast a bright white wide beam on the cute and path ahead. The thrower never clogged.
Misses:
There isn't too much to complain about with this machine. For one backyard test I let the snow ice over to form a 2-inch thick crust over a 5 or 6-inch thick layer of snow. To successfully clear this ice I had to attack it much slower and with a little more muscling to make sure the auger bit into the snow. It was during that muscling that I noticed my one complaint about the design. The left hand lever, which must be squeezed down to move the thrower, is a full 5-inches above the stationary handle it meets. I have large hands but not large enough because I had to lift my left hand clear from the machine to start pushing the lever down, causing the machine to take off before I had both hands securely on the machine. In the wrong setting, the machine could take off on you.
Final Word:
This is one solid machine that is easy to use. Clearing snow will never be fun, but this gets the job done faster on those mornings before work or when the municipal plow buries you in. The thrower list price is $2,300 but right now it's $1,500 with free shipping at Amazon.com.