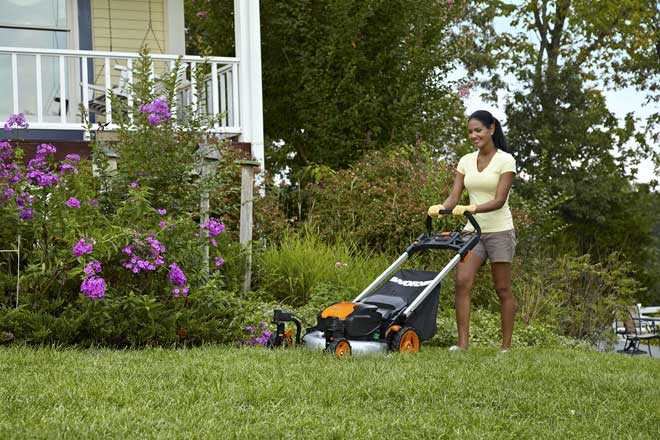 In spring 2015, WORX® is launching two new 56V MaxLithium™, 19 in., 3-in-1 Lawnmowers with Intellicut™ technology; each mower is equipped with two 56V battery packs. The move sends a clear signal to the gas powered lawnmower industry that battery-powered mowers are here to stay and are viable alternatives to homeowners seeking cost-effective, environmentally friendly solutions without sacrificing features or performance.
The WORX 56V lawnmowers feature 19 in. steel decks with premium mulching capabilities. These mowers provide gas-like power performance and mow 8,500 sq. ft. and 9,400 sq. ft. (WG771) on a single battery charge. In perspective, a full-size regulation tennis court is 7,200 sq. ft.
"It's a great combination of power, durability, and runtime for the average suburban home site," said Brandon Martin WORX product manager. "By increasing the mower's battery power and adding superior maneuverability with zero turning radius features, we feel that we have narrowed the gap between our cordless mowers and their gas counterparts."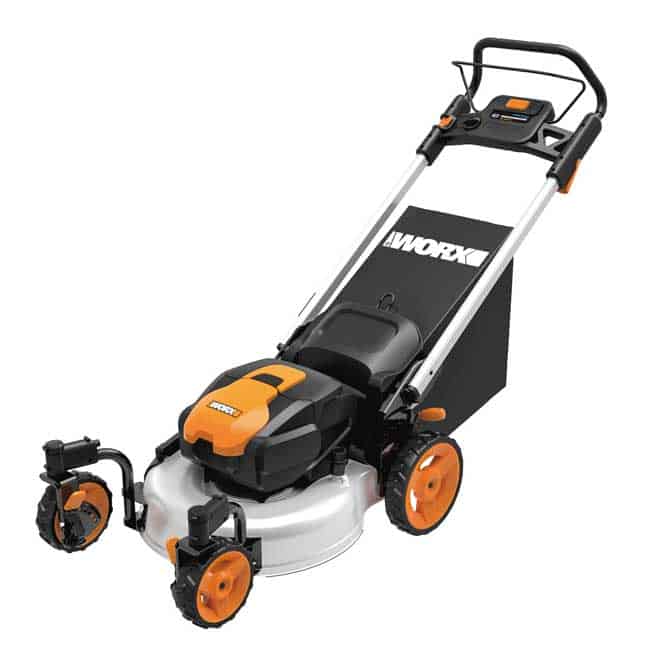 The 3-in-1 56V MaxLithium push mowers give homeowners the option to mulch, bag or side discharge grass clippings. The all new NutriCut™ system features dual edge mulching blades to help provide natural lawn fertilization. Also, the WORX Power Share mowers are equipped with Intellicut, which is a torque-on-demand system that monitors the mower's need for torque. No more bogging down when mowing tall or thick grass. Homeowners simply set the dial to POWER when conditions call for more torque or switch to ECO mode for everyday use.
The durable, 19 in. steel mower decks features 10" high rear wheels and 7" high front wheels. The WORX model WG771 features 360° rotation front caster wheels for exceptional mobility and maneuverability. Caster wheels are commonly used on commercial grade mowers due to their maneuverability and quick zero turning radius. The front caster wheel also features a one-touch locking system that allows the operator to lock the wheels in a straight position to easily mow along slopes and inclines.
Both lawnmowers feature decks with a wash out port. The homeowner simply inserts a hose in the port, runs the mower briefly, and the water's force dislodges caked-on grass for a clean under carriage.
The sleek, ergonomically styled mowers feature a foam-padded comfort handle. The handle is fully-collapsible to provide compact storage, maintenance, or transport. There's no pull cord on the WORX 56V mowers; the user simply pushes the starter button and squeezes the bail. There's no fussing with gas and oil or trips to the service station.
The 56V MaxLithium battery is located in the mower's housing and is removable for charging (90 minutes) or storage. A battery power level indicator located on the upper handle (WG771), as well as the battery itself, helps identify its current charge level. Two 56V batteries are provided with the mower.
The wind tunnel effect of the mower deck's underbelly creates superior mulching capabilities and lift for professional looking results. The deck features seven adjustable wheel height positions from 1-1/4 to 4 in.
The 56V mower includes two 56V MaxLithium battery packs, a 90 minute charger, mulch insert plug, and a 1.4 bushel grass bag. Both mowers are covered by the WORX 3-year warranty.
The WORX 56V MaxLithium 19 in. 3-in-1 Lawnmowers (WG771, $499.99) and (WG772, $399.99) are available at www.worx.com and other retailers.
Other outdoor products in WORX 56V Power Share program include:
• 56V MaxLithium Trimmer (WG191, $199.99)
• 56V MaxLithium 24 in. Hedge Trimmer (WG291, $199.99)
• 56V MaxLithium 16 in. Chain Saw (WG391, $299) October 2015
• 56V MaxLithium Blower (WG591, $199.99) August 2015