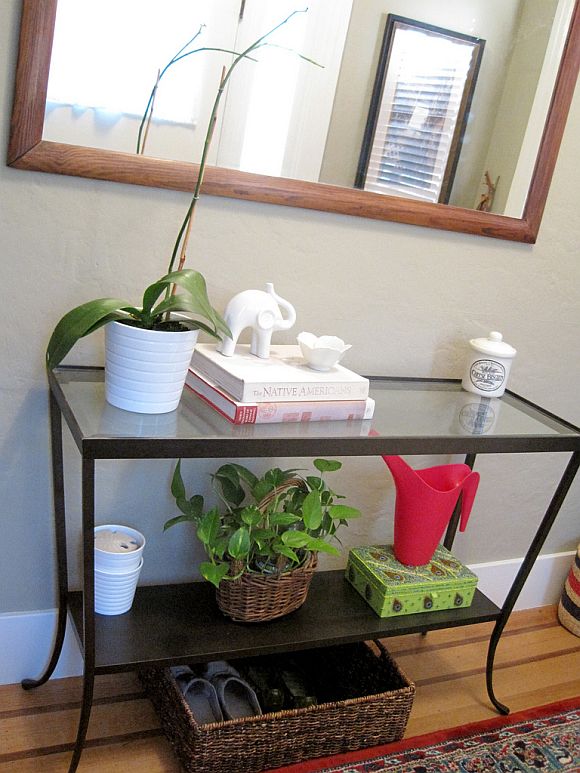 A home's entryway can be an incredibly flexible space — and depending on your home, the size and shape can vary widely. Yet whether you have a nook or a sizable space, we've got some tips and tricks for adding aesthetic appeal and organizational capabilities to this important yet sometimes neglected area of your home.
As the name implies, the entryway should serve as the focal entrance point for your home, so feel free to add paint, lighting, wallpaper or any other decorative touches to create an initial visual impact.
A small table and lamp are great additions that create an eye-catching tableau and are also functional: the lamp adds a warm, welcoming glow, while a table can be an ideal catch-all for keys, mail and other related items. Add a decorative bowl for keys and change, and a small mail sorter to keep mail separated by recipient.

Unless you typically enter through a garage and mud room or laundry room, the entryway also serves as a catchall for stuff — and in colder weather, that means coats, scarves, boots, gloves and hats.
Consider a couple of wall-mounted coat racks on which to hang garments and scarves. It's increasingly easy to find an ottoman or bench with built-in storage, which are both great ways to stash clutter out of sight.
You could also build a custom storage bench, an ideal solution especially if you have a nook in which the bench could be installed. The great thing about building something yourself is that it can be customized to fit the space and your needs and is a relatively quick project–you could accomplish it over a weekend.
Other entryway additions include a striking light fixture, a piece of art or a large mirror and a rug. Of course, it all depends on the size of your space and your personal tastes, but devoting some time to sprucing up your entryway can go a long way in keeping you and your family organized, as well as providing a striking place through which guests enter your home.
How have you decorated your entryway? Feel free to share your tips and tricks below, and if you'd like, send photos to [email protected]
Photo: mszeto