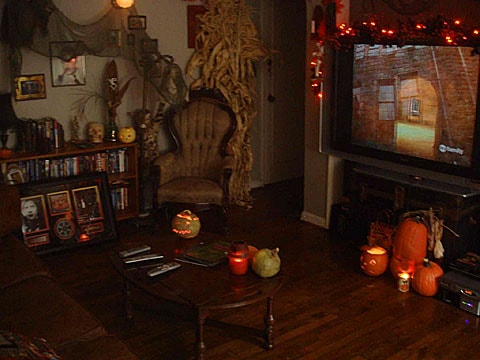 Our favorite Halloween decor is still Matthew Gray Gubler's house from last year.
His pumpkin picking skill is a natural talent and something you are born with but that doesn't mean we can't learn from his techniques.
5 Ways to Decorate like Matthew Gray Gubler on Halloween
Always choose pumpkins that are irregular. They provide the most character and the best "smiles".
Lighting is everything. The darker the better but accents should be subtle and preferably via candles, light strings or shaded bulbs.
You can never have enough cornstalks…
Or cobwebs. Forget the nylon white ones which are a Halloween cliche and go with black or gray webs that could double as netting or camouflage. Those are more believable and make a greater impact.
Halloween Music on 24/7 (Vincent Price should dominate the playlist).
Re-visit Matthew's Halloween Haunt.