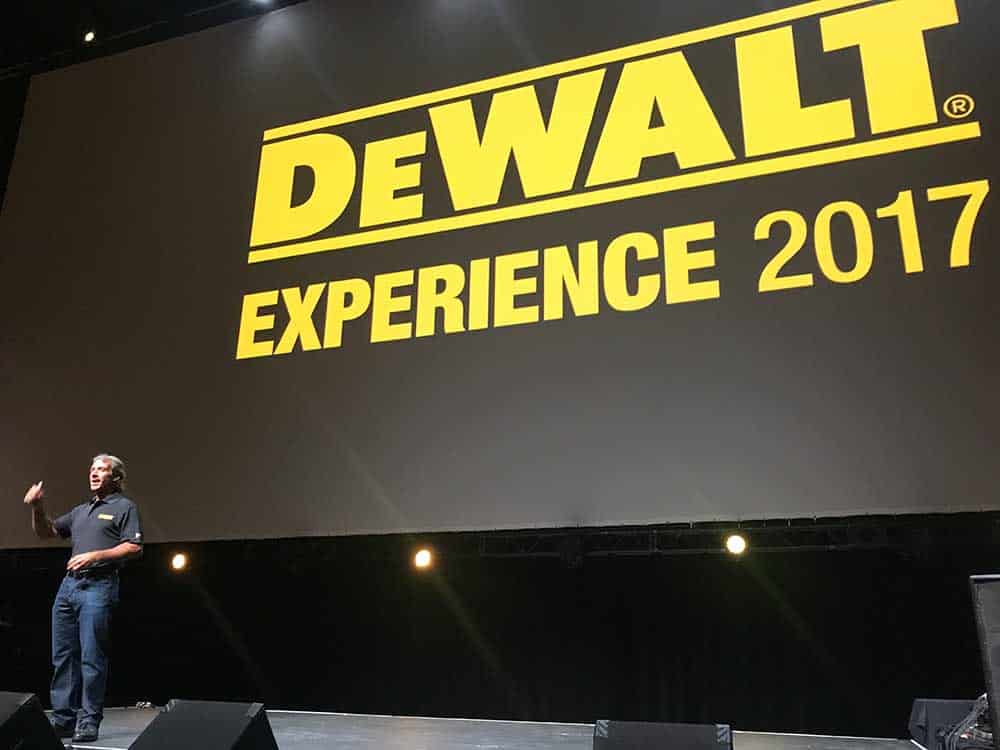 If the yellow and black of DeWALT tools is a common sight in your workshop, you're certainly not alone. DeWALT has built their name and reputation on being a go-to tool brand for everyone from the casual hobbyist to the seasoned veteran. This is precisely why the annual DeWALT tools event is such an anticipated event.
The 2017 DeWALT Experience in Nashville, coined #ToughInTheSouth, was DeWALT's opportunity to showcase 200 new and improved products the company is bringing to market in 2017-2018.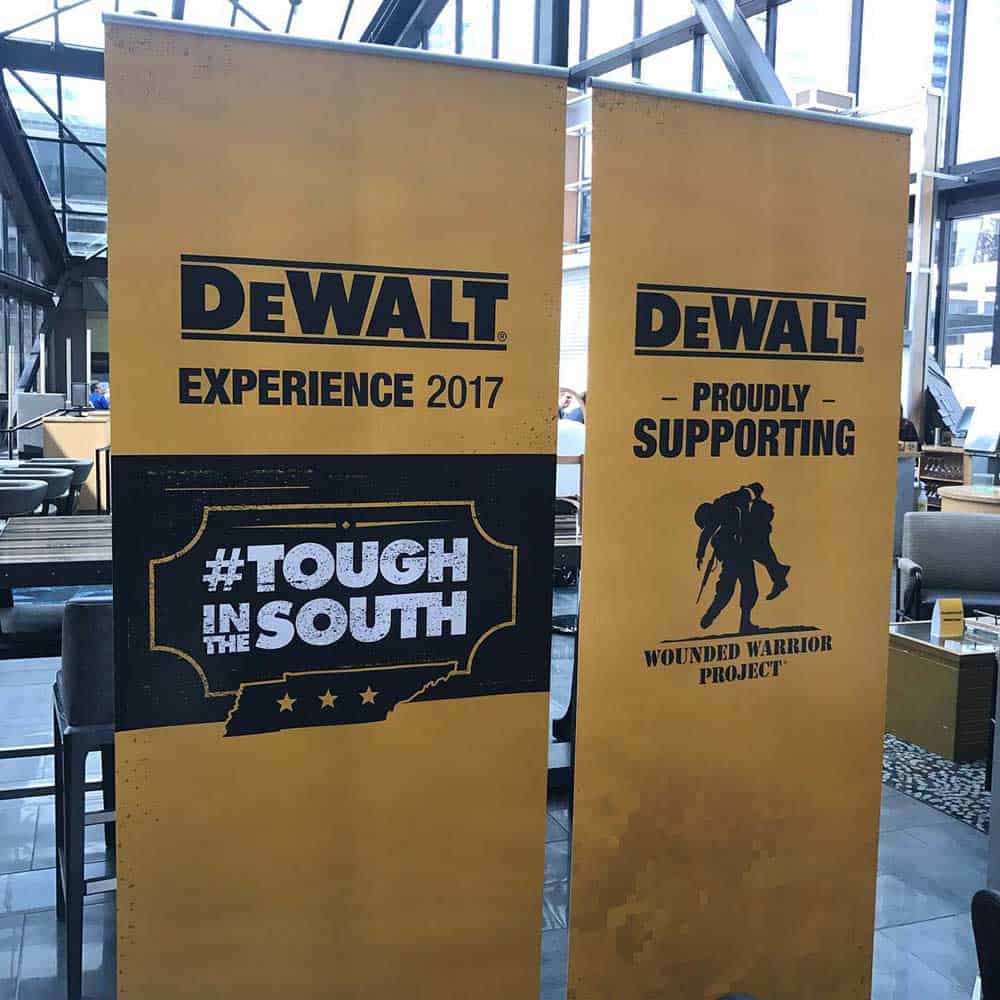 The overall event focused on overarching themes of the how DeWALT tools can help you Design, Build, Protect, and Connect your projects. But the underlying message of the event was clearly DeWALT's commitment and drive to transition from "the homeowner's brand of tools" to a tool brand that the pro trades and large jobsites will turn to as their tool brand of choice. In DeWALT's words, they want to "Lead the charge to the jobsite of the future."
As a serial DIYer, hobbyist, and general fan of tools, I was very interested in how this shift in target market and perception might benefit all of the home improvement aficionados, hardcore weekend warriors, and more casual tool users out there. Would homeowners that have relied so heavily on DeWALT's product offerings be priced out or forgotten, or will there be a mutually beneficial outcome?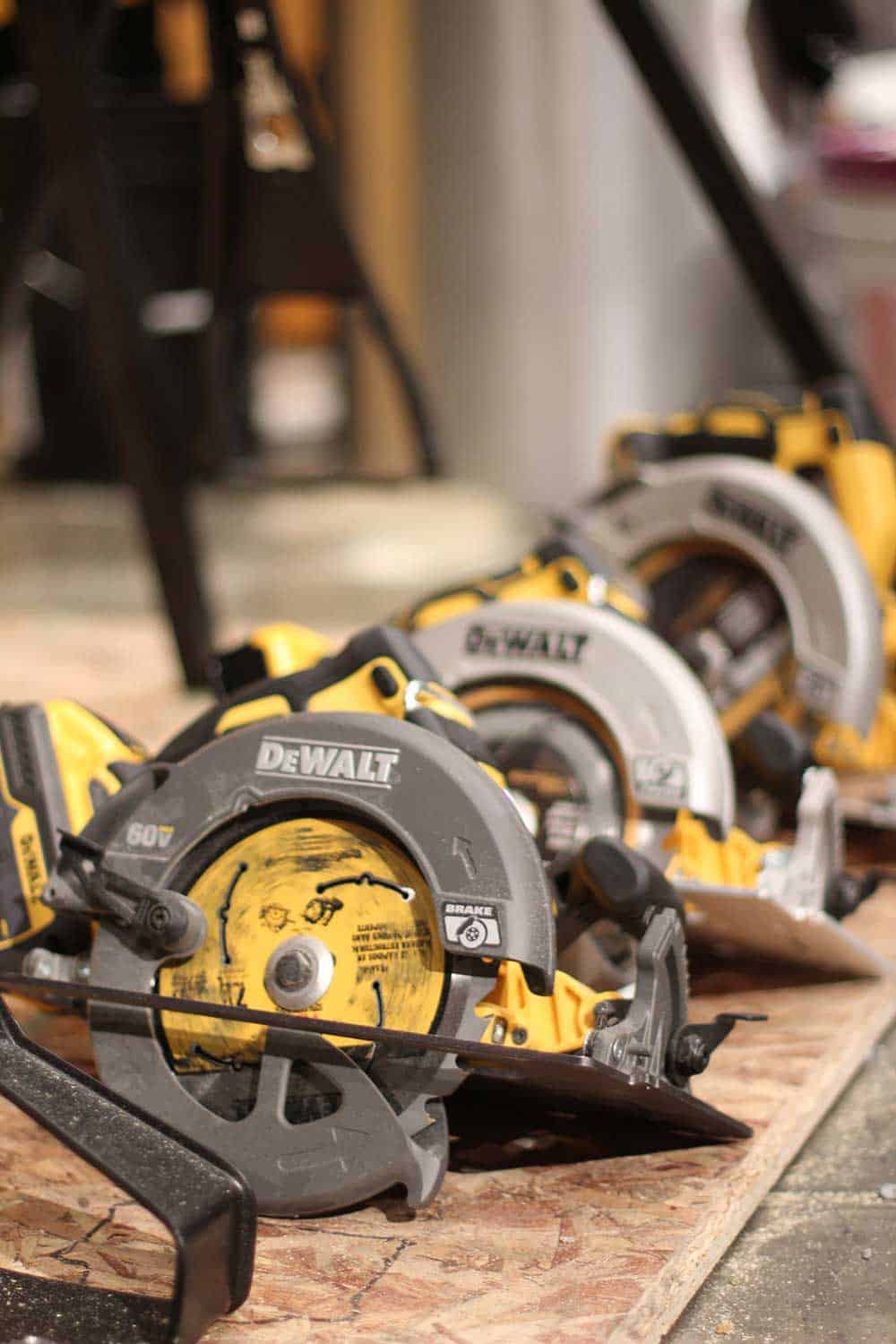 The long and short of it? I think the more traditional tool market and the user will benefit substantially from the innovations and improvements being made for the trades and jobsites. While there are plenty of tools and components DeWALT is going to target almost entirely for the pro market, there just as many that had my DIY heart excited.
20V MAX
DeWALT's continued focus on a cordless jobsite means vast improvements in battery life and performance of battery powered tools. The majority of everything new that we tested at the event were built on their lithium ion battery platform. With capacity improvements in the 20v series, and improvements to the tools to lengthen battery life (if we had a dollar for every time we saw a brushless motor…), the DeWALT battery platform is one of the most flexible on the market.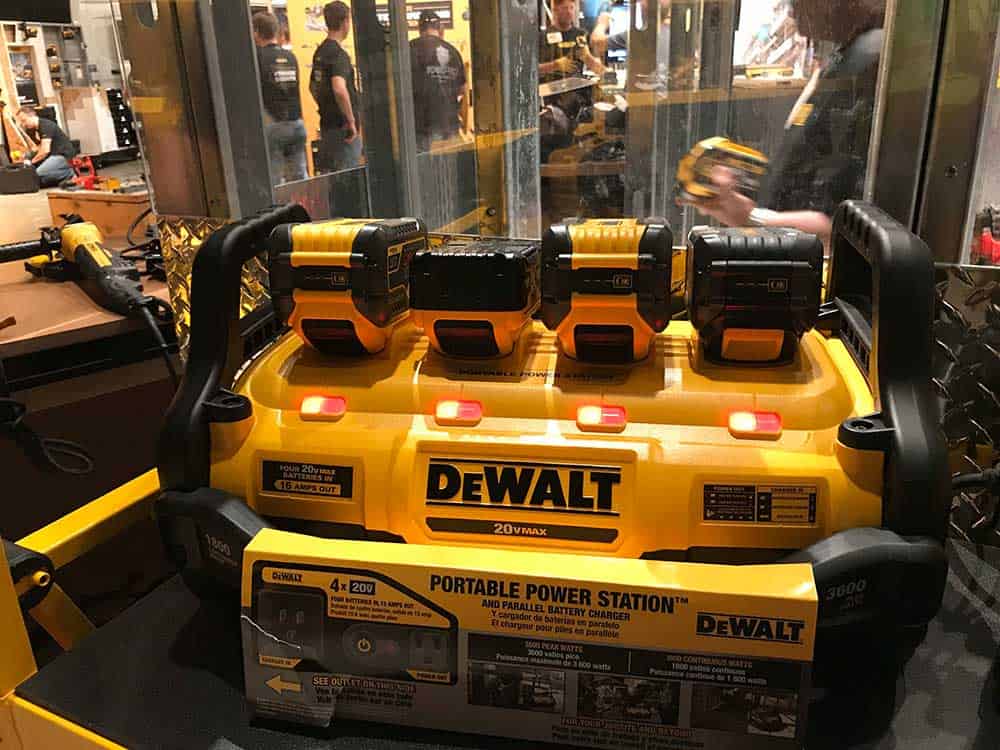 Some of the highlights of the new tools on the 20v MAX platform where the range of seven cordless nailers: finish, framing, crown, and even a flooring nailer, which is the first of its kind. The whole collection sports brushless motors with compact bodies and batteries and each is built with ergonomics in mind for the given application.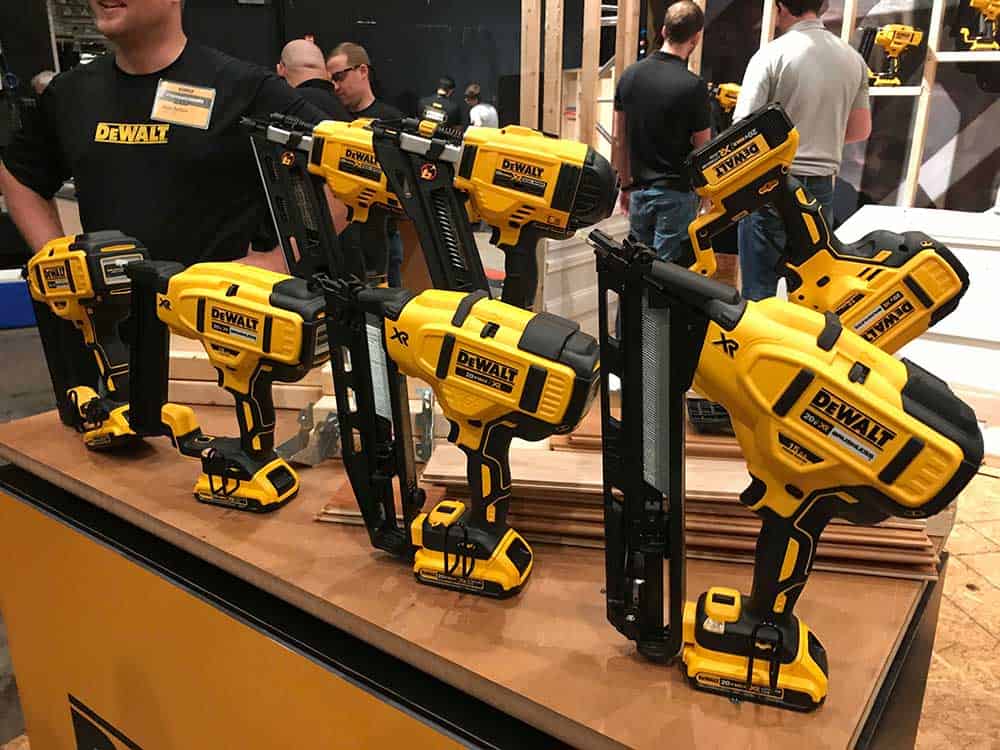 My hands on use with these nailers left me impressed. They are all lightweight but still very solid. The micro-noses made it easy to see where you're driving the nail, and the firing mechanism was consistent and predictable. I also didn't notice any significant marring of the finish even if a good amount of pressure on the nose. All of the nailers are available as bare tool in the 9-9 range, or kitted with battery in the 9-9 range.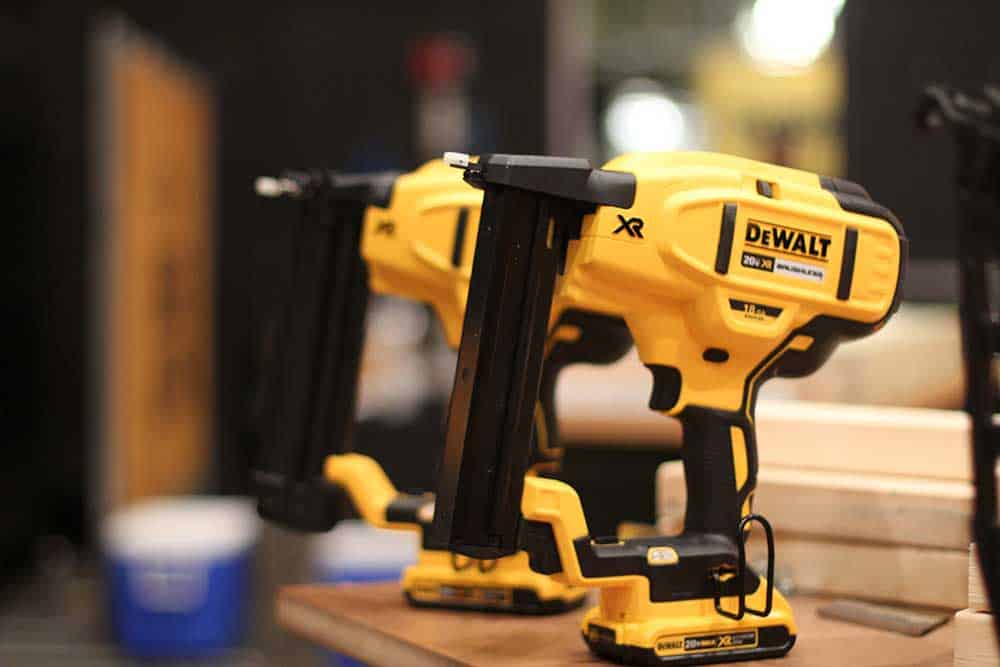 In addition to the nailers, the 20v compact reciprocating saw and two-in-one breakaway recip saw blades were a cool addition. It's lightweight but doesn't sacrifice any power.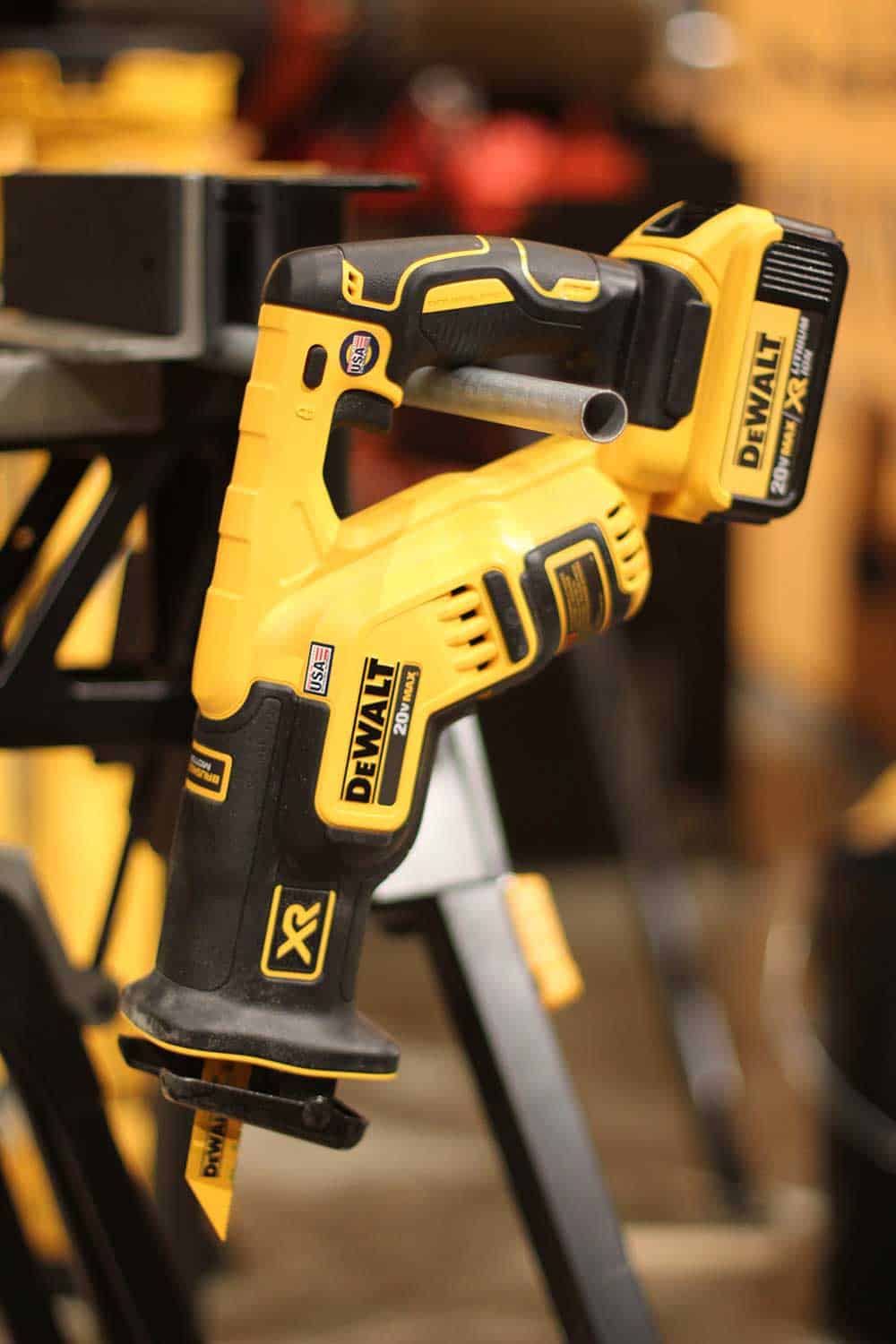 As a fan of plumbing with PEX, I was also very happy to see the addition of a 20v PEX expander for tubing of up to 1". It worked great in a tight space, has an integrated LED light, and is extremely low profile.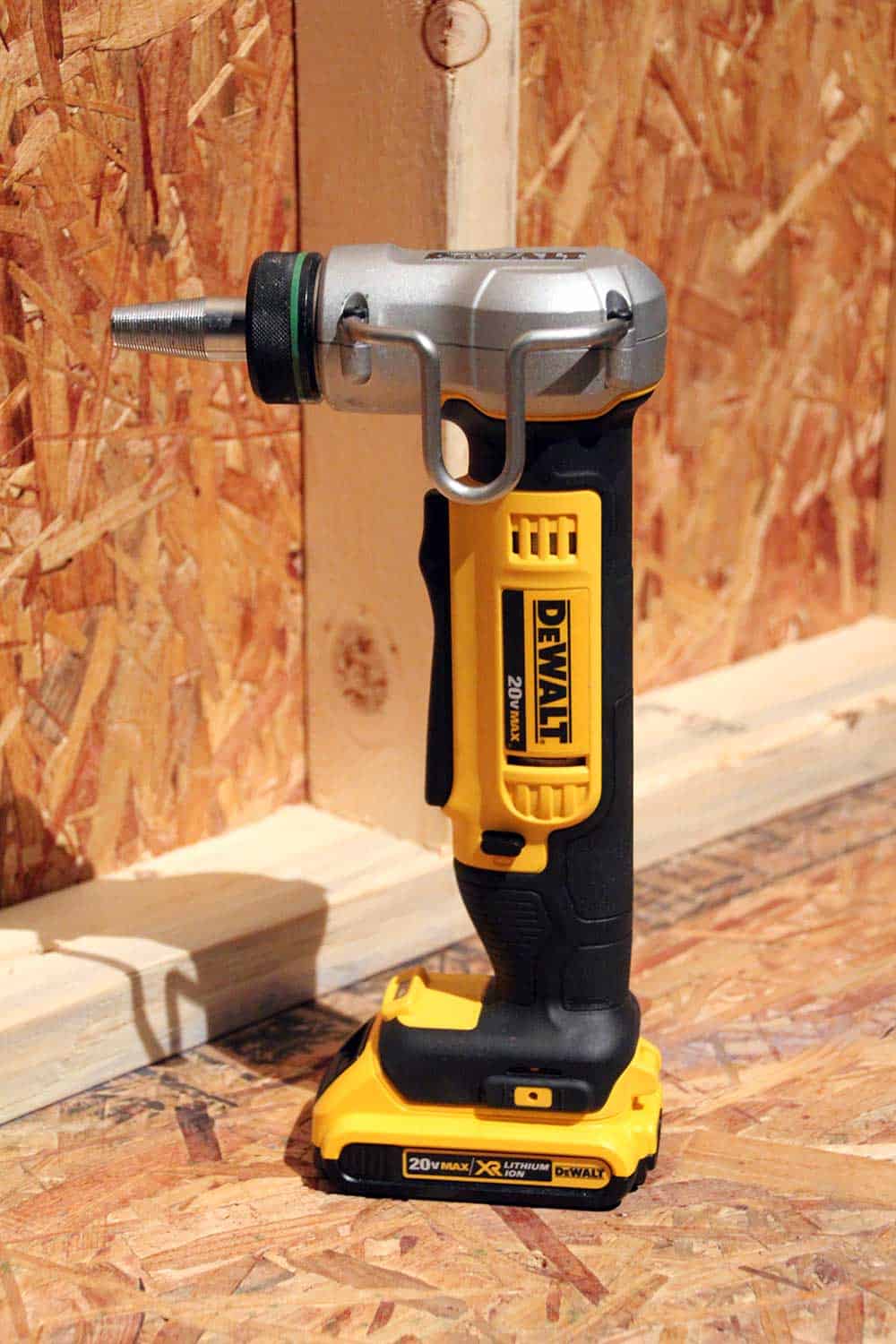 FlexVolt
DeWALT's FlexVolt system was unveiled at the 2016 event, and it has been a real hit in the marketplace. The 20v and FlexVolt systems together support a whopping 130 different tools! From miter saws to usb chargers, the ability to work without a cord has given a new level of freedom to all tool users. This year DeWALT expanded their line of FlexVolt tools with some very appealing additions.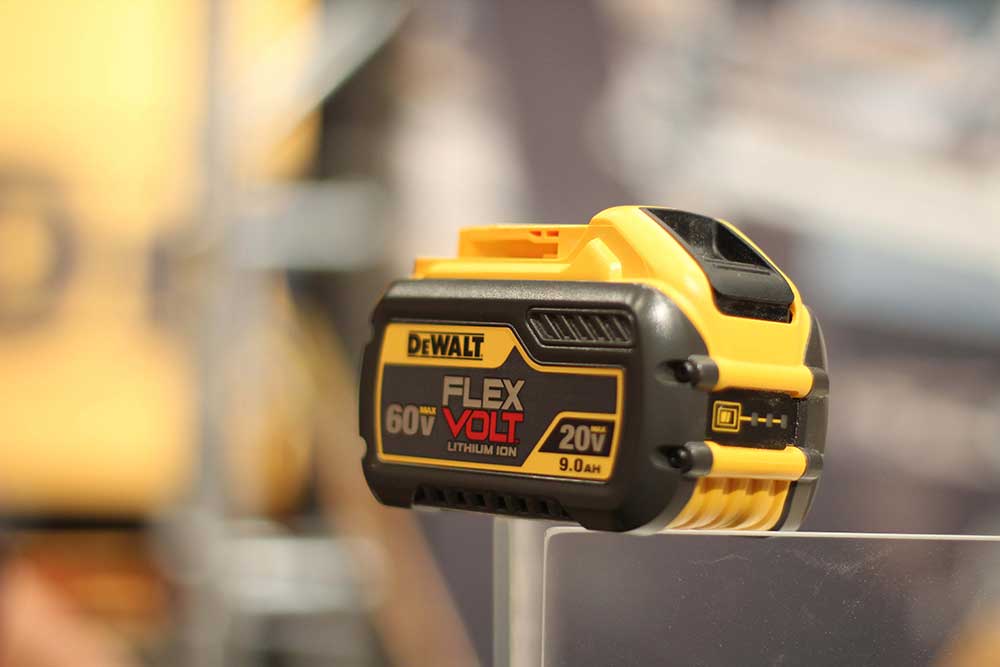 Before we talk tools, let's look at the battery. If you're not familiar, FlexVolt's design allows it to power 20v tools with much greater run time, as well as 60v and 120v tools with the same power as their corded counterparts. This system is what is ultimately making the cordless jobsite a possibility for DeWALT, and it's really expanding capabilities for all tool owners interested in cordless for tools that are typically corded.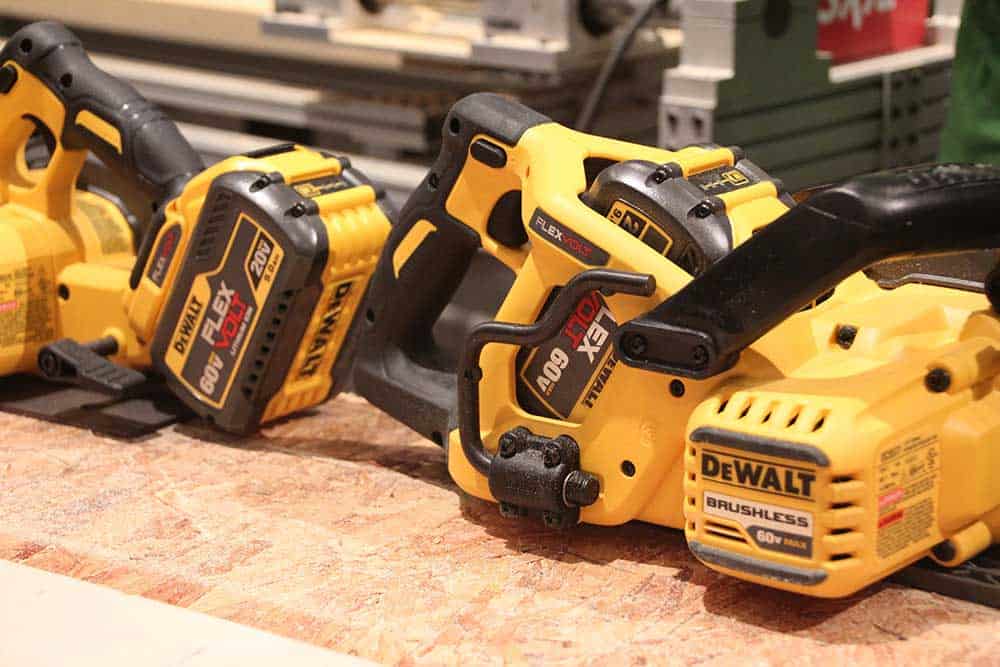 A real standout of the FlexVolt group was the lightweight and very quiet 21.5 pound, 2.5 gallon FlexVolt air compressor. It's ultra portable, extremely quiet to operate, and sports a very solid and clean chassis that protects the more delicate components. This is the perfect size and capacity for molding projects, finish work, or light weight air compressor tasks. It will be available in fall 2017 with battery and charger for $299.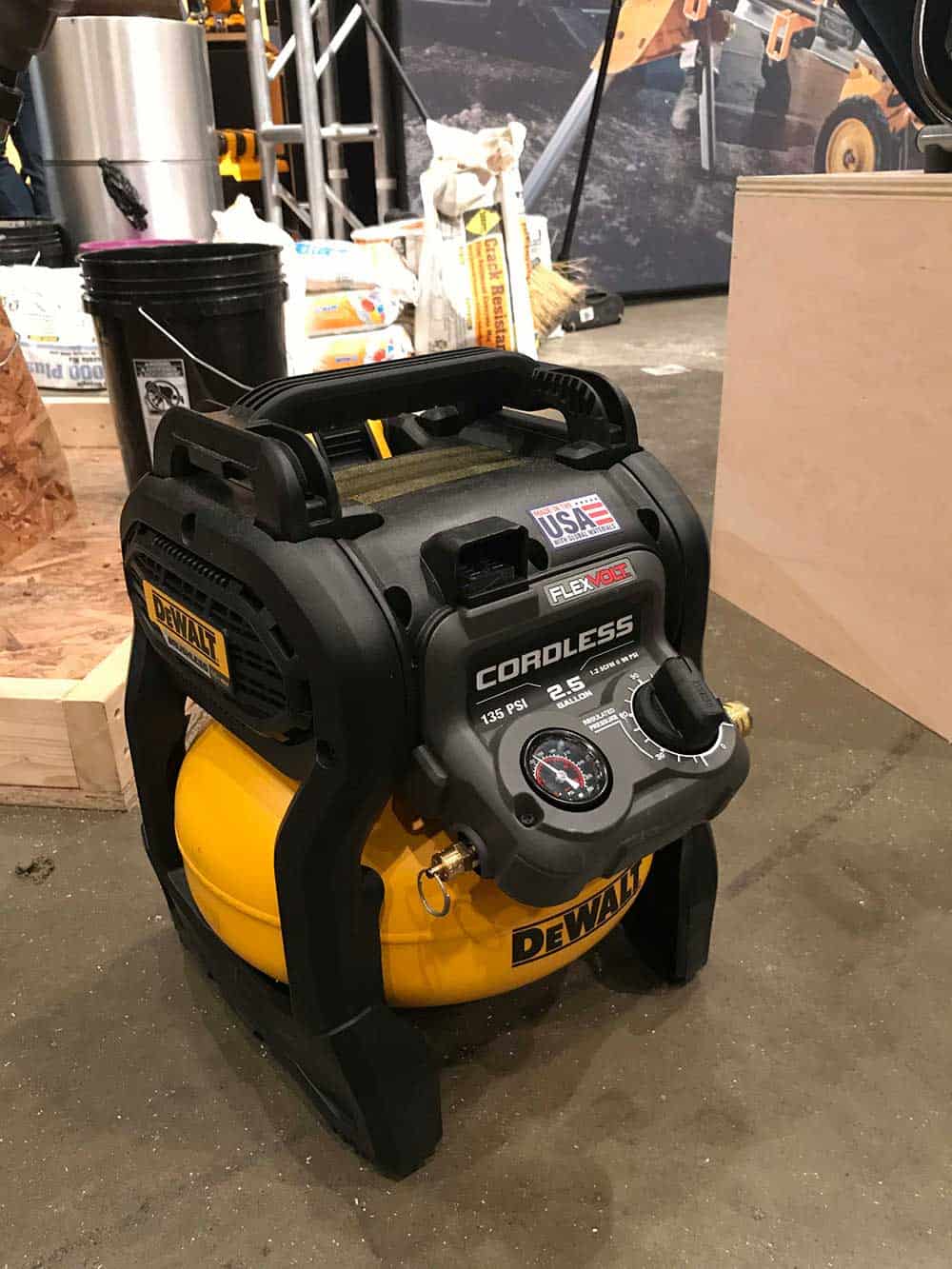 The highly anticipated FlexVolt track saw is scheduled for release this summer and will be offered as a bare tool for $379 and kitted with battery for $499 as well as battery and 59" track for $579. We had some really good hands-on time cutting sheets of plywood. I really liked its operation and felt the plunge and cut were smooth and very capable on the material it was cutting. At no point did I feel any suggestion of kickback, even when trying to force the blade.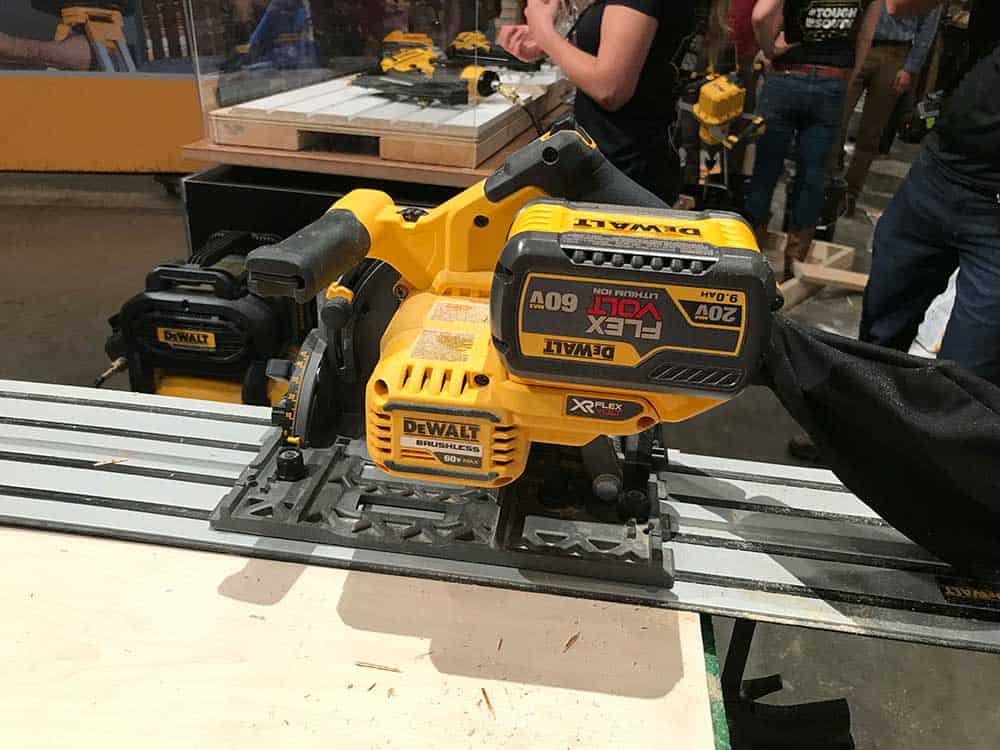 The aluminum track is non-slip and clamps easily to the work via clamp slot. The track works great to prevent splintering and is also reversible, meaning you can make your cuts with this saw from either direction and side of the track. From my use, the main item that I felt could be improved is the dust collection. The small port with miter saw bag does little to keep the dust out of the air, but connecting it to a vac/extractor will likely have better results.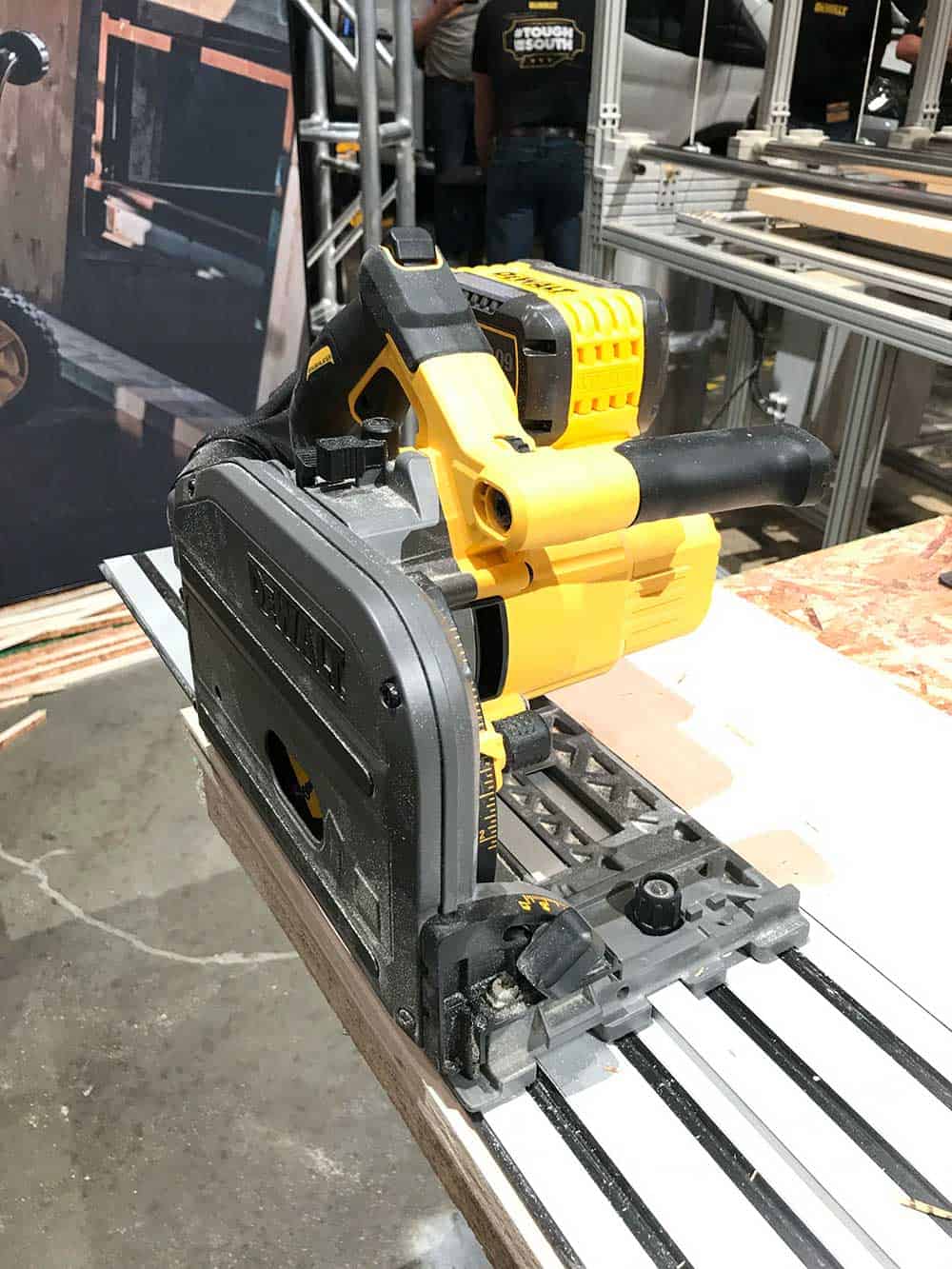 The single tool that was getting the biggest buzz at the show is the 60v FlexVolt rear handle, blade left framer's saw. This thing is a beast! It's powerful and solid and the demo cut through three layers of plywood like it was nothing.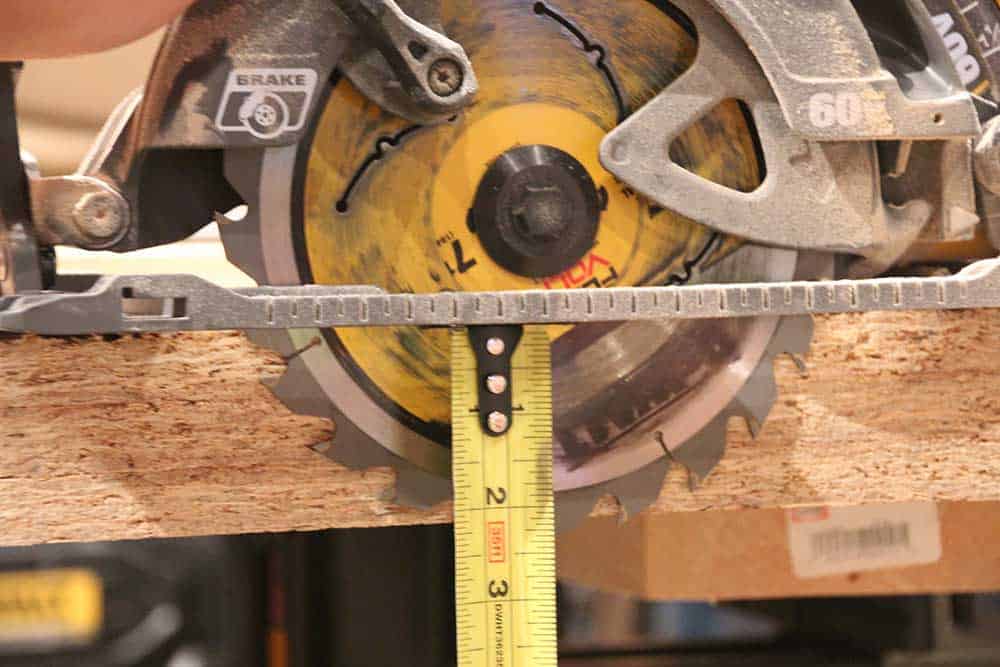 Every time I turned around another attendee was trying out the saw and then trying to figure out a way to sneak it out of the show without anyone noticing. This saw will be available in fall 2017 in either bare tool ($259) or kitted with battery ($369 and $399) formats.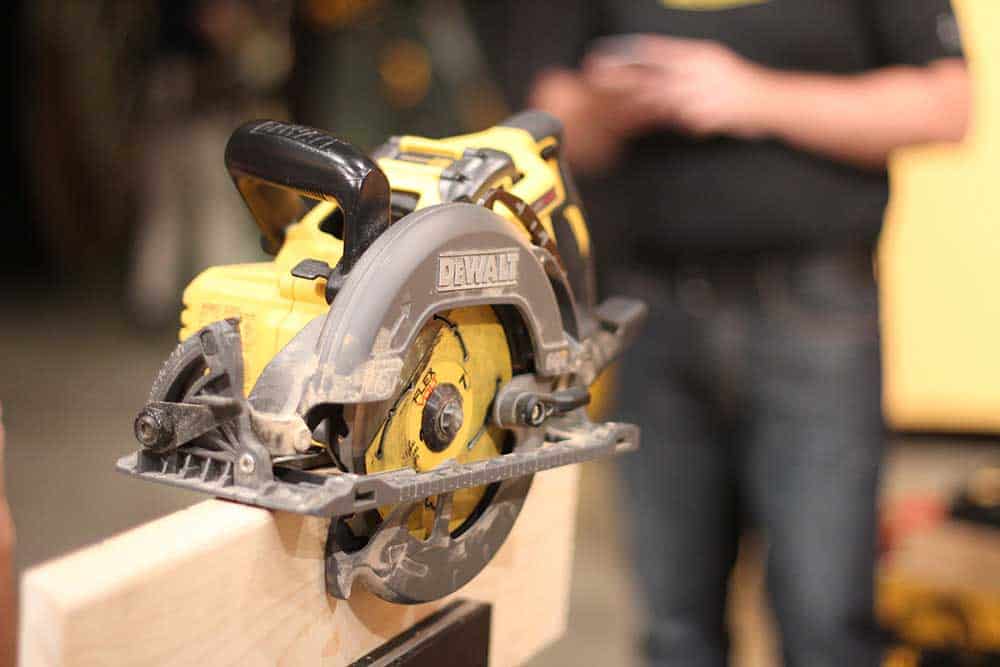 Cordless Components
DeWALT wasn't only showing off their batteries in new power tools. We also saw new offerings in everything from yard tools to lighting.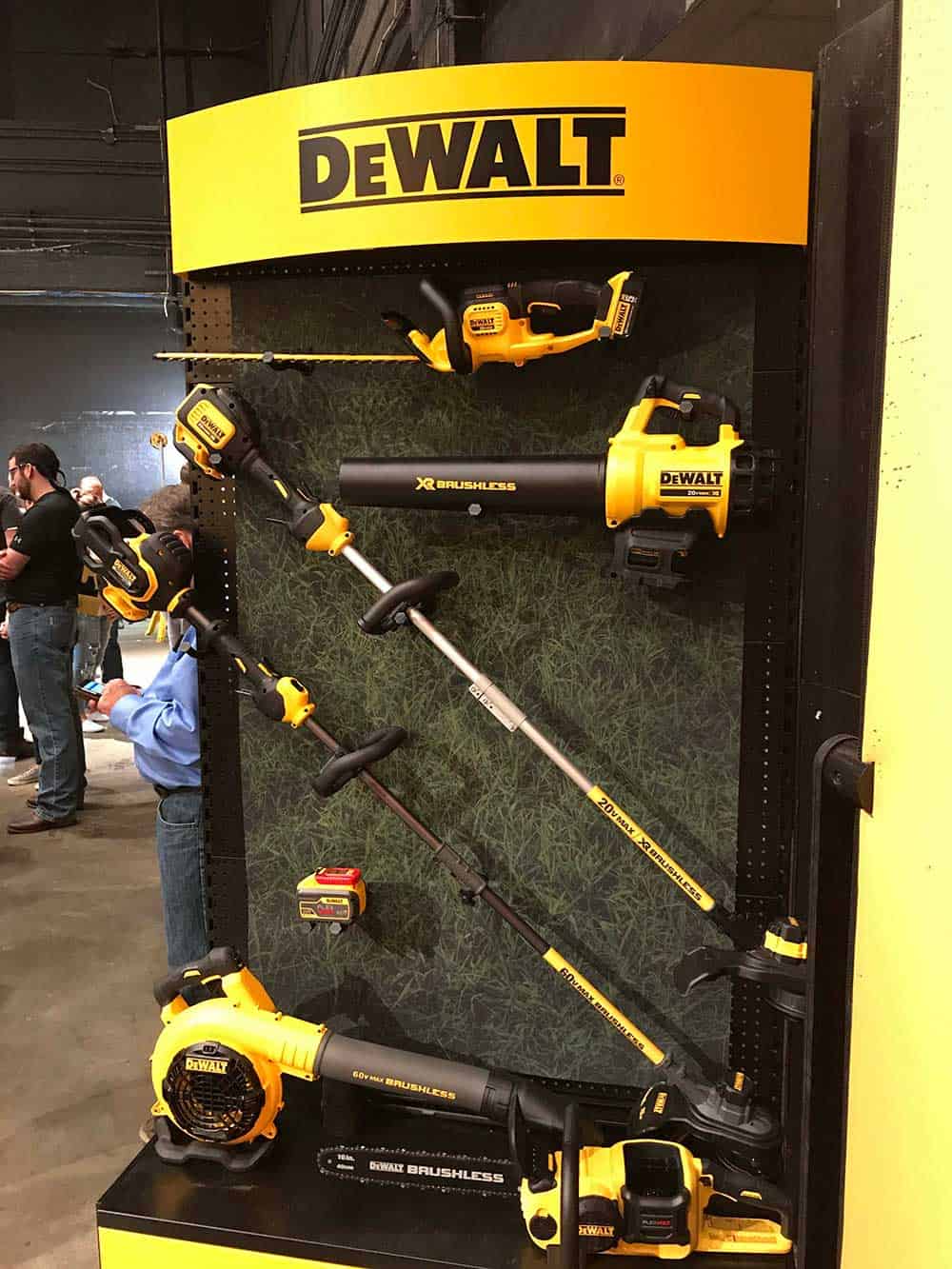 A new brushless motor 2x20v MAX lawnmower will be the first lawnmower offering from DeWALT. It will be available in early 2018 and will ship with two 20v MAX batteries for $399.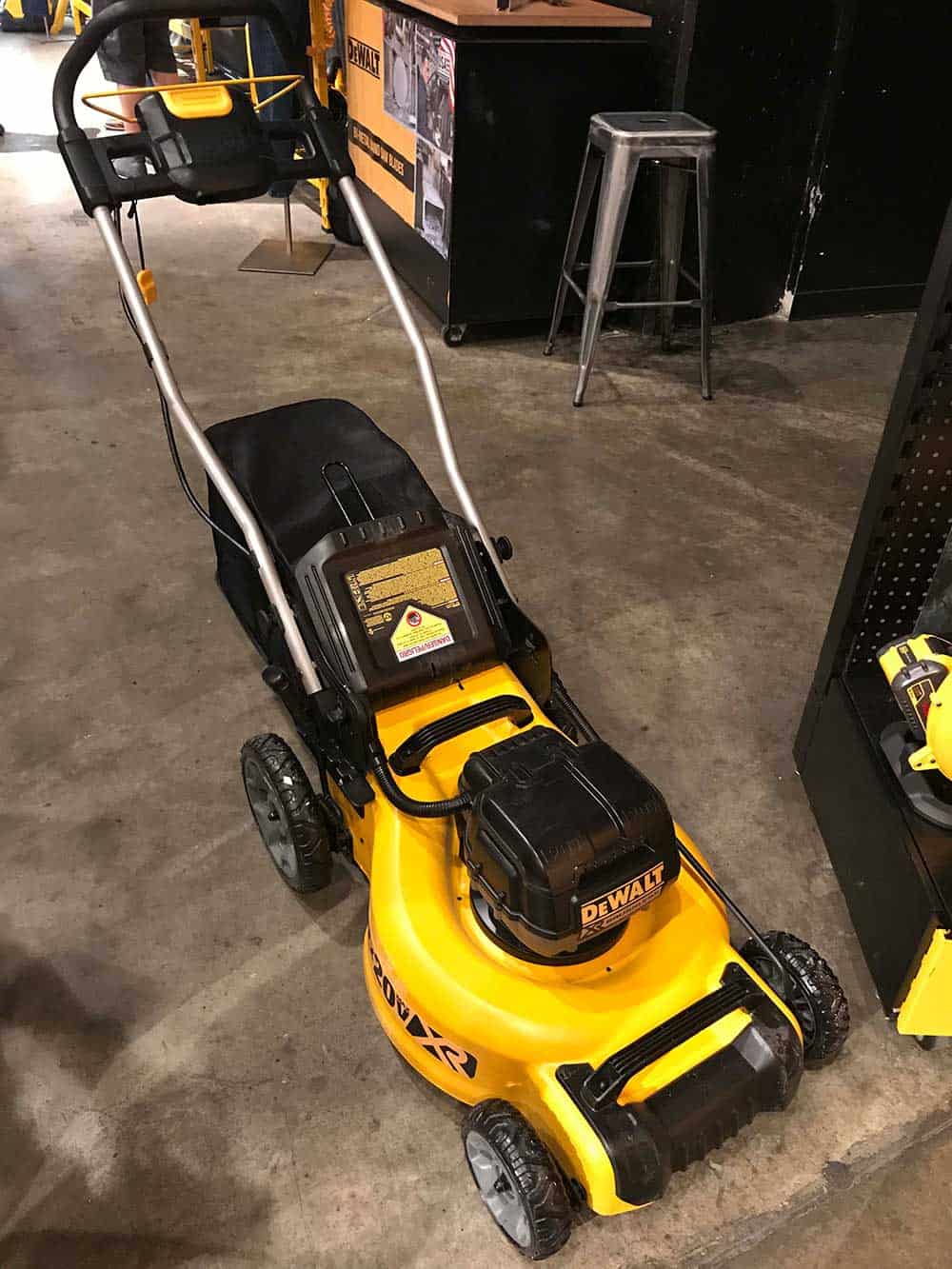 DeWALT has begun rounding out their cordless worksite lighting lineup with some cool offerings. The tripod light works on both 20v and FlexVolt batteries and allows full articulation and configuration based on the needs of the site, and collapses into a very compact package for portability. It'll also be available in the fall 2017 in bare tool form for $199 and kitted with battery for $329.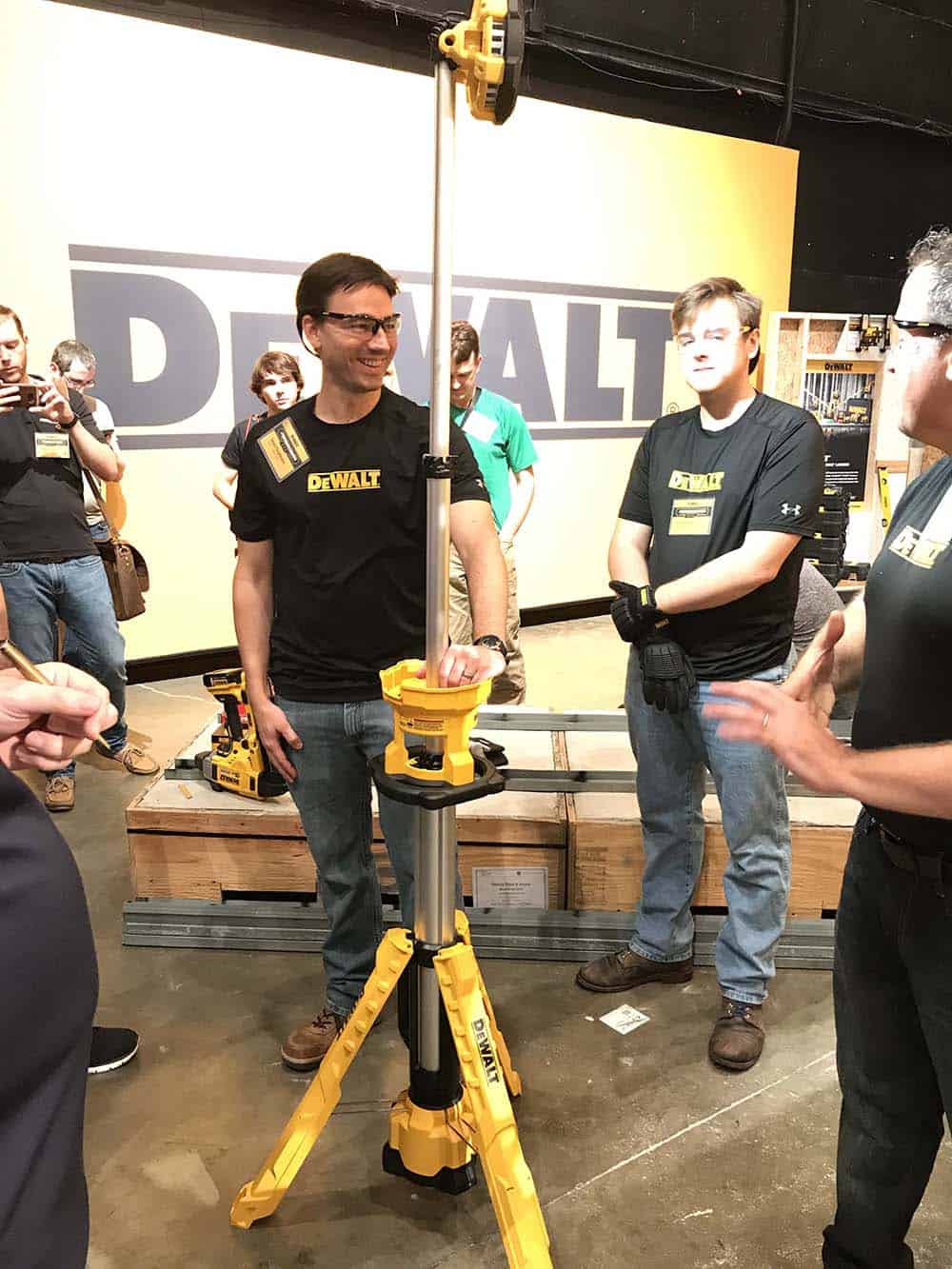 Hand Tools and Accessories
Finally, there were a handful of hand tools and utilities that are going on my short list of shop "must haves." The new XP tape measure with 13' standout and absolute durability is already out as a 25' version, but 35', as well as 16' is on the way. In addition to the tape, small, medium, and large rechargeable handheld laser distance measuring tools rounded out the offerings.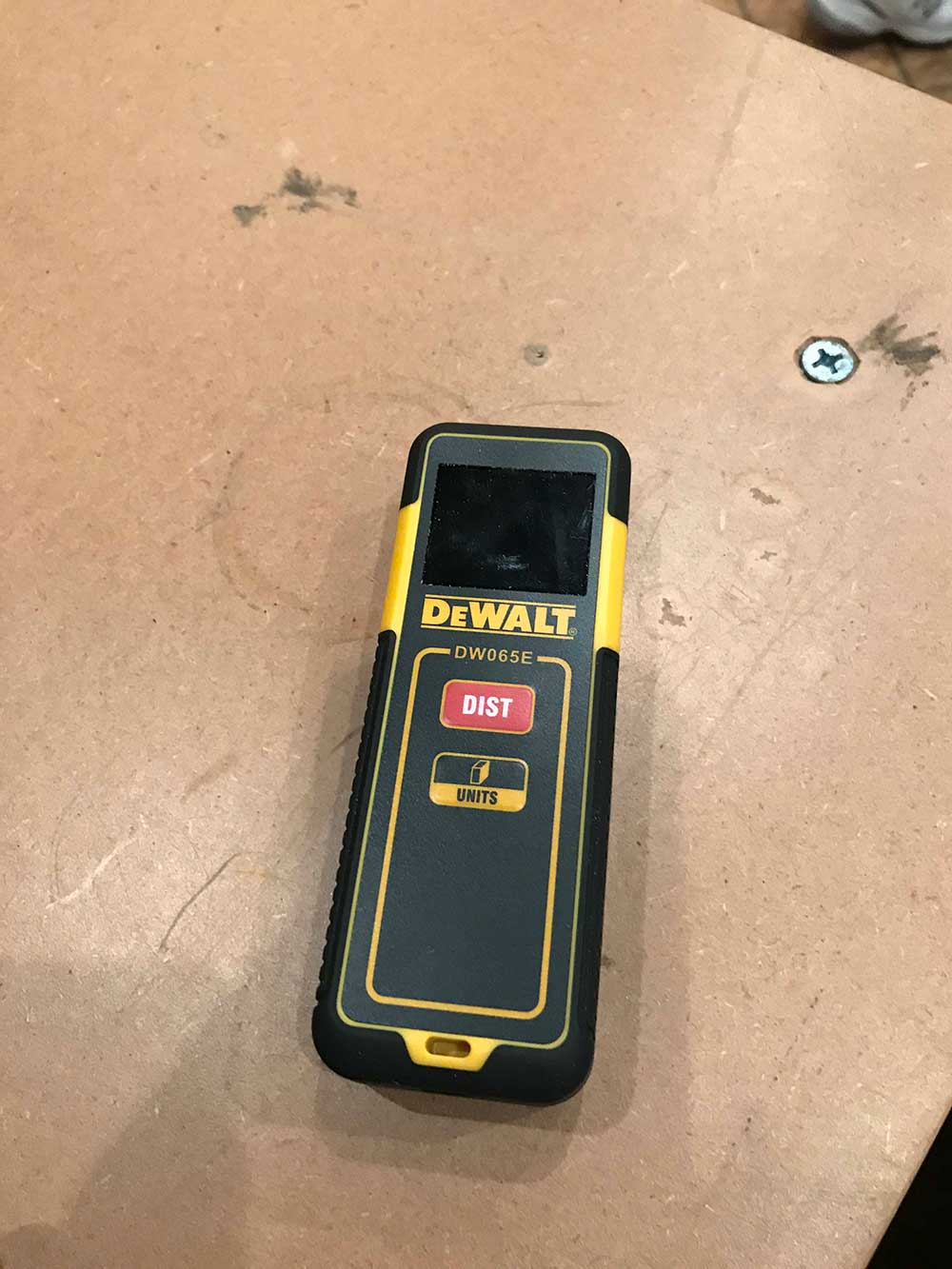 The Express work station folding table is amazingly fast to setup (3 seconds) and can hold up to 1000 pounds. The work surface is also designed to allow for extreme versatility in through clamping. This awesome table will be $69 when released later this year.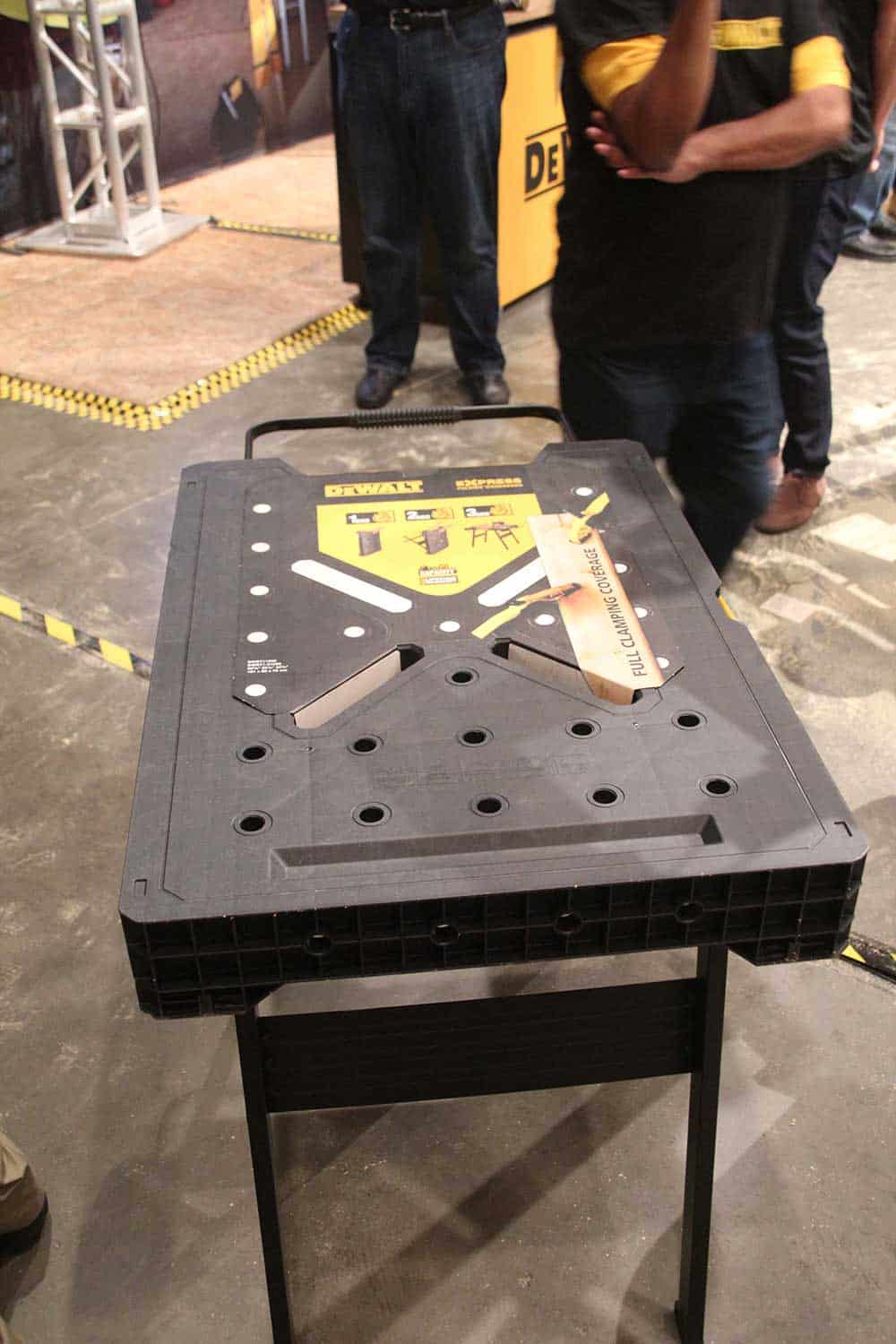 A new set of ergonomic metal cutting snips are lightweight and have a major design improvement to reduce fatigue in use. Hands on they were really easy to work with and still allowed as much cutting leverage as needed even with a more narrow handle opening.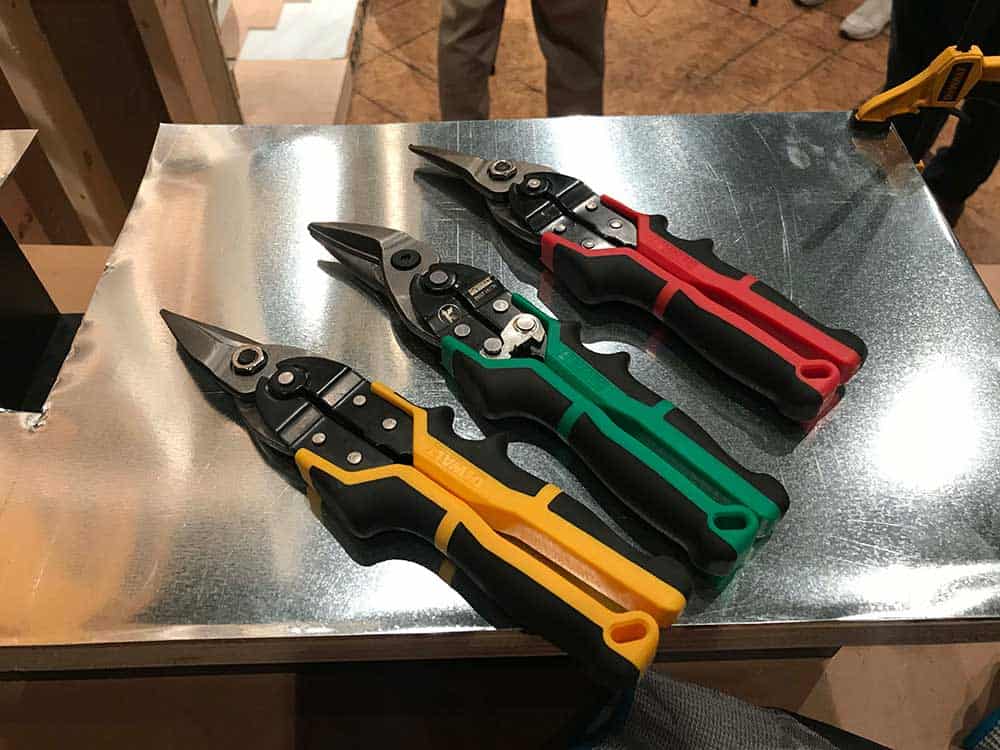 A rethink in the sledge and axe department allowed for the addition of carbon fiber in the handle of both the mini and full size sledge. This didn't just reduce weight, but it allows for more power and concentration in the head of the tool, while also improving durability and reducing vibration in the handle on strike.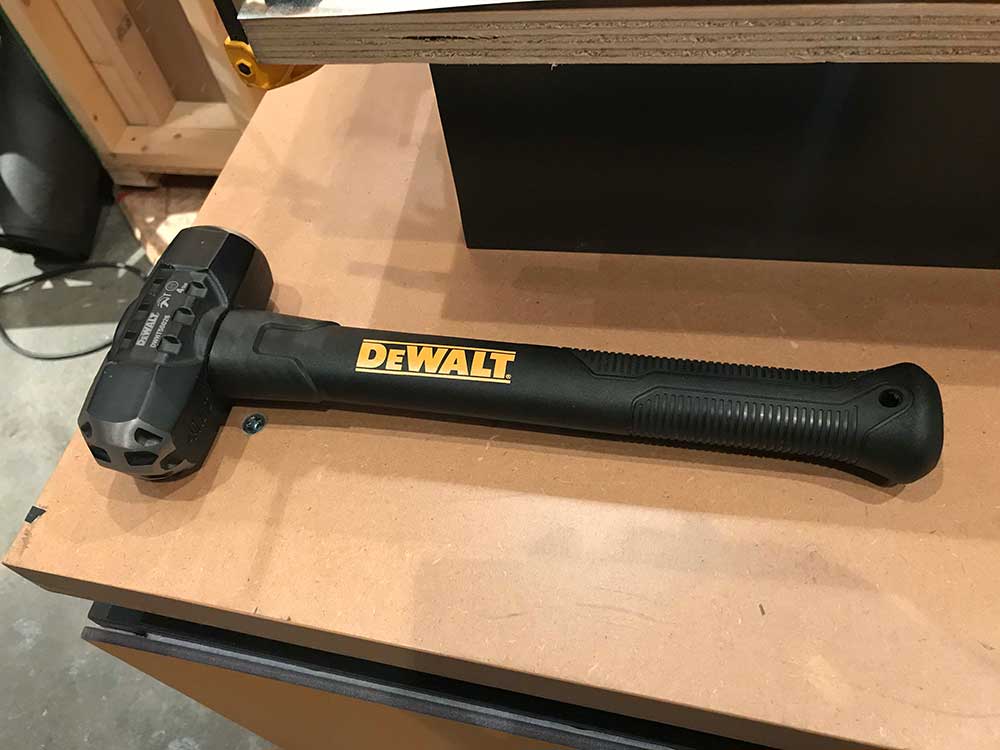 I've tried to hit on the real highlights of the show, but there were so many more improvements in the areas of tool technology, the connected jobsite, and safety advancements in light of the new OSHA regulations. DeWALT is really going the extra mile to fill any gaps they see in their product lines.
After spending a significant amount of hands-on time with these new tools and accessories, and hearing a lot from the knowledgeable and passionate DeWALT employees who helped develop the tools, I see some pretty bright things on the horizon for pros and hobbyists alike. The end result of DeWALT's focus on the trades will help to improve functionality, durability, and user friendliness of the "must have" tools and components that are truly cross functional in nature. Improvements in battery technology, ergonomics, durability of materials, and shared components will have applications across all tools. DeWALT's 2017 Experience did not disappoint and I'm sure there will be many additions to the DeWALT fan's list of most wanted tools.