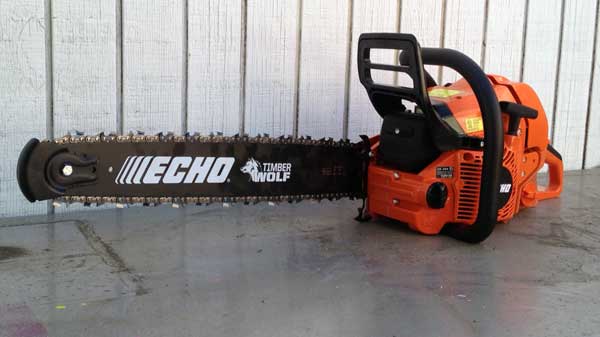 Chainsaws are must-have tools for homeowners with large yards that include trees, shrubs and other foliage. Storms and wind will often fell old or diseased trees as well as throw branches everywhere and a chainsaw is the only tool capable of safely and swiftly clearing the debris. Long valued on ranches and farms, chainsaws are no longer for arborists or farmers.
We checked out the Husqvarna 455 Rancher last year and Echo contacted us with an opportunity to test their Timber Wolf CS-590 chain saw which was rolled out to Home Depot and independent retailers a couple months ago. It's available in 18″ and 20″ bar lengths and aims to compete with Husqvarna 455 Rancher, Stihl MS 291 and MS 290 Farm Boss.
Out of the box we installed the bar and chain then added chain oil and pre-mixed gas/oil. We followed the startup instructions from ECHO and the chainsaw fired right up! There's a handy decompression valve that makes starting it very easy and the pull is gentle on the shoulder. The air filter is located at the back of the saw and is easily accessible and the translucent fuel body makes it easy to check the level.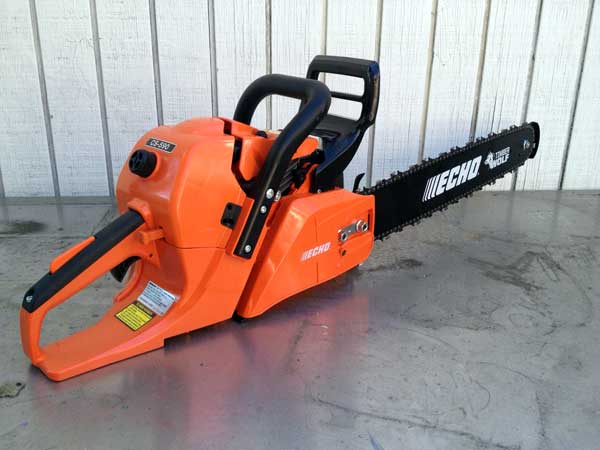 This is no "beginner" saw as it's made for tough work and it's heft might scare away the dainty types but is required for heavy-duty jobs. With a 59.8 cc engine it's the largest of the bunch and has power to spare.
If you're a cowboy you'll love this chainsaw even more as it's the official chain saw of the Professional Bull Riders. Here's a testimonial video from Two time PBR World Champion Chris Shivers who retired last year from professional bull riding to be a full time rancher and is running a 1,000 head herd, raising livestock, and organizing his Mini-Bulls Training Camps and Competitions.
For more information about the ECHO Timber Wolf CS-590 visit the Echo website.