We've been invited to participate in Fifty for Five in New Orleans this year and we literally can't wait to tie-on our tool belt and start working.
Rebuilding Together made a pledge to rehabilitate 1,000 homes in the Gulf and in conjunction with the 5th year anniversary of the Hurricane Katrina disaster, they'll complete 50 more in just 5 days (50 for 5).
We'll be joining all of the volunteers and various community leaders to complete the rehabilitation of these homes. There'll also be celebrities from HGTV and the DIY Network on hand to shed a spotlight on this event. The presenting sponsor is Sears, who will support Fifty for Five with significant funding, Energy Star appliances for the homeowners being served, and over 100 employee volunteers.

Fifty for Five will focus on the rehabilitation of 50 homes in the Gentilly neighborhood of New Orleans. Gentilly sits on the shores of Lake Pontchartrain and thus experienced some of the worst flooding after the levees gave way. This neighborhood was submerged in up to eight feet of water, with many residential structures experiencing flooding up and over the roofs of their homes. Sitting a short distance from downtown, the Gentilly neighborhood is still rich in the cultural history of New Orleans.

If you are interested in donating your time, the work at the selected homes could include:
* Flooring and Tile
* Framing
* Drywall
* Siding and Fascia
* Baseboards
* Cabinets
* Wheelchair Ramps
* Insulation and Weatherization
* Window and Door Installation
* Appliances
* Painting
* Landscaping and tree planting
* Fencing
* Community clean-up and revitalization
* Roofing*
*Roofing work will only be available to roofing contractors willing to provide a 2-year warranty on labor.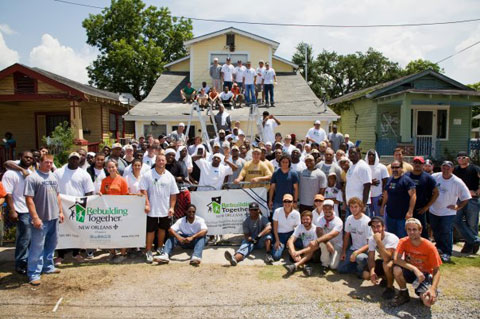 Download the Fifty for Five Volunteer Information Form.
Donating your time can be a wonderful way to help these families and to see your direct actions make a difference. Through our local affiliates you can volunteer any amount of time you have available.
For those unable to travel to the area, please support Rebuilding Together's effort by making a donation online. Your generosity is what makes these dreams come true. You will see your dollars at work through photos and videos at this site and others affiliated with Rebuilding Together.
Here are some more videos and media from the event. Morgan Freeman and the PlanItNow organization are also behind Fifty for Five.