A little while back, we read an article detailing a list of things an expert thought should not be bought at Ikea — leaving pretty much decorative accessories as the only "purchasable" items recommended. As we're sure you know, Ikea can be quite the DIYer's paradise, if you're willing to throw in a little elbow grease and some creativity.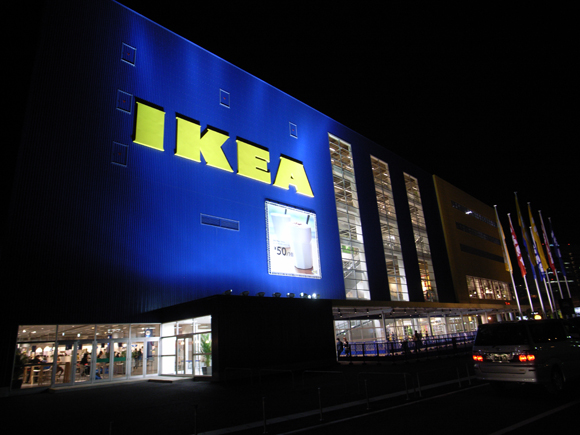 So in defense of the Swedish, we've compiled a short list of simple Ikea hacks anyone can do — hopefully broadening the horizons of "purchasable" items at our favorite flat-pack store.
Switch Out The Feet
We have two Ektorp couches in our living room that we purchased in the As-Is department (ALWAYS a place you should nose through before you check out) and fixed ourselves. While repairing them we noticed that the plastic grey cone-shaped feet just screw in like any old regular foot. A quick trip to the home improvement store wielded a selection of unfinished wooden furniture feet, and a coat of spray paint later, we had fancy turned-bun feet adorning our couches, bolstering their attractiveness (and subtracting their mass-production-ness).

Add Trim
Whether you have a full collection of Malm dressers or have snatched up some of the Rast unfinished wood chests while they're on clearance, it's AMAZING what a little quarter-round and some Liquid Nails can do. Some of the better hacks we've been spotting are the addition of Greek Key patterns and the Dorothy Draper chest recreations floating around the interwebs. No matter your personal taste, there's an easy way to snazz up a minimalist dresser to make a one-of-a-kind piece.
Use Upholstery Tacks
The infamous Lack series — Parsons styling, easy construction, a multitude of colors — for all its design simplicity, still screams flat-pack in your home. For a quick change, try outlining the edges of your table or shelf with upholstery tacks. Heck, you could even use brads or thumb tacks in a pinch, and if you're feeling brave, stencil out a pattern and outline that with the tacks. This will give your iconic item more panache and again give you that one-of-a-kind look for a fraction of the time and money.
Mod Podge It
If it's a surface, you can Mod Podge it. The possibilities are endless, really. If you're looking to add some texture to a lamp shade, a collage to a table top, or just love to adhere things to other things, Ikea has a multitude of both items to decorate and items to decorate with. Our favorite quick idea is to use Ikea poster prints and Mod Podge them to discount store art canvasses — you'll instantly have designer looking art pieces to proudly display in something other than a Ribba frame.
Repurpose
As we mentioned earlier, the As-is section is a veritable playground for the DIY set. Sure, you can get great discounts on scratch-and-dent or display furniture, but there are always random collections of slipcovers, cabinet doors, hanging rods, dishwares, lighting fixtures, dining chairs — you name it. Look carefully around the As-Is section for the bits and pieces for your next project. Better yet, try to imagine what you could use that $1 Komplement garment bar for, even if you don't have a Pax unit at home.
What are your simple Ikea hacks? Let us know about your Ikea treasures in the comments below!
Photo: http://www.flickr.com/photos/kazamatsuri/135319048/