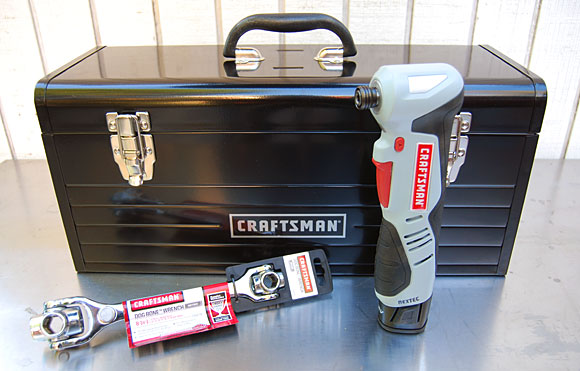 Tis' the season for Craftsman tools! This holiday Giveaway is a bundle of joy for tool lovers and all of it could be yours, or if you win keep one and gift the rest.
On December 25th, 2010 we will randomly select one winner to receive all of the tools shown above that includes: 20″ Metal Toolbox, Dog Bone 8-1 Wrench and NEXTEC 12V Right-Angle Impact Driver.
****THIS GIVEAWAY IS NOW CLOSED – THANKS FOR ENTERING****
HOW TO ENTER
You can enter once-per-day and you've got two options! Enter both ways to double your chance of winning!
1. Leave a comment below saying "Craftsman for Christmas" (or replace with holiday of your choice) and tell us what project you intend to tackle with this bundle of goodies.
2. Tweet this contest on Twitter with the words "Win the Craftsman for Christmas Giveaway from @Charles_Hudson http://bit.ly/craftsmangiveaway"
THE CRAFTSMAN TOOL BUNDLE
Here are descriptions of all the tools the winner will receive.
20″ Black Metal Toolbox
* Rugged construction provides optimal protection against harsh environments
* Includes removable metal tote tray
DOG BONE 8-in-1 Wrench
* Fits 8 SAE socket sizes: 3/8, 7/16, 1/2, 9/16, 5/8, 11/16, 3/4, and 13/16 – inch.
* Go-Thru swivel head allows easy access and fits any angle.
* Built in 8-lb magnet serves as oil drain plug or nut holder.
* Cr-Mo Steel for strength and durability. Ideal for oil drain plugs.
NEXTEC Right Angle Impact Driver
* Powerful Motor Powered by a 12.0 Volt Die-Hard® Lithium-Ion battery for enhanced performance and longer shelf-life.
* Innovative, Compact , Ergonomic Design Powerful and compact, weighing only 2.2lbs with the battery providing extra comfort and reducing user fatigue.
* 700 in.-lbs. of Torque Motor delivers maximum torque in both forward and reverse.
* 0-2100 RPM Fast and powerful for heavy duty applications.
* 1/4-Inch Quick-Connect Clamp For fast and convenient bit changes.
GIVEAWAY DEADLINE
We will select a random winner at 12 midnight EST on December 25th, 2010 and he/she will be notified immediately.

NEWSLETTER
Join our Email Newsletter for more Giveaways and Home Improvement Tips.
(we do not sell our lists to third parties and you can unsubscribe at any time)
We take no responsibility for the function or use of the these products
These products will be shipped in new condition.
Only residents age 18+ of the U.S. and Canada are eligible to win.
All rules are subject to change without notice.
Please review our Giveaway policy.