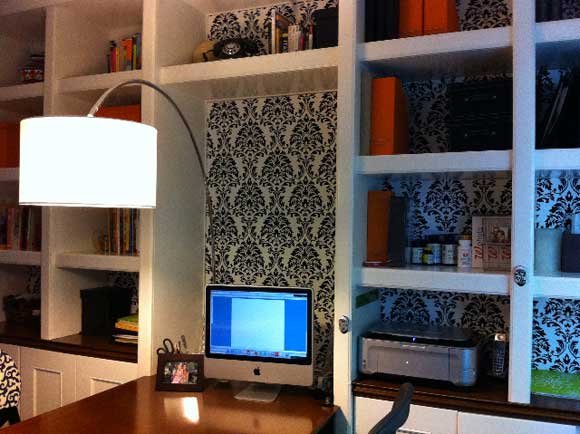 There's no reason your home office has to reflect the drudgery of bill paying, document filing, and to-do lists. Like any other room, it presents an opportunity to make a statement. And, if you work from home, your business will benefit from surrounding yourself with sources of inspiration and stimulation.
I was reminded of this fact when I saw my friend Antonella's office makeover. The space has great bones with built-in bookshelves and a generous desk. Because structural work was not necessary Antonella relied largely on surface treatment and a couple key furniture pieces to transform the space.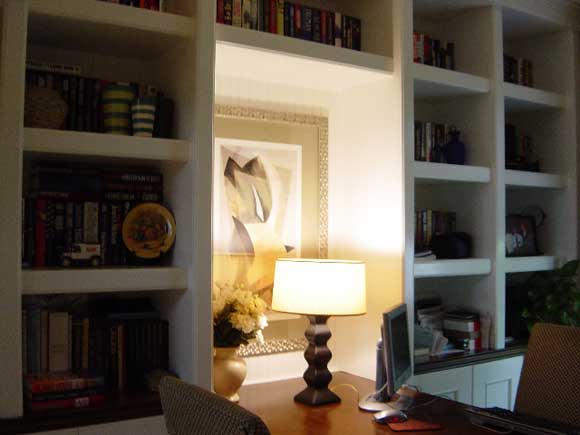 Here's the breakdown:
Bold print wallpaper
Antonella wasn't crazy about the wainscoting in the bookshelves so instead of covering the walls, she applied wallpaper to the niches. Dark and drab before, the new room pops with a versatile black and white pattern and flows better with the modern sensibility of the rest of the home.
Accent color
Antonella wanted a shock of color to offset the black and white so she sprinkled the room with orange vases, trays, magazine holders, photo boxes, and other accessories.
Fabric
Using materials of different colors and textures is an easy way to bring warmth into a room. The upholstered chair, found at an inventory clearance sale, ties in perfectly to the color scheme. Antonella then enlisted her talented seamstress mother Teresa to make an orange inset shade for the large window.
Customization
Antonella would have had to rip out the ceiling to put in can lights. This proved too costly and cumbersome. Instead, she bought an interesting floor lamp and drilled a hole in the desk to get direct light over her work area.
Antonella worked with what she had but still managed to give her home office a whole new look. It's great to know that these simple guidelines can be applied to your office – or any room in your house – while keeping costs down and impact high.