While watching an episode of "Friday Night Lights" last night, I was struck by a scene in which football star Tim Riggins selflessly donates his time to clean and repair his (hot female) neighbor's rain gutters. OK, so they end up together — I'm sure his motives weren't entirely philanthropic.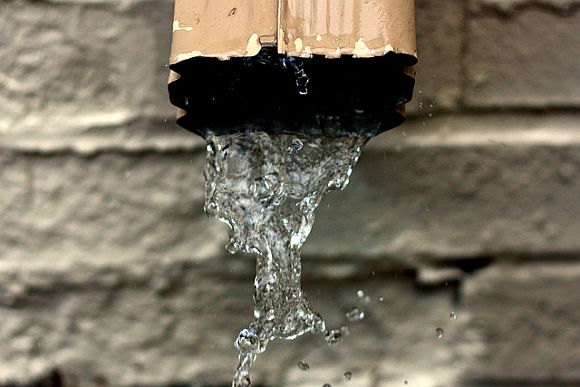 Yet the scene raises a great point in the DIY world — it's always a good idea to clean your rain gutters, especially during the spring season when your area's rainfall may be at an increased level.
This DIY project doesn't rank high on the fun scale, but it's easy to tackle yourself if you have the right tools. You'll need a ladder to reach your gutters. And depending on the style of your roof, you may want to work directly from there as opposed to a ladder. If your roof is relatively flat, you can use it as a work surface–just be sure to wear non-slip shoes.
If your roof is steep and pitched, however, that's probably not the best idea–stick to the ladder, preferably an extension model so you can easily reach your gutters. Get a large bucket and attach it to your ladder with an "S" hook so that you have a place in which to transfer the debris.

Wear a pair of sturdy work gloves so that you can remove debris by hand. You may also want to use a putty knife to help dislodge built-up material, or even a whisk broom to create easy-to-move piles.
Once you've removed any dirt and debris from your gutters, give them a rinsing with a garden hose. This is a great time to check the condition of your downspouts, too, and make sure they aren't clogged. If you notice a potential blockage, it's probably built-up leaves or some other material. You may have to remove the spout's elbow joint to clean it out before reassembling.
How often do you clean your gutters? Is it high on your list of favorite projects, or would you rather delegate the duty to someone else?
Photo: flickr.com/photos/aechempati/4821824754