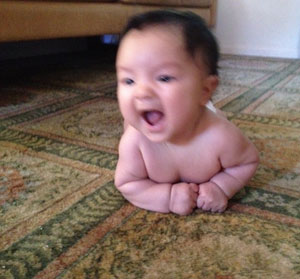 With a new baby in the house and a need to have our home thoroughly clean, we started from the ground up. We've got hardwood floors and use carpets throughout our home. We've rented the Rug-Doctor cleaners which worked okay but the results were never that great and the effort involved was time consuming. With the baby, time is our most valuable commodity.
We were seeking a carpet cleaning option that required little effort but maximum results and we found it with Chem-Dry carpet cleaning from Home Depot.
We scheduled a pickup of our three rugs and we didn't have to do anything as they rolled them up and took them in their truck. Five weeks later we got the rugs back and they were completely dry and as clean as they have ever been.
Instead of steam cleaning which uses a lot of water and takes days to fully dry, Chem-Dry uses a hot carbonating extraction process which lifts the dirt to the surface where it is then removed. This avoids issues such as mold or mildew that wet carpets can get after cleaning.
The only drawback was it took a few weeks to get our carpets back but we're so glad we turned to the pros for this job.
Chem-Dry is a full service cleaner and will clean all types of carpets but we were happy to know they also did rugs. Call or visit your local Home Depot for more details about Chem-Dry.
Disclosure: The Home Depot works with bloggers such as myself to conduct product reviews. They do not tell bloggers what to say about their products or how to say it. THD fundamentally believes that people should be free to form their own opinions and share them in their own words. The Home Depot often provides product – free of charge – to bloggers for review as they did for this post. The Home Depot's policies align with WOMMA Ethics Code, FTC guidelines and social media engagement recommendations.