If you have a lot of artwork or framed photos to display, creating an in-home gallery wall is a striking way to exhibit your prized mementos. It's a relatively easy project, too, and can be budget-friendly depending on the frames and prints you need.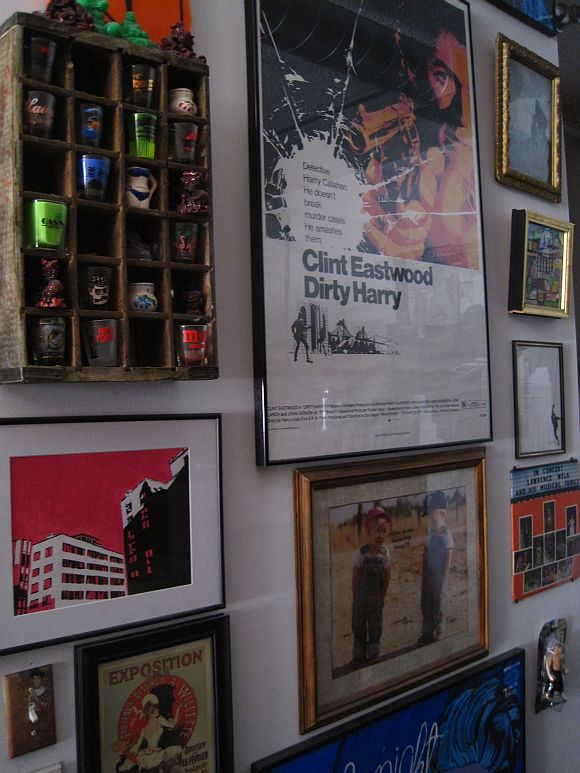 First up? Deciding which look is right for you. In our loft, we went for an eclectic, mismatched look that includes frames of all types and sizes, as you can see in the picture above — and yes, that may or may not be a John Cena action figure on the wall, too. Don't judge!! That sort of look may work for you and your space, or you may prefer a more streamlined aesthetic–maybe frames of different sizes but all the same color, or made out of the same material.
We recommend picking your frames first, as that will determine the size of the photo prints or art you need. Of course, if you have pieces that you really want to display, you'll want to buy a frame to fit those dimensions.

Once you have your frames, it's time to fill them! If you need photo prints, stores like Target offer in-store printing for a few cents per print. You can also use an online service like Shutterfly.
The final step? Hanging the frames. Don't feel the need to get too scientific with your measurements. You may be able to eyeball the location of each frame. If you've opted for frames of various sizes, feel free to cluster them on the wall. You can surround a larger frame with a few smaller frames, which gives a sense of order to the space without draining the project's creativity. If you're not sure how you want to display the frames, arrange them on the floor in front of the wall before you hang them. This will allow you to play with the design and see how much space you want between each frame without having to continually move picture hangers (and save your wall from several unnecessary holes!)
Do you have a gallery wall in your home? Or would you try creating one? We'd love for you to chime in!