It's been a crazy couple of weeks around here, but we're finally ready to pull the cover off our new project, Built by Kids!
We launched the site on Labor Day and the next day my wife Laura went into labor! Our son came a week early, so instead of sharing the news of our site launch we had more important tasks to take care of.


We've finally settled in a bit and catching sleep when we can but we're also excited to share Built by Kids with the world and our readers at Charles & Hudson.
There are plenty of great design and craft sites for kids online, but the resources for children and families who are interested in learning do-it-yourself skills and how to use tools we found very limiting. Home Depot and Lowe's do kid builder workshops and there are similar schools around the country that will teach children hands-on skills that don't involve a keyboard, but we wanted to create something more.
Our Mission at Built by Kids:
Built by Kids is created WITH, BY and FOR children. A lifestyle website that celebrates the parents, families, caregivers and educators who value the power of creative development and are nostalgic for a time when weekends were set aside for building a fort or making models.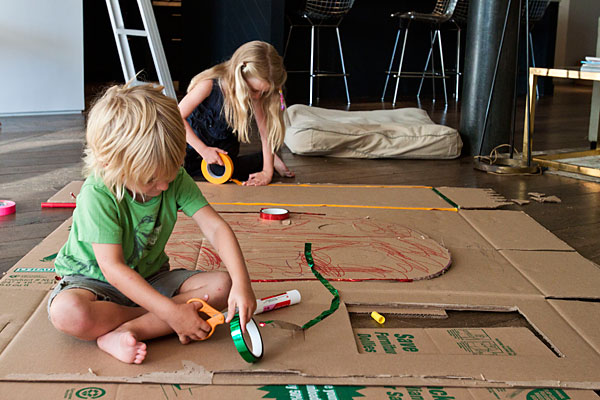 We'll share projects divided by age and skill as well as holidays. We will also go through the process of teaching children how to use hand and power tools with safety a top priority.
But we want Built by Kids to be a collaborative experience and we encourage parents, families and caregivers to share the projects they've built with/by/for their children. Each month we'll run a contest and the finalists (chosen by our readers) will be featured on Built by Kids.
This month we want to see your favorite Cardboard Creations.
Instead of spending your cash on the movies or buying your kid another video game, why not build something with them that will not only bring you closer together but leave them with an heirloom object that they'll cherish for years.
Find these projects and more at Built by Kids.