Last month we visited one of the John Deere plants near Augusta, Georgia and were the first to check out their new lineup of utility tractors, zero-turn mowers and riding mowers.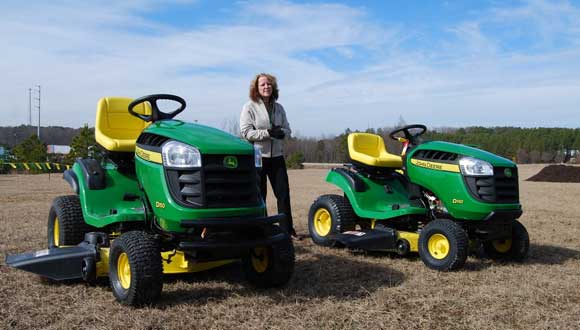 These tractors and riding mowers are targeted to the residential consumer or hobby farmer and since we have almost zero-experience using this equipment we can vouch for how easy it is hop aboard and get to work.
The key here is ease of use as anyone who invests in a riding mower most likely has a bit more lawn than they can handle with a traditional push mower and is looking for the ease and simplicity of cutting their lawn with a riding mower.
You do need a bit more space to store your riding mower but don't think of this as heavy equipment. The riding mowers from John Deere and others include a lot of great amenities such as cup holders, headlights, onboard storage and comfortable seats.
Home Depot now has a full-line up of riding mowers including the John Deere D100 series which will soon be replaced by the E110. They also have a fleet of zero-turn models available that are similar to the ones we tested in August.
The new lineup of E100 series mowers will feature their new Easy Change 30-Second Oil Change System. This integrated system, makes it possible for consumers to change their mower oil by simply twisting on a new cartridge that contains both the oil and the filter – no engine oil drainage needed. A daunting task that was once difficult, slow and messy is now easy, quick and clean.
Traditional riding mowers are the simplest to own, operate and maintain. Most models from John Deere, Toro and Cub Cadet, now come with comfortable seats, large steering wheels and easy to reach pedals.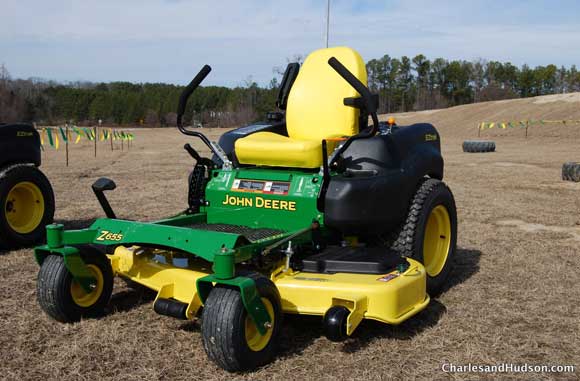 The zero-turn models take a bit more getting used to but are extremely fast and once you get the hang of driving and operating them you'll be whizzing around your yard in no time. They are called zero-turn as you use a system of levers to operate them. Push them both forward and you'll go forward, pull them both back and you'll go back but push them in opposite ways and you'll turn on a dime.
Before you head off to Home Depot you can check out their full-lineup from their website of John Deere mowers as well as models from top brands such as Toro, Ariens and Cub Cadet.
It always helps to do your research first online and then print up comparables and bring them with you when shopping.
We think you should treat yourself to a riding mower this Spring, don't you?!