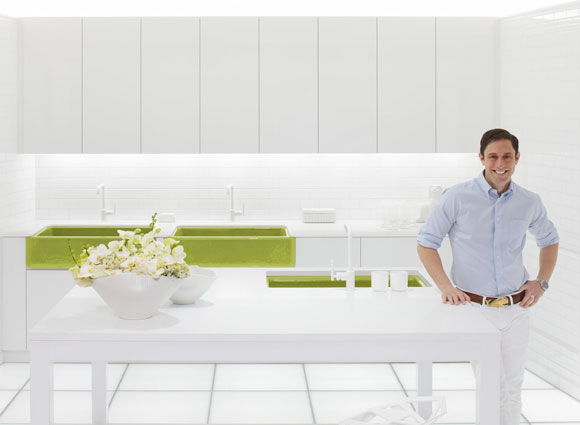 Jonathan Adler is a self-made icon in the design world. He began his career as a potter and soon transitioned his eye for great taste into home furnishings. Adler has also written a few books that celebrate color, so it made perfect sense for his collaboration called KOHLER Colors featuring Jonathan Adler.
We've always loved Jonathan's motto, "If your heirs won't fight over it, we won't make it." This perfectly reflects his commitment to impeccable craftsmanship and panache which is evident in this new collection.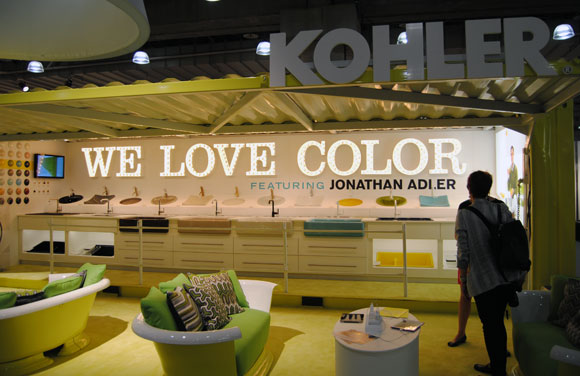 We got a sneak peek at the collection at ICFF this year in New York and we were impressed with bright palette and of course the KOHLER enameled cast iron sinks. This collection will feature four special edition colors available only on six select KOHLER enameled cast iron kitchen and bathroom sinks. Each piece is crafted in the foundry located in the Village of Kohler, Wisconsin, complete with a lifetime limited warranty.
We had an opportunity to ask Jonathan a few questions about this new collection.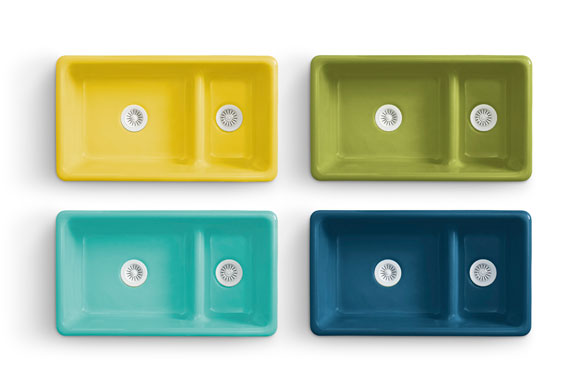 C&H: Hi Jonathan – Can you share your inspiration behind the collection and how you selected the four distinct colors?
Jonathan Adler: Each color gets its name from its inspired locale–colors that have stuck with me through my travels. These colors are very clean and clear. I didn't want the sinks to reference the old avocado vibe of yore.
Greenwich Green calls to mind the freshly manicured gardens of an English estate.
Piccadilly Yellow makes us think of the riot of colors parading through London's Piccadilly Circus. It fills the space with instant giddiness. It's sorbet for the kitchen or bathroom.
Palermo Blue is as beautiful and serene as the Mediterranean Sea that opens up on the city of Palermo on Sicily. It's like taking a dip in the Med itself.
Annapolis Navy is unconditionally classic and calls to mind the sailing city of Annapolis on Maryland's Severn River.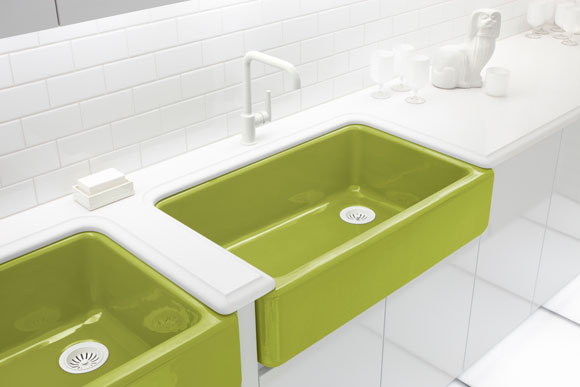 C&H: This collection contains very bold colors. How can someone with a more traditional kitchen work these sinks into their home design? What type of countertop would you recommend pairing with these sinks?
Jonathan Adler: I believe every space needs a pop and exclamation of color, and these sinks offer a simple way to incorporate it into the space. Embracing color is about embracing life. And if there's one specific color that truly resonates with one's personal design aesthetic, there's always a way to incorporate it. Annapolis Navy is soaked in Americana. Super nautical, super chic. And what's so great about Annapolis Navy is that it pairs well with other bold colors.
I also think Piccadilly Yellow can work in a traditional space–it's lemonade, it's lemon sorbet of a space.
White environments lend themselves well to pops of color like these–a white canvas welcomes color overdose. A colored sink brings a kitchen to life.
C&H: You've been known to say, "If your heirs won't fight over it, we won't make it", how do you determine which products pass this test?
Jonathan Adler: That's one thing that made this collaboration with Kohler so easy–we both share an unabashed love for color and are committed to quality. KOHLER enameled cast iron certainly passes the test; it's built to last generations. It's of heirloom quality, much like the other pieces I make. It's about uncompromised quality, timeless color, and enduring style.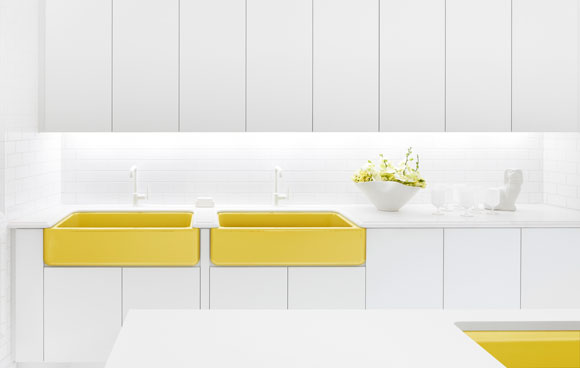 C&H: How has your background as a potter impacted your design and build aesthetics?
Jonathan Adler: I started off as a potter, but I consider myself a maker more than anything–I make all things for the home, pillows, pots, furniture, lighting, accessories and now this new collection, KOHLER Colors Featuring Jonathan Adler.
C&H: Are there plans to expand on this color palette and also grow the KOHLER collection to include other bath products?
Jonathan Adler: This partnership is the first of its kind for Kohler. These colors are offered for a limited time and are only available on three lavatory sinks and three kitchen sinks.

Here is a quick video of Jonathan sharing more insight behind this partnership.