***We did our own version of this project over on Built by Kids. See our Witch and Grim Reaper Silhouettes***
Even if you (like me) are too old for trick-or-treating, you can celebrate Halloween by decorating your house and lawn. Want to make your home the spookiest on the block? Try these DIY haunted house silhouettes to create an impressive, frightful display.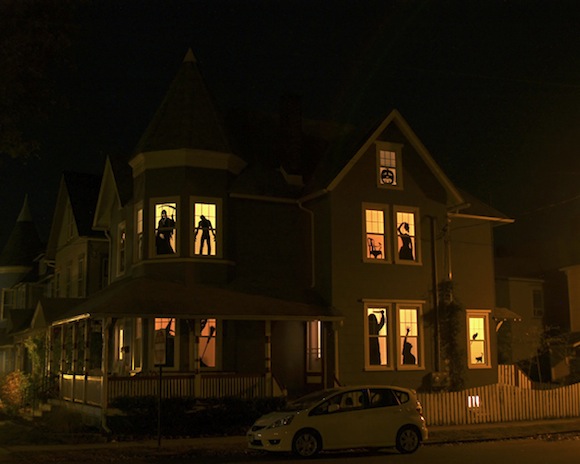 The best part? The project is relatively easy and family-friendly, too! Before you begin, gather your supplies:
Materials
*A large roll of black paper
*White chalk
*Scissors
*PDFs of silhouette images (download here courtesy of Craft magazine)
Optional supplies:
*A soundtrack of your favorite Halloween songs (we're especially partial to Ghostbusters, Thriller and Monster Mash)
*Cold cider
*An assortment of Halloween candy to keep your energy levels up

This project comes courtesy of the brilliant Jeffrey Rudell, who's haunted house silhouettes are so popular that they've been compiled and published in a book: "Spooky Halloween Silhouettes."
As Rudell writes for Craftzine
Step-by-Step Directions
Pick your favorite silhouettes and print them out.
Take them to your local copy store and have them enlarged to fit your windows.
Cut out the enlarged silhouettes and trace them on black paper using white chalk.
Then cut them out and, depending on the shape, mount them in your window.
You can hang smaller shapes using fishing line, or tape prowling cat silhouettes directly to the window.
If you're feeling ambitious, you can freehand your creepy silhouettes directly onto black paper, then cut them out and display.
What do you think of the project? Will you be incorporating spooky silhouettes into your Halloween decor?
Photo courtesy of Craftzin