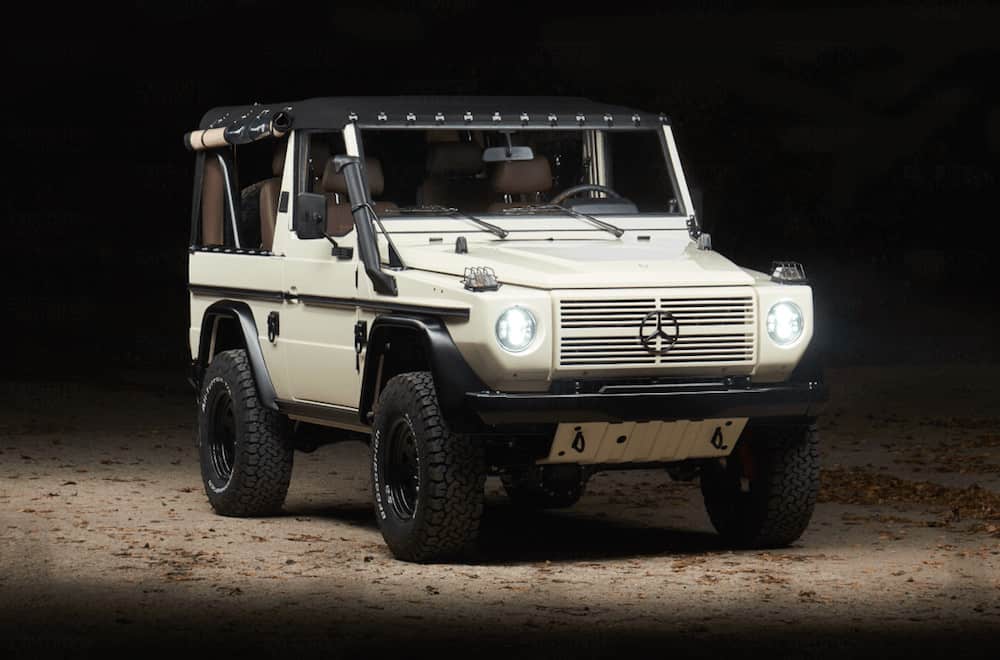 Expedition Motor Company just unveiled their latest build, a Mercedes G-Wagen restoration. We've seen plenty of Land Cruiser and Land Rover restorations, but G-Wagens just don't get the same amount of love.
This 1991 250GD Wolf follows Expedition Motor Company's emphasis on cabriolet models. It underwent more than 1,000 labor hours in the company's shop, emerging in original Mercedes-Benz white paint with a black soft-top.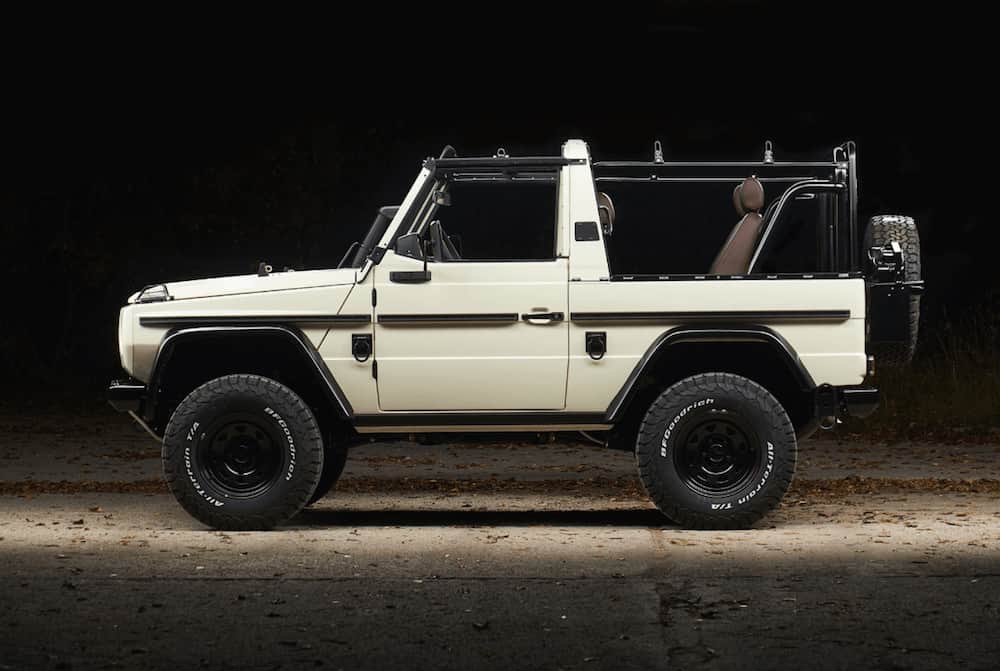 EMC founder Alex Levin shares what makes his restorations so special, "The frame-off restoration/improvement process returns the vehicles to like-new condition while adding modern creature comforts and conveniences. The new White Wolf includes side hooks that are not for aesthetic purposes. In military service, Wolfs were sometimes transported by helicopters, so we bolstered the hooks with interior steel reinforcements per the original configuration."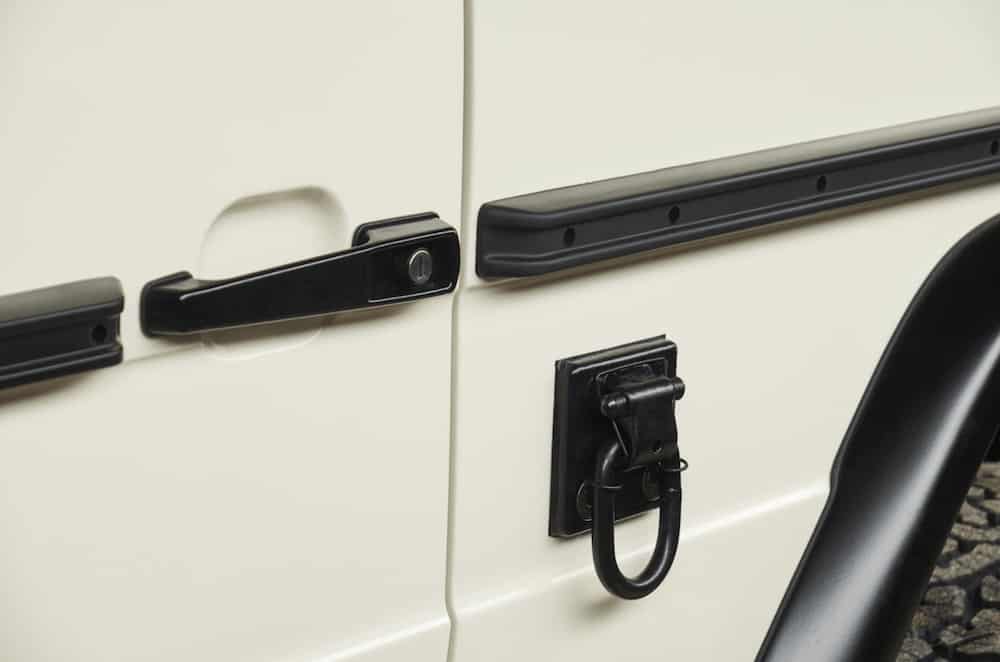 Expedition Motor Company revives and personalizes the classic Wolfs, particularly the 1990-1993 250GD models – characterized by 2-door bodies with fold-down windshields and convertible tops. For this White Wolf, Expedition Motor Company began with their standard bumpers and black cabriolet top.
Then a few exterior upgrades were added to augment standard equipment such as better-than-factory LED headlights. Aside from the air-lift hooks, the most noticeable exterior accessories are fender-mounted indicators protected by metal guards and the snorkel kit. The rear bumper features lower lamp guards. An optional jerry-can holder with black cannister is another upgrade. Also, the tires are premium BFGoodrich All-Terrain T/As.
For the interior, Expedition Motor Company created a bespoke yet simple theme. Upholstery and front door panels are marine-grade brown vinyl, complemented by diamond-pattern floormats from Expedition Motor Company's swatch book of fabrics. The rear cargo area features oak slats, which carry over to the rear side panels.
Comfort was improved with a new Vintage Air HVAC system with retro-appearing dash controls for subtlety. Similarly, the VDO entertainment-system head unit looks period-appropriate but includes Bluetooth, USB, and device-input features. A hidden Retro Antenna system eliminates the traditional body-mounted antenna wand. These upgrades raise the White Wolf to a total cost of $92,150, a slight increase over Expedition Motor Company's $90,000 base price.
As with all Expedition Motor Company vehicles, the White Wolf underwent a meticulous build process. The base vehicle – imported from overseas military sources – was totally stripped down to the frame. The ensuing multi-month re-birth began with inspection of all disassembled components. Each is then rebuilt, refinished, or replaced as necessary.
Specifics include media-blasting major components down to bare metal to remove any corrosion. Rust-inhibiting primer is then applied. Select parts such as the frame are finished in durable powdercoating for enduring corrosion-resistance. Other metal parts such as body panels and drivetrain-component housings are professionally finished by Expedition Motor Company with premium automotive-grade paint.
Following accepted concours-restoration practices, all rubber and soft parts such as hoses, bushings, and body mounts are replaced with new components. Similarly, the suspension is revived with all-new Eibach springs and modern-tech Bilstein monotube shocks to optimize ride quality both on the highway and during any off-pavement excursions.
For Wolf powertrains, Expedition Motor Company remains true to the Mercedes-Benz pedigree by retaining the original numbers-matching components. The Wolf's factory Mercedes-Benz OM602 2.5L inline-five diesel enjoys a reputation as one of the most reliable engines of all time. As with all Expedition Motor Company builds, the White Wolf's existing engine was disassembled, cleaned, refinished, and rebuilt with new gaskets, seals, belts, pumps, and whichever internal components need to be replaced.
The engine is then tested in the shop and then on the road prior to customer delivery. Similarly, the factory 711.7 5-speed manual transmission was disassembled, cleaned, and inspected prior to being rebuilt. A new clutch, seals, and throw-out bearing are part of each job. The transfer case and locking differentials received the same meticulous attention.