There's no denying that the turbulent economy has wreaked havoc on publishing, especially for shelter magazines. It's been hard to see good friends like Domino, Blueprint and Cottage Living close and sadly, we now have another to add to the list: our beloved ReadyMade magazine.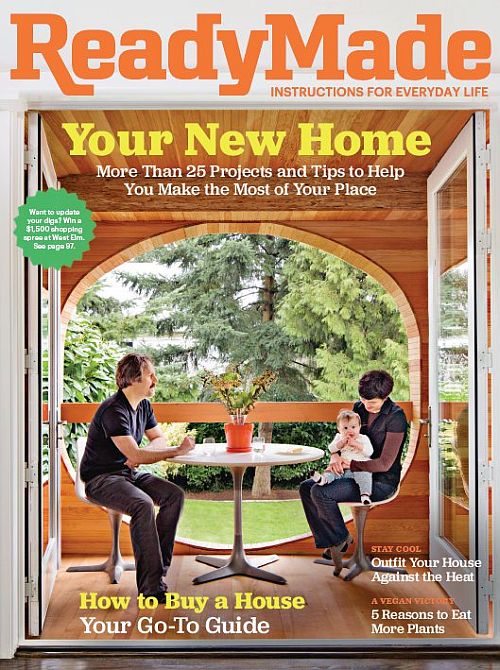 We have a great history with ReadyMade, thanks to the publication and staff's inspiring DIY spirit and the nearly limitless creativity that seemed to explode out of every issue. We were even fortunate enough to feature them several times at C&H, whether it was a chat with founder and former editor-in-chief Shoshana Berger; a tour of editor Andrew Wagner's amazing Tribeca loft or a coveted behind-the-scenes look at ReadyMade headquarters led by our wonderful intern, Lauren Chorpening.
Our fearless founder, Timothy Dahl, even channeled his DIY expertise to create a project for the RM 100, and ended up qualifying as a finalist for his whimsical yet functional gold sawhorses.

We have so many great memories with ReadyMade, not to mention the stacks of back issues that feature prominently in my loft. To say that we're disappointed in the decision to shutter the magazine is an understatement. ReadyMade filled a niche in the magazine industry, satisfying our collective creative spirit while providing the sparks of inspiration needed to fuel our next projects.
To the staff at ReadyMade, both present and past, we've enjoyed working with you and wish you the best. Each of you brought creativity, talent and dedication to the magazine, and that's something that will continue to be admired and appreciated even without the monthly presence of ReadyMade on newsstands. Thanks for all that you did.
Fellow ReadyMade fans, how do you feel about the decision to close the magazine?
Photo courtesy of ReadyMade