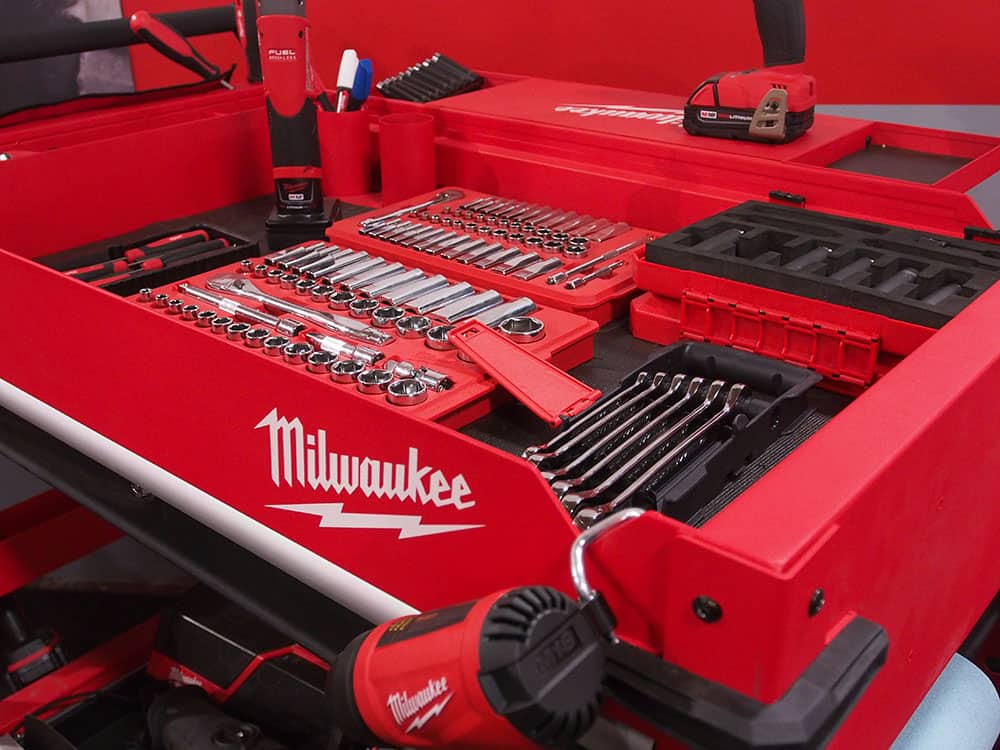 We've been attending the Milwaukee Tool New Product Symposium for a few years now and it never fails to disappoint. Milwaukee Tool remains committed to their core trade users and each year they've expanded the media invites to widen their reach.
This year they introduced more than 100 new tools and products, some of which we've all been waiting for years.
***We're excited to announce the biggest new tools from NPS – The Milwaukee Tool MX FUEL Light Equipment System***
Read up for more details MX FUEL System, which is going to revolutionize the light equipment and construction industry.
Tool Highlights
M18 FUEL Cordless Framing Nailer – Available October 2019
Milwaukee Tool remains committed to the carpentry and remodeling trades with the introduction of their cordless framing nailer. Milwaukee Tool continues to expand its line of cordless solutions from frame to finish with the introduction of their very first cordless framing nailers, the M18 FUEL 21° Framing Nailer and M18 FUEL 30° Framing Nailer.
Delivering the power to sink nails in engineered lumber, these framing nailers can also fire up to 3 nails per second with no gas cartridges. With best-in-class power, the M18 FUEL Framing Nailers deliver a fire rate similar to pneumatic to keep users productive.
The nailers have also been optimized with the size necessary to fit between studs and a balanced weight to limit fatigue. An optional Extended Capacity Magazine accepting two strips of nails is also available for these tools, allowing users to work
longer before needing to reload.
M18 Fuel 7 1/4″ Rear Handle Circular Saw – Available July 2019
The worm drive has arrived. The M18 FUELTM 7-1/4" Rear Handle Circular Saw not only generates the power of a 15amp corded saw but it also cuts faster than the leading corded units available in the industry. It also features the most run-time of any cordless rear handle circular saw, capable of making up 570 cuts in 2×4 per charge.
M18 Fuel Compact Router – October 2019
The M18 FUEL Compact Router generates the power of corded and supplies the run-time necessary to complete the most critical jobs. Fully compatible with the M18TM System, it features multiple attachments and has quick, accurate adjustments for precise work.
M12 Fuel Surge 1/2″ Hex Hydraulic Driver – August 2019
Milwaukee Tool continues to revolutionize the tool industry with the introduction of the new M12 FUEL SURGE 1⁄4" Hex Hydraulic Driver. As the first 12V subcompact hydraulic driver in the market, the SURGE uses a technology called
FLUID-DRIVE Hydraulic Powertrain which delivers 2X less noise and vibration and maintains peak torque longer than standard impact drivers.
M12 Fuel Extended Reach Ratchets – October 2019
The M12 FUEL Extended Reach Ratchets are Milwaukee's latest addition to their best-in-class lineup of ratchets. These ratchets have a slim profile and an extended neck that provide users with longer reach in tight spaces while still providing
best-in-class torque and the superior durability that users expect.
M18 Digital Motorized Torque Wrench
Not a lot of information was provided about this tool, but the video shows a lot. More to come soon.
Packout Dolly, Mounting Plate, Crates, and 360 Radio – July, August, November 2019
The new Packout accessories were very impressive and takes the system mobile. It also makes it more customizable and fun, with the introduction of the new bluetooth radio.
What's Missing?
Surprised that Milwaukee Tool didn't cover any outdoor power equipment, especially after their splashy launch of the Quik-Lok multitool system this year. We also thought we might see a track saw or belt sander. Soon I'm sure.
Milwaukee Tool also teased a game-changer coming later this year that we can't wait to share with you.