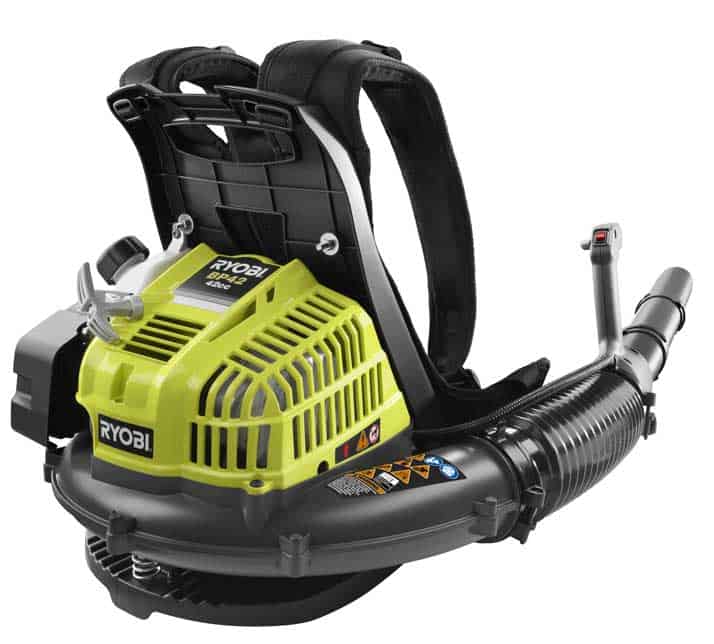 Backpack blowers have always seemed like a luxury to me. My trusty rake is all I needed, or so I thought. Our yard isn't that big but we've got magnolia and fig leaves that fall throughout the year. Electric sweepers and handheld blowers might do the trick but a neighbor recently demonstrated his backpack blower and I was sold.
While there have been major advancements in cordless powered outdoor power equipment, gas still reigns supreme for power to weight ratio as well as runtime. Especially when it comes to large and commercial jobs. RYOBI has introduced a gas powered blower that's billed as "the most powerful residential backpack blower". They seem to have hit the sweet spot for homeowners who demand more power from their blower but at a price below commercial units.
The RYOBI RY08420 features include:
· Unique engine mounting delivers optimal air force
· Adjustable shoulder harness for maximum user comfort
· Large 42 cc engine for excellent clearing power
· 185 MPH/510 CFM
· Variable speed and cruise control for convenient operation
In our tests the unit fired up right out of the box (after adding pre-mixed fuel/oil). It wasn't abnormally loud so we felt that hearing protection was unneeded. For a two-stroke engine exhaust can be a problem and there was no smoke and only a slight smell to the engine.
Standout features include the weight of the pack which at 18 lbs. is light enough for a user of any size or strength to handle and the adjustable shoulder straps should fit anyone. The cruise control feature also saves on thumb fatigue and we found the angle of the blower fits squarely into the crook of our arm.
If you're seeking to clear your yard in less time then you should definitely consider the RYOBI RY08420 which is available at The Home Depot for $199.