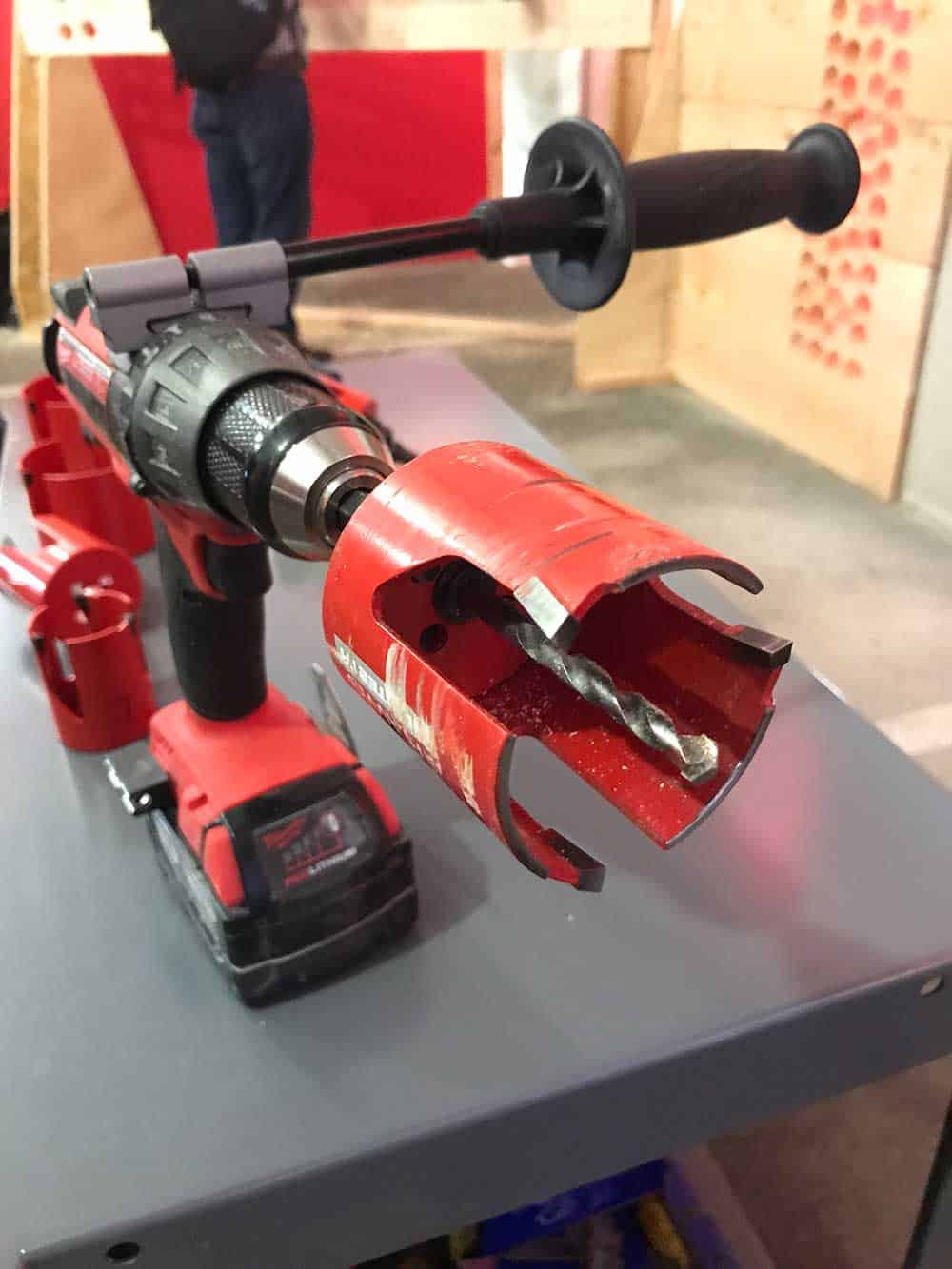 Since 2008 Milwaukee Tools has been throwing their annual New Product Symposium as an opportunity to show off new tools they're bringing to market and advancements they're making with their existing product lines. It's also an excellent opportunity for us tool enthusiasts to get a feeling for what's to come beyond those items being showcased. This year marks Milwaukee's 10th annual event. We attended and we were not disappointed.
Though a wide variety of new tools, devices, and accessories were unveiled, Milwaukee's 2017 Symposium focused on the company's drive for "Disruptive Innovation" in the tool space. This term is meant to highlight Milwaukee's ability to identify product lines, either of their own or from their competition, where an existing tool or accessory can be dramatically improved. The improvements can be achieved using Milwaukee's ability to offer creative and innovative solutions through field interviews, extensive R&D, rapid advanced prototyping, and hands-on field testing. The end results of their effort are aimed at industry changing advancements to help both pros and DIYers alike accomplish their projects in a higher quality, safer, and faster manner.
Throughout the event, the theme of the sessions focused on two primary categories of advancement. First, Milwaukee highlighted where their new solutions were truly first to market, besting their competitors either in specs, efficiency, or form factor. Second, they focused on their ability to leverage and improve on their existing tool technology, both solidifying their users' existing investments in the Milwaukee brand, and expanding their capabilities of what they offer their users.
Hand Tools, Storage, and Gear
Though hand tools, storage, and gear were lumped into a single demo session, some of the true highlights came from this grouping. Offering innovations in everything from screwdrivers with tactile identification of head type, to an ergonomic punch down tool with integrated LED, I walked away wishing one of each had been in my toolbox 10 years ago! In every case, these are tried and true hand tools with innovative solutions to well known shortcomings in the traditional tools.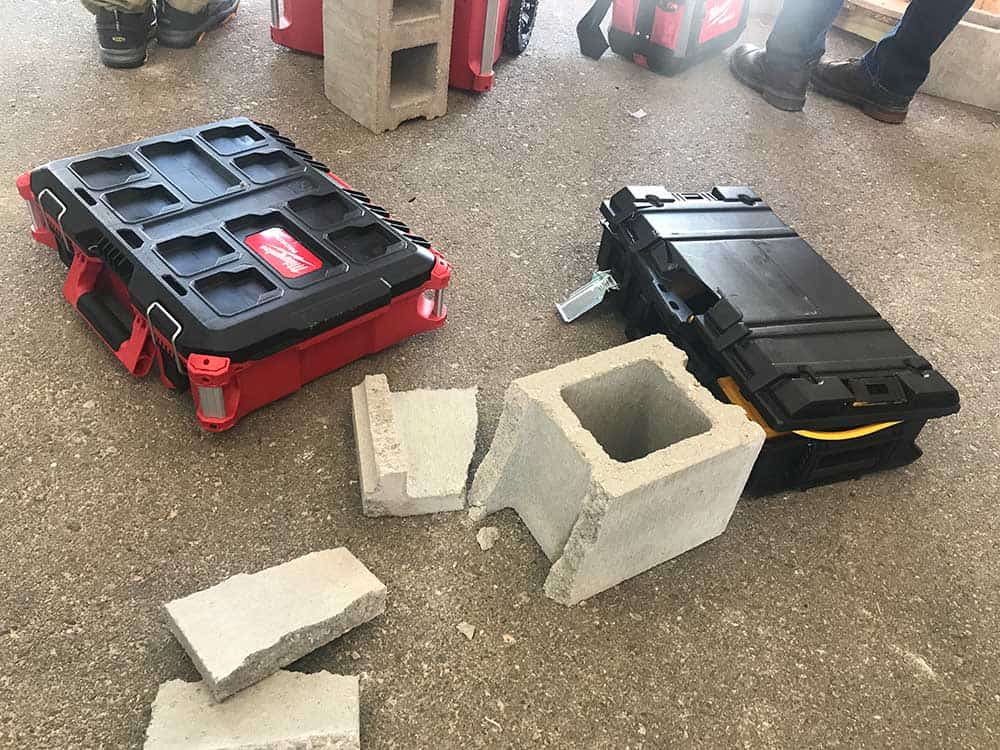 What better way to organize hand tools than through gear and storage solutions? Milwaukee's entrance into sturdy modular storage with their PACKOUT system was one of the real buzzworthy items in the show. After withstanding the abuse of a dropped cinder block that left competitor cases in pieces, the real capabilities of this system are apparent when you see the various sizes neatly stacked and snapped together. There's really no better way to gain efficiency on the jobsite or in your own project or shop than through organization, and the PACKOUT is a great step to make that a reality. The whole system will be available in September 2017
M12 & M18 Systems
The M12 and M18 FUEL Systems really ended up as some of the stars of the show, and I think that was one of Milwaukee's goals. From an M18 Hackzall to a High Torque ½" Impact wrench, most of us spent the most "hands on time" in this demo. But the three tools that really stand out are some of the bigger differences in size. The M18 FUEL 7-1/4" Dual Bevel Sliding Compound Miter Saw and accompanying lightweight Miter Saw stand were a great combo. At just 28 pounds it's one of the lightest and most versatile cordless miter saws on the market, and the only dual bevel available. The saw should be available in September 2017.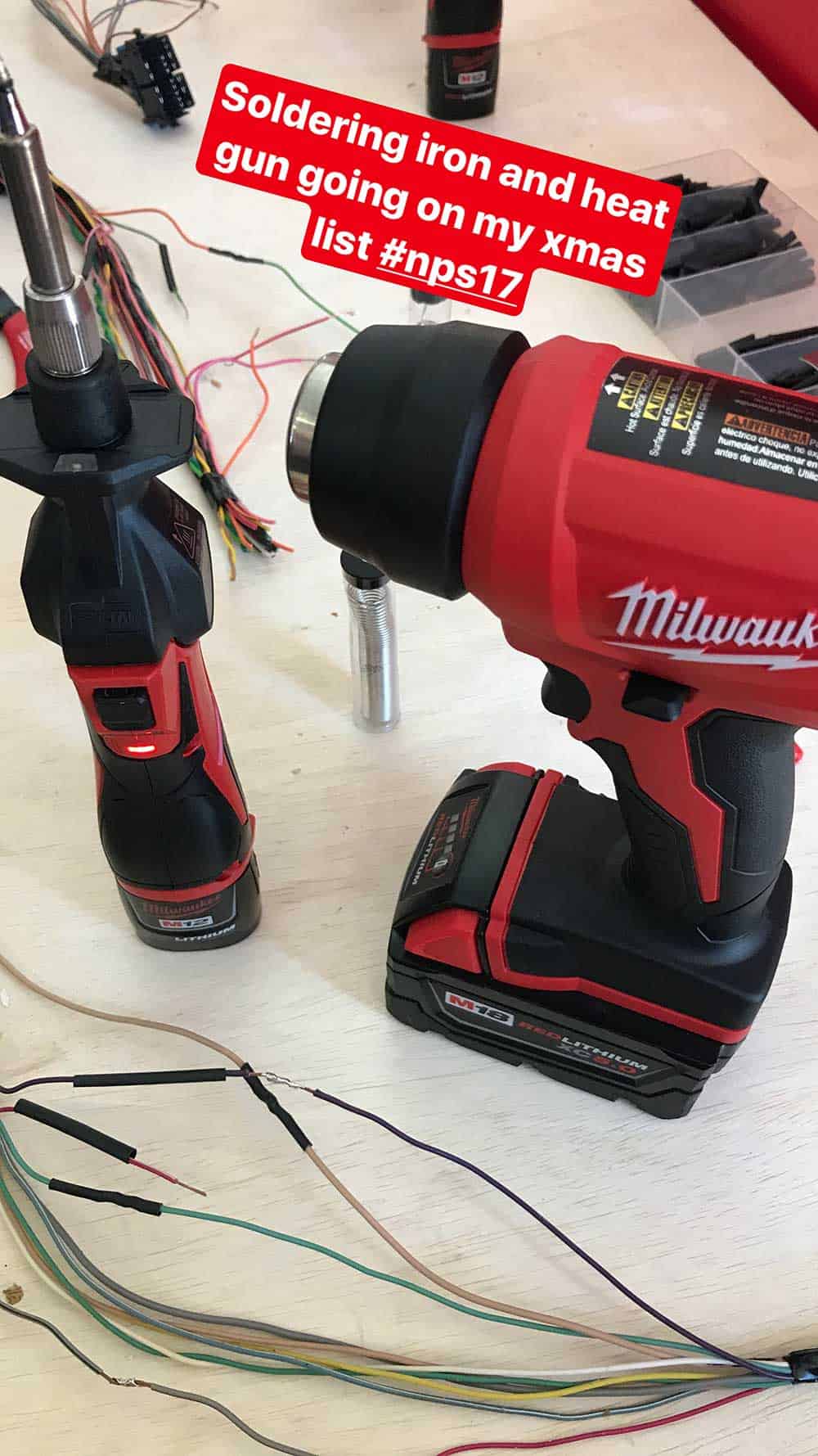 The M12 Soldering Iron and the M18 Compact Heat Gun are going to be game changers in the electrical field. A battery operated soldering iron without hot exhaust is an excellent new take on a traditional tool. This new incarnation, with LED indicator for heat readiness, is extremely user friendly. And the M18 Compact Heat Gun is truly a first of its kind in the market. I was able to solder a connection and shrink wrap in about 90 seconds start to finish, and all without any cord. This is going to be a great set for the electrical or HVAC pro, as well as the electronics hobbyist. Expect these tools in October and September 2017 respectively.
Finally, the M12 Stapler was really sort of badass. Bet you didn't expect to see those words together as part of this event review. Milwaukee's concept team really outdid themselves on their attempt to innovate a typically stagnated tool. Battery driven, compact, ergonomically friendly, and with features like an auto drive option, using this stapler was just fun. Sure, you might not have the forearm gains of Popeye when you're done installing a vapor barrier, but your wrists will thank you. The M12 Stapler is slated for an October 2017 release.
ONE-KEY
ONE-KEY is Milwaukee's inventory management technology solution that is built into their newer tools, but can be added to other tools as an after market capability by way of the TICK. If you're familiar with Bluetooth tracking technologies like the Tile or other devices that help you track your keys, wallet, pets, or anything else you want to stick it on, this all works in a similar manner. Geared towards the pro that's trying to maintain and track tool inventory on the jobsite, the capabilities for ONE-KEY are far reaching as more components are released and more software ideas are implemented. Right now you can think of it primarily as a security device, but in the future it's my guess you'll be able to track many details, such as when your tools will need calibration or service based on run time. This is the tip of the iceberg when it comes to smart tools, and Milwaukee is making a major attempt at future proofing their tools with ONE-KEY.
Empire Levels
Milwaukee set aside a significant amount of time to highlight the many advances in their Empire Level line of products. Starting with a factory tour to show manufacturing capabilities of Empire on our first day, and a dedicated demo of the products on day two, the apparent quality of this line really speaks for itself.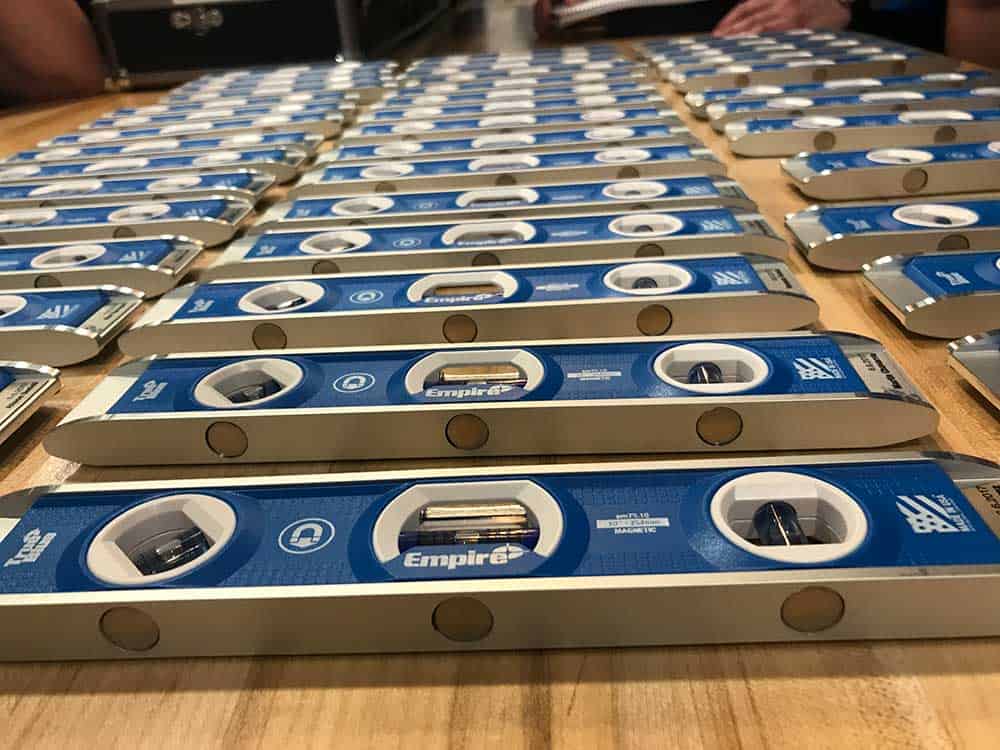 From an impact resistant UltraView LED torpedo level, to the auto calibrated digital levels with tone that range from 16" to 72", these levels really breathe new life and features into a proven existing technology. Going into the symposium I didn't expect to walk away saying "I think really need a digital auto calibrated 72" level," but here we are.    
Dust Extraction
New OSHA regulations limiting airborne silica dust generated from concrete work go into effect later this year. Milwaukee has been hard at work creating solutions for advanced dust extraction and collection to conform to these regulations. This includes the creation of dust extraction mechanisms for drilling, cutting, chiseling, and grinding. Several demos showed the impressive efficiency the tool accessories offer for dust extraction, which are impressive on their own. But beyond the OSHA regulations, the 8 Gallon Dust Extractor with self cleaning HEPA filter and tool accessories will benefits well beyond the concrete trades. I can't help but think about how far this could go to limit plumes of joint compound dust, another other airborne particulate debris! The Dust Extractor will be available in July 2017, and the various extraction attachments in the September to October time frame.
Carbide for Days
Milwaukee seems to have a grand time adding carbide tips to all of their blades, and why wouldn't they? Their manufacturing process is repeatable and reliable, and adding as much as 25% more carbide to their tips than their competitors makes for some seriously impressive bits and blades. Between the BIG HAWG, Hole Dozer, and TORCH, the blades we tested have an excellent lifespan even when encountering obstacles while drilling and cutting. We saw first hand as single carbide TORCH blade but through cast iron, then boron enforced steel, then more cast iron, all while beating competing methods in head to head competitions. I would expect to see more and more carbide tipped applications in the coming years, perhaps in a circular saw blade sooner than later.
Lighting
Milwaukee is putting a lot of time into providing improved jobsite lighting for trades, and that was obvious again this year. Whether we're talking full room lighting with their RADIUS lights, area lighting with the ROVER offerings, or my favorite, task lighting with rechargeable head lamps, pocket floods, and flashlights. The versatility of the lighting is their real strength.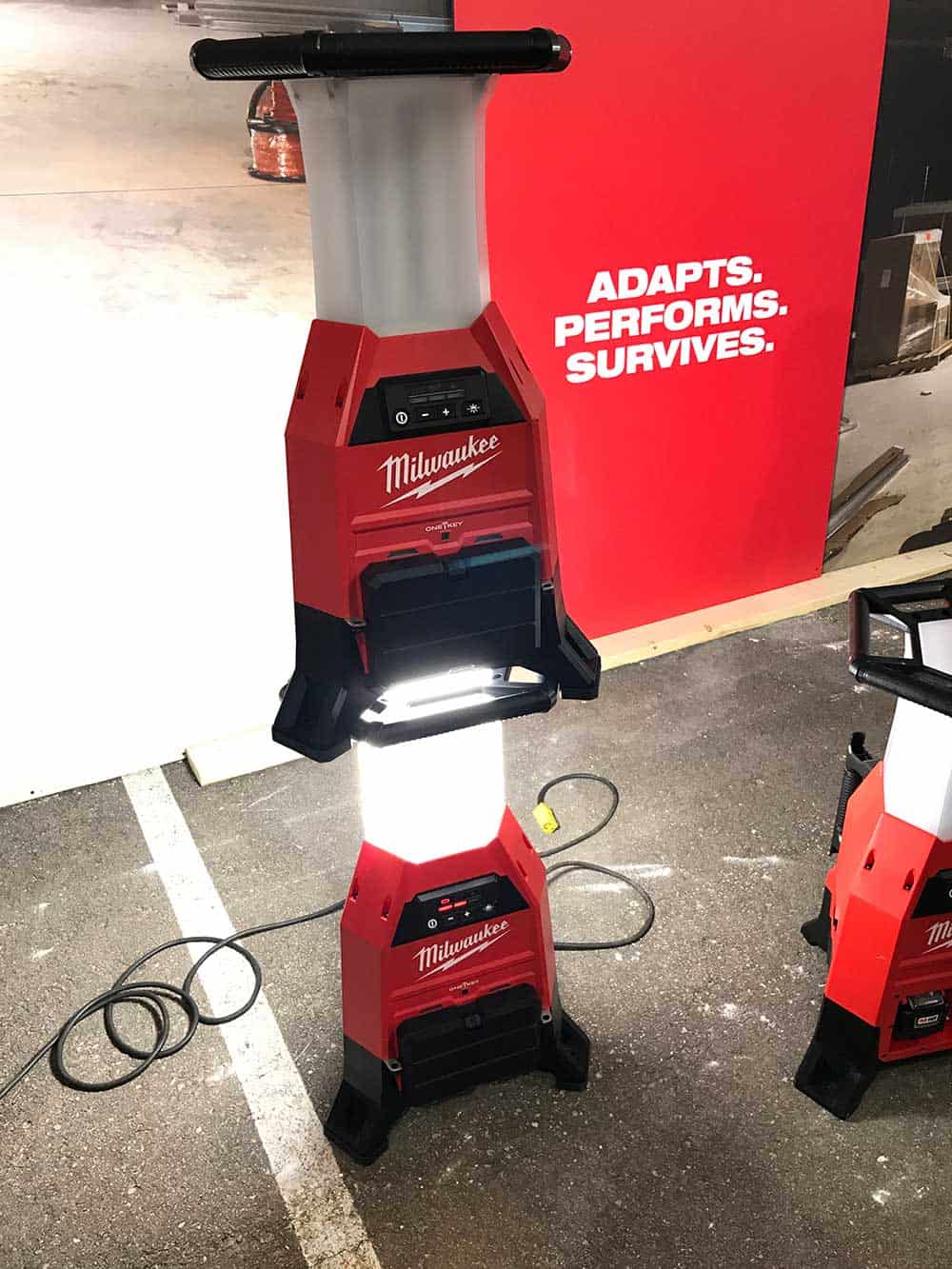 The M18 RADIUS light even incorporates an integrated two battery charger for when in use as a corded light, and remote operation capabilities via the ONE-KEY app. The task lighting will be available September 2017, and the M18 RADIUS in August 2017.
Plumbing
The focus on improving the efficiency and effectiveness of trade tool users is apparent in all of the demos, but it really stands out for me with the new plumbing offerings. Plumbing tools take some serious abuse due to their often constant contact with water. Add to the fact that plumbers need to keep their work areas clean in customer homes, often when dealing with pretty messy stuff, and you have a recipe for innovation when compared to existing tools. Milwaukee has attempted to rethink design and operation on some classic plumbing tools for modern efficient implementations. An M12 Drain Snake and M18 Drain Snake make a cordless powered solution for a typically very manual and cumbersome tool. And the M18 Sectional Drum Machine offers greater portability in lightweight sectional construction, contained mess within an enclosed drum, and safer operation through an auto break on switch release. But the real star was the M12 AirSnake. A handheld cordless air compressor delivers a variably powered shot of air directly to the drain clog, clearing the obstruction without the need for cumbersome and messy snakes that can damage fixtures. The M12 Drain Snake is already available, and the rest of the line is planned for November 2017.
Summary
Milwaukee's R&D and desire to stay ahead of the competition is apparent. And from this event, it seems their employees really enjoy and have fun working towards this goal. With all of the cool and innovative tools unveiled at this year's event, it really makes me look forward to what we might see next year. Would love to see a FUEL Table Saw and Track Saw.