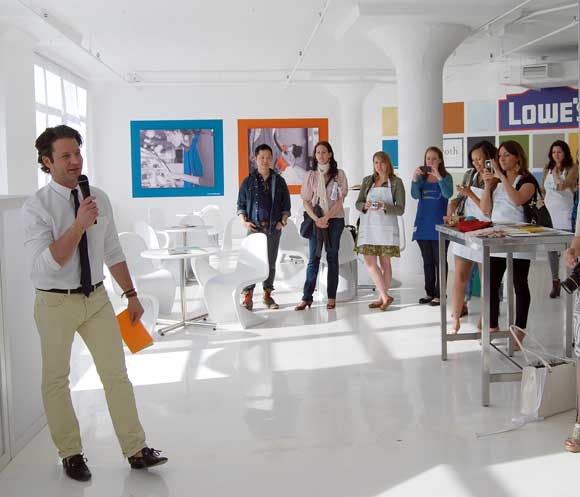 Last week we attended an amazing event by Lowes and Valspar Paint in New York City. They invited a small group of media to participate in a painting and design demonstration all hosted by celebrity designer and TV personality Nate Berkus.
Lowes and Valspar setup an incredible event space in Tribeca that was completely white which made for a stunning blank canvas. We were the first to arrive and were able to soak in the contrast of the white space and the vivid Valspar paint that was setup at various stations around the room.
Valspar pulled out all the stops and had Lowes professionals setup at each station to share with us the attributes of each product as well as demonstrate how they work. We particularly liked the one-coat cover up paint which we tried and it certainly covered up a black wall with no see-through issues. Going with one coat saves time and money so it would be worth the initial investment.
Allen + Roth is a Lowes brand and they have an exclusive grouping of Valspar paint only available at Lowes. This palette was displayed throughout the space in various photos and there were a small group of artists painting photos with Valspar paint.
But the star of the event was Nate Berkus who quickly arrived and spent the afternoon with us sharing a bit about himself as well as some design tips and judging a few competitions among the attendees. Nate was extremely gracious and personable and kept the event running smoothly. He's got that star quality and it's no wonder Oprah loves him so much!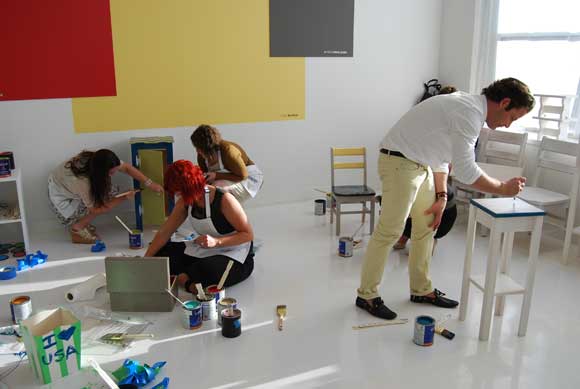 A highlight was Laura painting a toy box alongside Nate who had selected a stool to paint. Nate chose his favorite projects including a trash bin by Danny Seo, a chair from Crystal Gentilello of Rue Magazine and Julia Walsh of CasaSugar and a cabinet painted by Kate Riley of Centsational Girl and Melissa Michaels of The Inspired Room.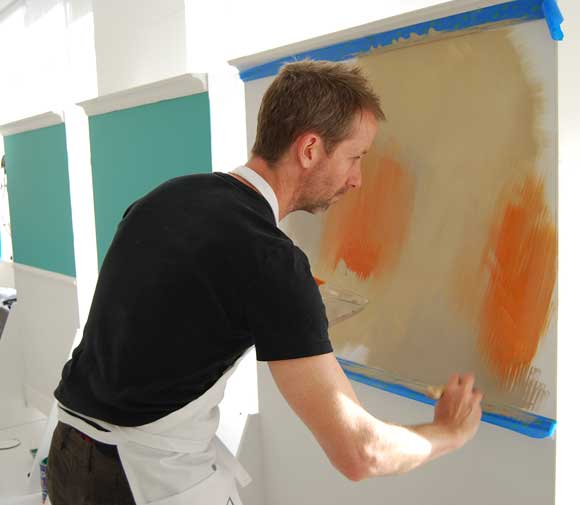 Nate also participated in a palette design competition and one of our favorites was from Maxwell Gillingham-Ryan of Apartment Therapy.
One thing we also noticed was that we didn't smell any paint during the entire event and there were open cans everywhere. We can vouch that the Valspar Hi-Def paint truly is low-odor and they also claim it's low-VOC which is really a must-have feature for us.
It's always great to plug back into NYC and visit with friends and see how much the city has changed since we left. It's only been two years but the scene in New York changes quickly and fortunately we had some time to explore a bit and take in some new restaurants and try to see some new shows. We definitely recommend eating at The Dutch in Soho and trying to score discounted tickets (we didn't) in the lottery for The Book of Mormon on Broadway.
Thanks Lowes, Valspar Paint and Nate Berkus for putting together a great event. We've have more follow-up articles about Valspar Paint and some design tips that Nate shared.
Here are a few photos from the event and you can see all of our photos on our Facebook page.