We thoroughly enjoyed our days living in New York's West Village (enough that we named this blog after our cross streets). We miss the quaint tree-lined streets, impeccably restored brownstones and neighborhood institution Garber Hardware which has been serving New Yorkers in Manhattan and the West Village since 1884.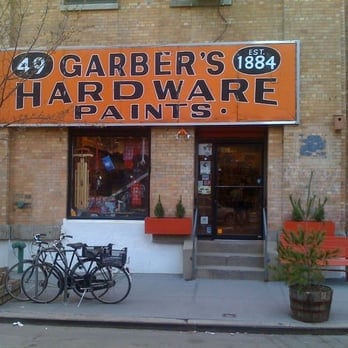 Nathaniel Garber Schoen is the current owner and we had the pleasure to meet him during our time living on Charles St. Besides helping us with random issues we had with our apartment, Nathaniel also contributed some great content to this blog (Fixing a Running Toilet & Making a Magnetic Bulletin Board).
Family-owned stores such as Garbers are what make New York City unique and provide a depth and richness to the neighborhoods in which they operate.
We recently caught up with Nathaniel and asked him to share some insight into his store, his customers and his favorite DIY tip.
CH: Your 5th generation to operate Garber Hardware and the store's history is unique and tied into the fabric of the city. Can you share the background of Garber Hardware and your family?
Nathaniel: The Garbers came to the United States from Odessa Russia in the late 1800's in an effort to escape the Pogroms facing Russian Jews at the time. Garber Hardware was at first a 'push cart retailer' founded by my great-great grandfather, Joseph Garber, and his son (my great grandfather and namesake) Nathan Garber, before the opening of the store on Eighth Avenue and Horatio Street in 1884. Ever since then, a Garber from every following generation has been at the helm.
CH: As the big box retailers have changed the landscape of how diy shoppers shop for tools and home improvement projects, how has Garber Hardware managed to survive and thrive?
Nathaniel: Garber Hardware's location inside of Manhattan has certainly shielded us from the scourge of big box retailers, but most of all it is the "Garber's experience" that keeps our customers loyal. I have many customers with childhood memories of my store, and some whose parents and grandparents were customers as well. A Home Depot opened up on 23rd street a few years ago and I don't feel it had a negative impact on us at all. If anything it may have actually helped drive more business to my store.
CH: What advantages do you have over Home Depot and Lowes?
Nathaniel: Our main advantages are selection and customer service. The assumption of the uninitiated would be that a 60,000 sf store should have 10 times the selection of my 6000 sf store, but that is hardly the case.
In addition to our large selection, we have the ability to work with our customers one-on-one throughout the course of their particular project. If a customer needs a hard to find item, we can do the search and acquire it or offer a reasonable facsimile if an item is discontinued or otherwise unavailable. Besides having lots and lots of stuff, we also know what to do with and how to use just about everything we stock.
If you come in to my store for merchandise and advice, you're going to get it even if it's at the cost of a sale. I have sent many customers home empty handed because they just plain didn't need to buy something from me in order to accomplish what they set out too, and it's the little things like that that seem to keep our customers coming back again and again.
CH: Do you have any plans for expansion?
Nathaniel: I'd love to open up another store and have done plenty of research to that end. Unfortunately the cost of doing business in NYC is quite high and to date there has yet to be an opportunity that would make sense financially. More frustrating is the fact that the neighborhoods I have explored and that are first on my list for a second store are desperate for even a scaled down version of Garber Hardware, but the cost of commercial space has thus far kept me priced out of the market.
CH: What are the most popular home improvement queries you answer on a regular basis?
Nathaniel: Clogged drains and runny toilets are way up there, household electrical projects like dimmers and fixture installs too. Pest control is universal. Everyone has mice and roaches at least once in their lifetime in New York City, even the neatest of neat freaks.
CH: What are the unique challenges New York apartment dwellers face?
Nathaniel: Storage is always a challenge in any big city and NY is no exception. Sometimes I'll have a customer who wants' to install a dishwasher or washer/dryer or the like on the sly, which isn't always possible but it is doable. For building owners there is the ever present need to keep up with Historic Preservation rules and regulations if they happen to own a designated property.
CH: We're writing a DIY City Guide for New York. Of course Garber Hardware is at the top of the list but are there any other independent shops or vendors we should make sure we include?
Nathaniel: This question makes me sad because many vendors that come to mind have since gone out of business or relocated to an outer borough, but here goes:
Still in Manhattan (yay!) is Aronson's Floor Covering. I love that store but you might need to pretend you are in the trade when you go in as they typically deal mostly with interior designers and installers. Technically, they've been around for longer than Garber's (c.1867) but ownership has changed 3 times through 3 different families, most recently in the 1960's. So don't let the girls that run the place tell you they have seniority on me. We've been arguing that point for years.
Also ancient and still in the city is George Taylor Specialties. If I don't have an odd plumbing part this is where I send my customers. If they don't have it, they can make it. They have a machine shop on site! I wish I had one…
For other parts and raw materials I like Standard Tinsmiths and Grand Brass. I think both are now located in Long Island City.
CH: When you're not helping New Yorkers fix their homes where can we find you and what do you do to relax outside of the store?
Nathaniel: Well, my art studio is located in the back of my store, so there are many occasions when I am relaxing inside the store. When I run out of my studio to grab something from off the shelves, the look on my customer's faces are priceless when they solicit help and I tell them "sorry, I'm off today." Of course, most of the time I will stop and pitch in if I'm there and it's busy.
My happy place is in the snow, and I take as much time off in the wintertime to go snowboarding as I can. I'm not easy to find in the store for much of February and my customers know that if a snowstorm rolls in on a Saturday, they best call first to see if I showed up to open on Sunday…ever since I stuck a sign on the front door a few winters ago late one Saturday night that said "closed for powder day" and drove up to Vermont. The nice thing about having a tight knit customer base is that they understand, and encourage, schedule lapses like that once in a while, but for the most part though we try our best to make sure the schedule runs as posted.
CH: Being located in Greenwich village which has such a strong community are there any local events or organizations that Garber's is involved with?
Nathaniel: We try to contribute wherever we can. We donate supplies to local parks and other non-profits on request and collect food donations certain times of year. We participate in a battery-recycling program too.
I love animals and my dog Kodos is definitely the most popular employee in Garber history. I am a huge supporter of animal shelters and have partnered up with Animal Haven Soho. Basically, we are their on call handy-people, when something there needs a'fixin I get the call. We also host puppy adoptions every Sunday afternoon in the store. Nothing makes a day at work more fun than a day at work with a wheelbarrow full of puppies!
CH: Thank you for your time and can you leave us with your favorite home improvement tip?
Nathaniel: I tell people all the time to just go for it. Don't be afraid to make a mess. Don't be afraid to put a hole in something. Just get in there and get to work. Most projects are going to take unexpected twists and turns and you just need to roll with it. There are very few projects that you need to be member of a trade union to complete. All you need is the confidence to make the attempt, and patience. Lots of patience.
Most days you'll find Nathaniel at Garber Hardware which is located at 710 Greenwich Street, New York, NY 10014, 212.242.9807.

More Interviews
Kevin O'Connor – Host of This Old House and Ask This Old House
Shoshana Berger – Founder of ReadyMade Magazine
Anne E. Collins – Editor of PointClickHome.com