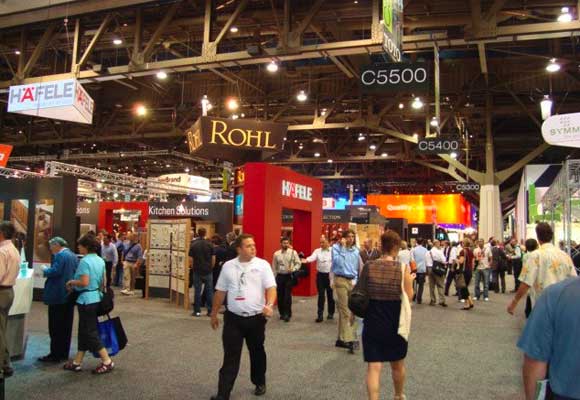 We're headed to Las Vegas for the Kitchen and Bath Industry Show (K/BIS) which is the largest kitchen and bath trade show in the country. There are enough sinks, cabinets and appliances to make your head spin.
You can follow our experiences at K/BIS on Twitter and Facebook as we'll be updating at a fast and furious pace, and if you are at the show you can find us tomorrow April 26th at 1pm at the Multimedia Lounge where Timothy will be speaking on the Design Blog panel that includes Susan Serra of The Kitchen Designer, Chris Phillips of Apartment Therapy, Megan Arquette of Beach Bungalow 8 and Erika Powell of Urban Grace Interiors. This is a new panel for K/BIS and they are making a point to embrace social media and blogs so you can follow everyone's show updates on Twitter using the hashtag #KBIS.

Timothy will also be joining MyFixItUpLife on-air at 3:15pm on Wednesday, April 27th at the Air King booth. Theresa and Mark Clement will be broadcasting from K/BIS all week so tune-in.
We'll also be posting a lot of updates from our Kitchens blog so make sure you follow us there as well.
See you in Vegas!!!