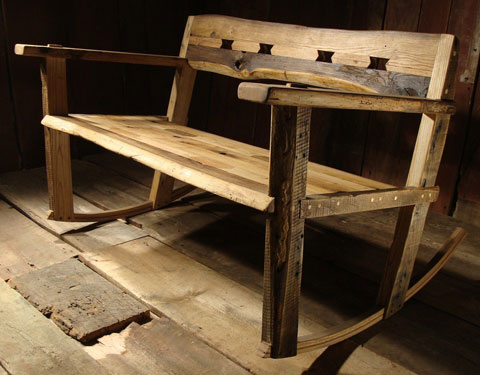 We like to say that Etsy is at the center of the handmade universe which was confirmed after getting a behind-the-scenes tour of their office in Brooklyn, NY. They truly celebrate their sellers as nearly 100% of their furniture and decor came from their community of handmade and vintage vendors.
One of my favorite pieces was their lunch table and bench built by Etsy seller David Ellison.
I was flattered by the opportunity to contribute as a guest curator to the Etsy blog and share my picks of unique furniture available on Etsy. It was a difficult task to keep my selection from running too long as their inventory of fabulous furniture runs deep and changes constantly.
Read on check out my picks with photos and descriptions and if you like what you see and are a member of the Etsy community, leave a comment with them as we'd both appreciate to hear what you think!

There are very few mainstream retailers that carry unique pieces of furniture that are also of great quality. We all know that the right furniture can make a room, so it can be a frustrating experience shopping for that perfect piece. I've found it easy and fun to find stand-out furniture on Etsy. Here are a few of my favorites that fit a variety of tastes and budgets, but all have a unique aesthetic that's hard to find in stores.
Salvaged from the beams of an 1800s Massachusetts farmhouse, this bench rocker oozes character and would look great at the cabin or in a contemporary home. By newmoonsalvage, $2,100.
This circa 1970s Goldsworthy Swivel Chair from Hindsvik would help clean up the most disheveled desk. From Hindsvik, $185.
Children's rooms can be difficult to furnish but you can't go wrong with this vintage retro orange rocking chair from PourToujours. Unfortunately it's only available via local pickup in Montreal, Canada, but we're tempted to head north! $72.
This sweet little dresser upcycled by knackstudio seems conventional, but the mustard color and pink glass pulls give it some unexpected flair. $425.
This light box built by EcteteraWhatever can serve as a centerpiece to any room. Even though you don't physically touch it, the emotional response to this piece can have a tremendous impact. $1,000.
This special love seat will keep you and your partner extra cozy, as both the seat and backing are curved inward to allow maximum contact. The beauty in construction comes from the smooth lines of hot rolled steel and curved plywood that is a specialty of pmcustom. $2,500.
For a bold bench with masculine flair check out the Humanitat Bench by upcycler. This piece would look great in any modern home with dark woods. $2,975.
This meditation bench by MattDownerDesigns allows you to take on a more comfortable kneeling position and is ideal for those who tend to get a bit restless. The dovetail joints and walnut/maple construction would bring a touch of fine woodworking into your home. $200.
This dining table by brandmojointeriors is inspired by the Kinzua Viaduct, which was once the tallest railroad bridges east of the Mississippi. The X-beam base and black walnut are oh-so-appealing, and kudos for the bold middle-of-the-road photos. $3,450.
If you've been seeking an interesting chest and enjoy the look of rough cut wood, then this piece is for you. Hand-built by ADrauglis from a felled walnut tree, this chest of drawers makes a statement. $4,000.
This antique French armchair from TheShabbyHome will add character to any room. The needlepoint detail and walnut carving reminds us of Grandma's house — and that's a good thing. $795.
This iconic chair designed by acclaimed architect, Gerrit Rietveld in 1917, is now offered as a replica from stephenthurston. According to Mr. Rietveld the original chair was built to show that it is possible to create something beautiful, a spatial creation, with simple machine-processed parts. Likely not high in comfort, but rather a piece that serves as art as much as furniture. $400.
Etsy does South Beach with these matching vintage gold regency chairs from fabulousmess. Can you pull it off? $1,995.