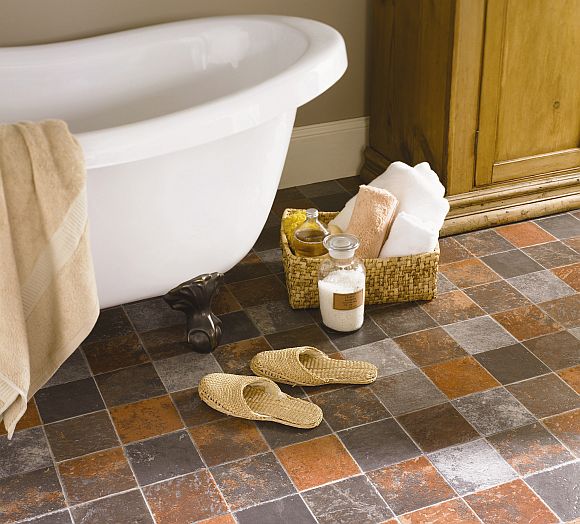 After attending last week's SURFACES flooring show in Las Vegas, we've got floors on the brain! One of the surprising facts we learned while at the show is despite flooring's cost (it's likely one of the most expensive purchases you'll make, aside from a home), the majority of consumers are uninformed when it comes to flooring types, technology and other relevant factors.
If you're considering new floors in the near future, take some time to research your purchase. You'll want to identify the type of flooring you want–carpet, hardwood, tile, cork or stone, just to name a few–and, from there, narrow it down to brands and colors/styles.
To help in this process, we've compiled a list of questions you should ask yourself before your purchase.

What sort of traffic will the flooring support?
If you're covering a high-traffic area, this will impact your decision–you'll likely want something that can clean easily and is durable, such as ceramic or porcelain tile, stone or hardwoods. Don't be deterred from carpet, however–today's brands feature a range of stain-fighting technology that make them more feasible options for a variety of spaces.
Do you have pets and/or children?
As with the previous question, these factors may influence the type of flooring you choose.
What's your budget? This is arguably the most important question, as your budget will dictate the type of flooring you can afford. Stone, engineered wood and hardwood are likely to be more expensive choices, although those and other options, like linoleum, tile, laminate and carpet also offer a wide range of prices to fit a variety of budgets.
Other factors you may want to consider include the design and decor of the room. When you shop for flooring, feel free to bring in paint swatches, fabric samples and other pertinent details that will help you coordinate flooring to the existing look. And although it's a great idea to do some preliminary research to help narrow your selection and familiarize yourself with current products and trends, try also to keep an open mind once you begin shopping. You may be surprised by the look, affordability or performance of a certain type of flooring that you didn't expect to choose.
Feel free to enlist the expertise of your local flooring store, or visit the World Floor Covering Association for comparison sheets and other pertinent information.
Are you planning on a flooring purchase? If so, what type are you interested in?
Photo: Easy Living Savannah Flagstone, courtesy of Tarkett