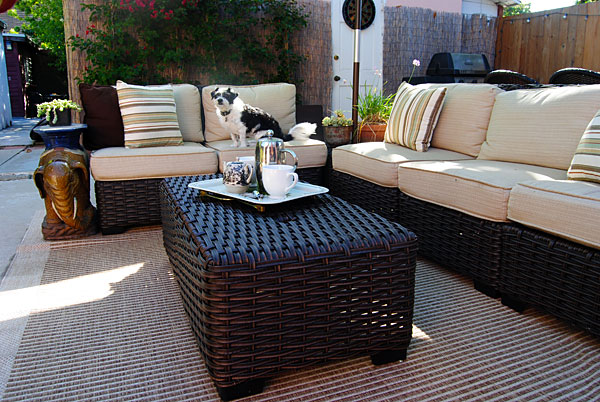 This summer we traveled to New York to check out the Lowe's Designer Charity Challenge. We were inspired by what all three designers were able to accomplish using Lowe's 2012 outdoor collection as well as other items from the Lowe's home store.
Our home is small so we take advantage of the great Southern California weather and spend a lot of time in our backyard. We try to embrace the indoor/outdoor living to the fullest!
When we first moved here three years ago we immediately went to Lowe's and stocked up on what we needed for our home as well as the backyard. Coming from New York we were excited to invest in outdoor furniture and a BBQ.
We chose the Allen+Roth Eastfield patio collection and loved the dark wood and green sunbrella cushions. After a couple years the wood needed treating so we painted it but the cushions never faded and have always been easy to clean.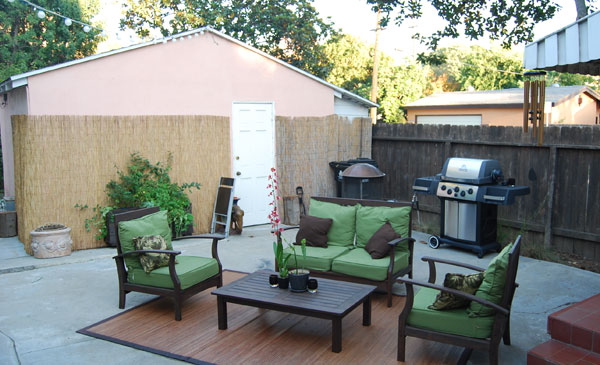 One thing missing from our yard was an umbrella and a proper outdoor dining area. We have shade from a magnificent magnolia tree for a few hours in the morning but in the afternoon the sun can get hot and there is no shade to escape. With our little one we wanted to be able to enjoy the yard all day without worrying about being exposed to the sun.
We thought about going with the Eastfield collection again which looks exactly the same except the material used is aluminum, painted to look like mahogany. It's a great idea and spares the expense of upkeep with the wood. But we wanted to go with something different and the Blaney collection had everything we needed.



We've never had wicker furniture before but we were attracted to the dark color and the light patterned cushions. We felt that the style would work nicely in our yard and compliment a variety of outdoor pillows, rugs and umbrellas.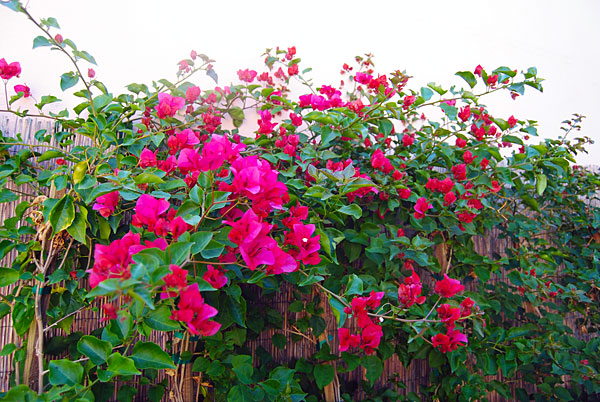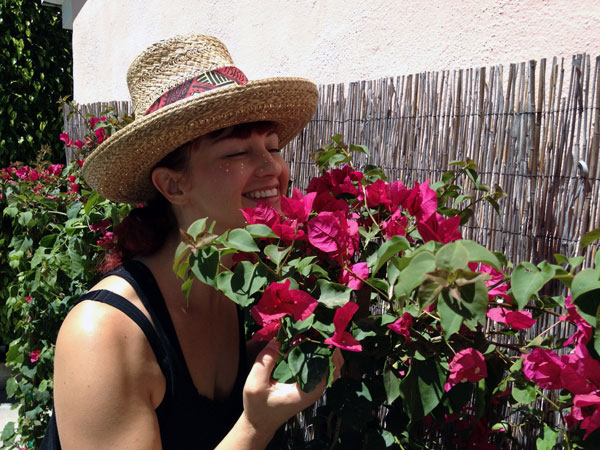 We also wanted to infuse some color in our backyard plants which were mostly succulents, so we went with red bougainvillea (Barbara Karst) from Lowe's gardening. We replanted the bougainvillea in some custom made planter boxes that we built that fit the exact length we needed to cover the back wall and under a window.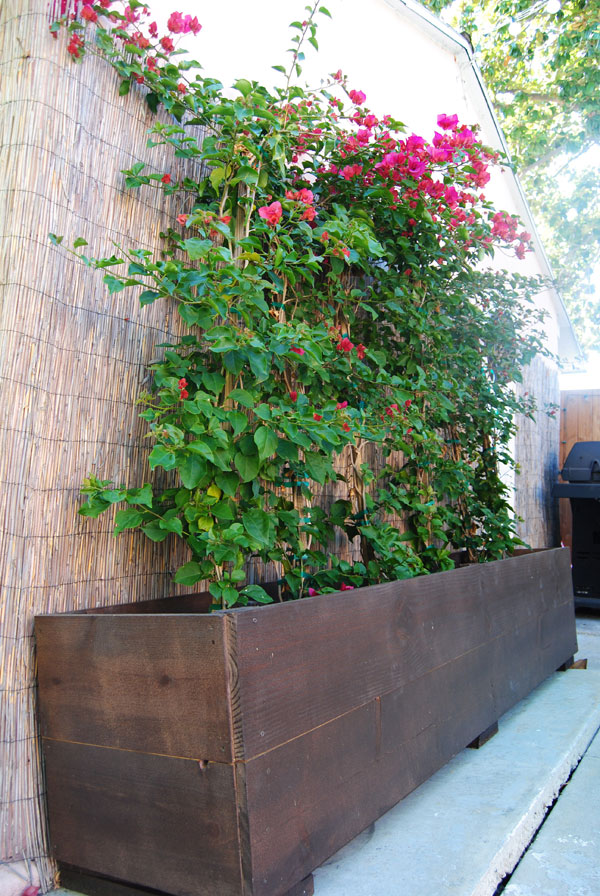 With our shopping list in hand we headed to Lowe's and managed to grab everything we needed in two trips. Our truck has never been packed more fully and we stayed off the freeway but we didn't lose anything.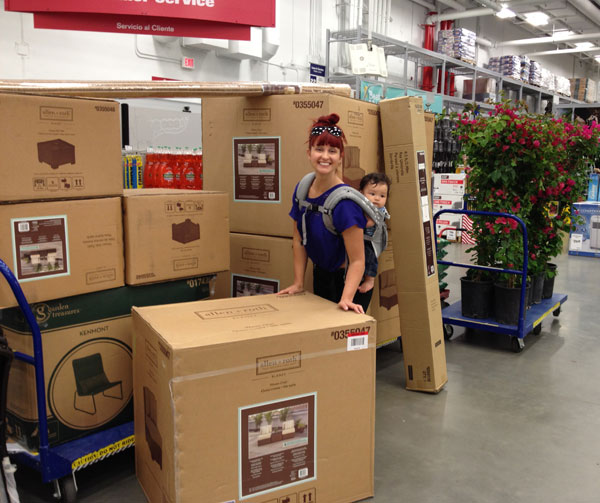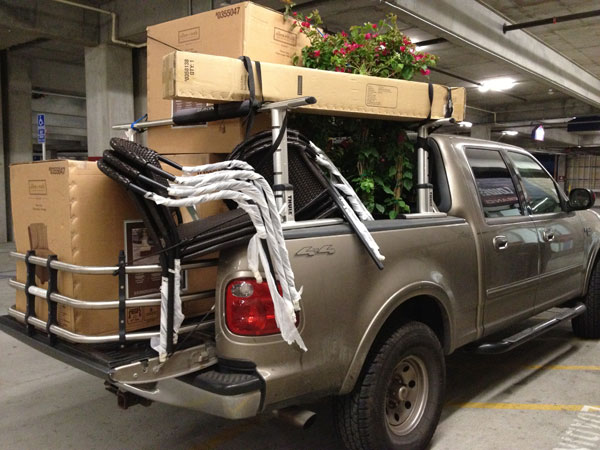 All of the furniture came pre-assembled and no tools were required. Here is our list.
Allen+Roth Outdoor Area Rug – 100% polypropylene, easy to clean and fade, tear resistant
Outdoor Umbrella – 230 gram all-weather fabric with easy pulley cord to raise
5 Blaney Outdoor Chairs – 3 connected to form couch and 2 separate
3 Blaney End Tables – 1 to hold umbrella and 2 connected to form coffee table
2 Kenmont Steel Patio Chairs
4 Steel Patio Dining Chairs
7 Bougainvillea
Lumber to build planter boxes
After we moved out the old furniture we setup all of the new furniture in about an hour. The items are a bit bulky but everything is lightweight and very durable.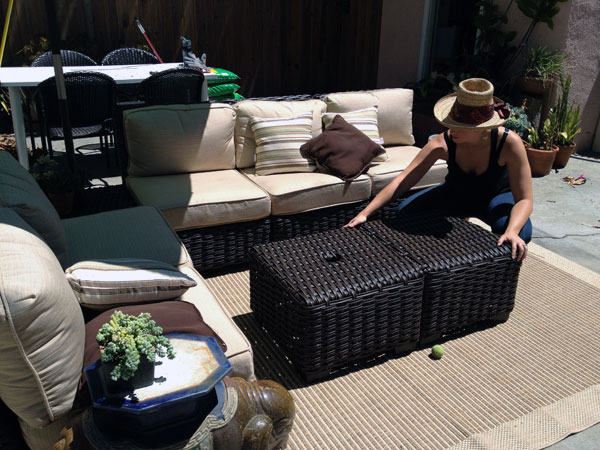 We tried a few different combinations with the furniture and ended up going with our original plan of connecting three chairs to make an outdoor couch and having two separate chairs adjacent to form a nice "L shaped" outdoor living room.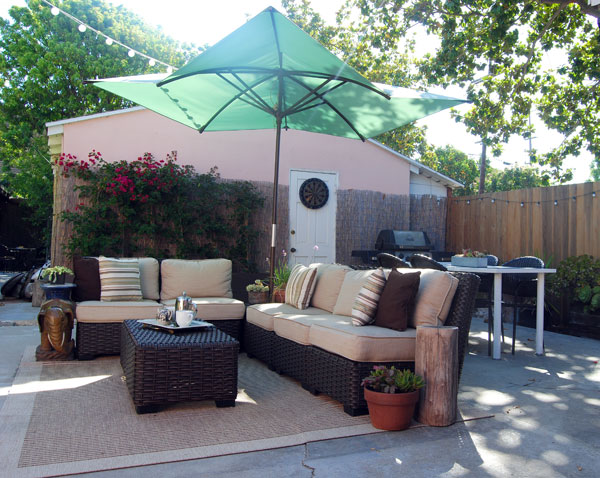 We already had a nice white table that was perfect to use for outdoor dining and the four steel dining chairs were nice and light and matched the outdoor Blaney collection.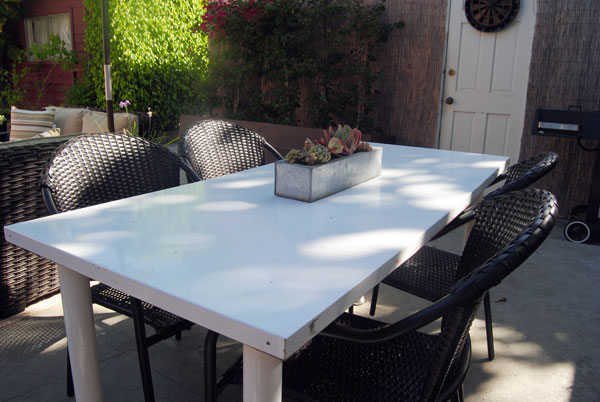 The umbrella was the biggest surprise. Honestly we don't know how we went without one for so long. We used to think it would make the yard look too heavy or take up too much space but we were wrong. It compliments the space and the unique contours of the umbrella we chose look great. We can now use our yard throughout the day with no worry about the sun and the umbrella can be raised and lowered by a convenient rope and pulley system.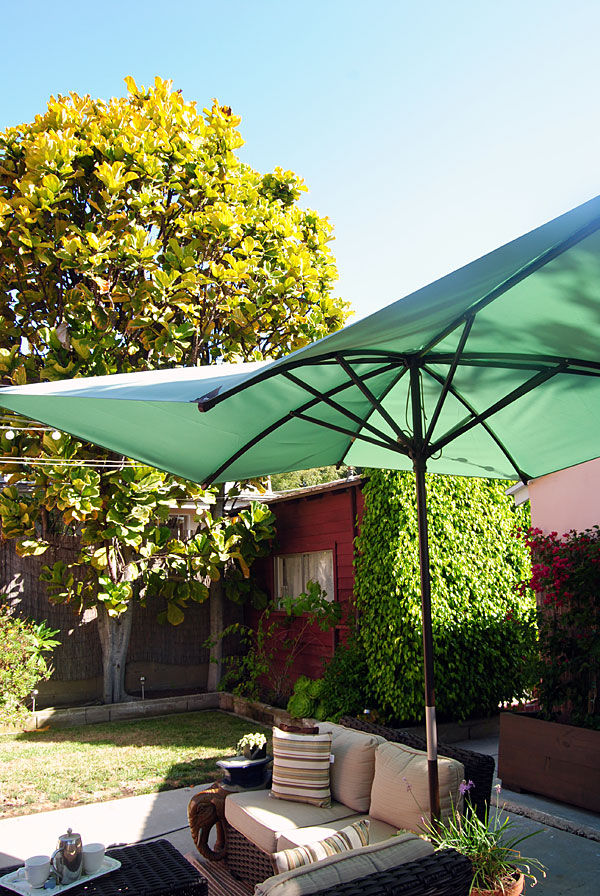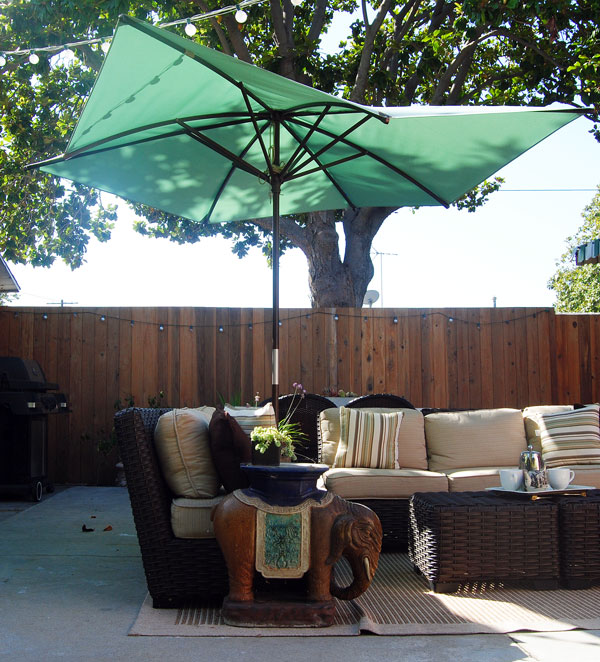 We finished off the yard by rearranging our plants and succulents. Four bougainvillea were used to cover the back pink wall and the remaining three will eventually grow to hide an ugly electrical box and another pink wall.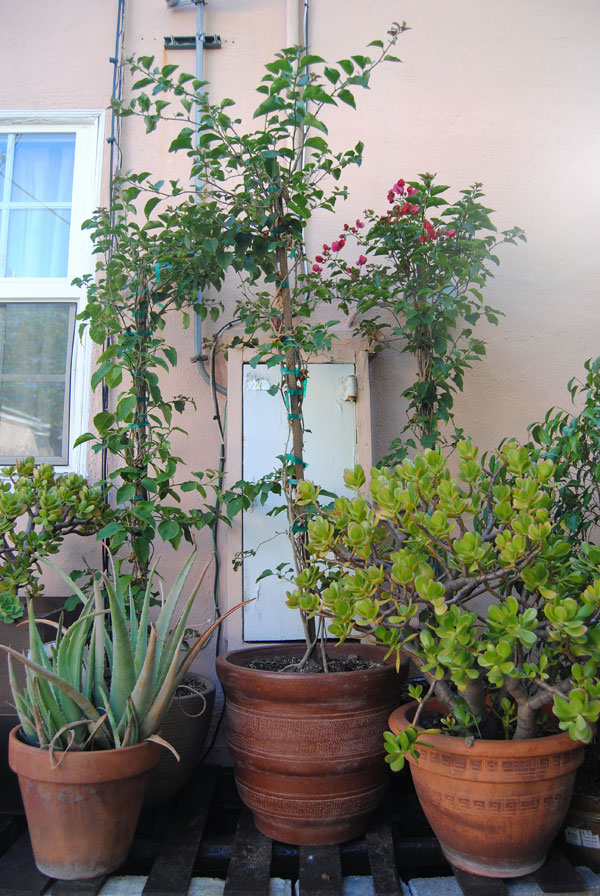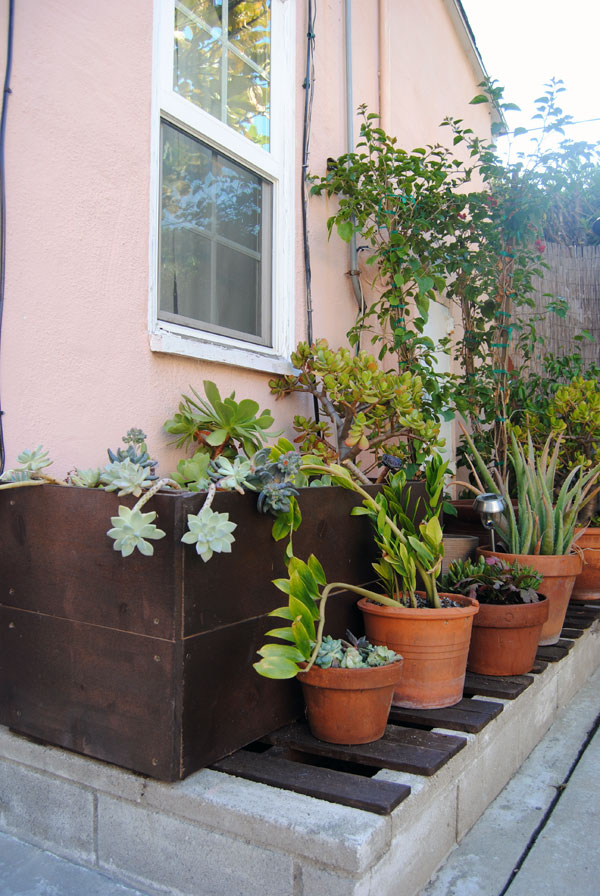 With a baby in the house we've already tested the stain resistance of the sunbrella cushions and outdoor rug and it passed with flying colors. We look forward to enjoying even more weekend BBQ's and evening dinners outside, now that we have a comfortable and functional space to enjoy.
Here's to an endless summer!!!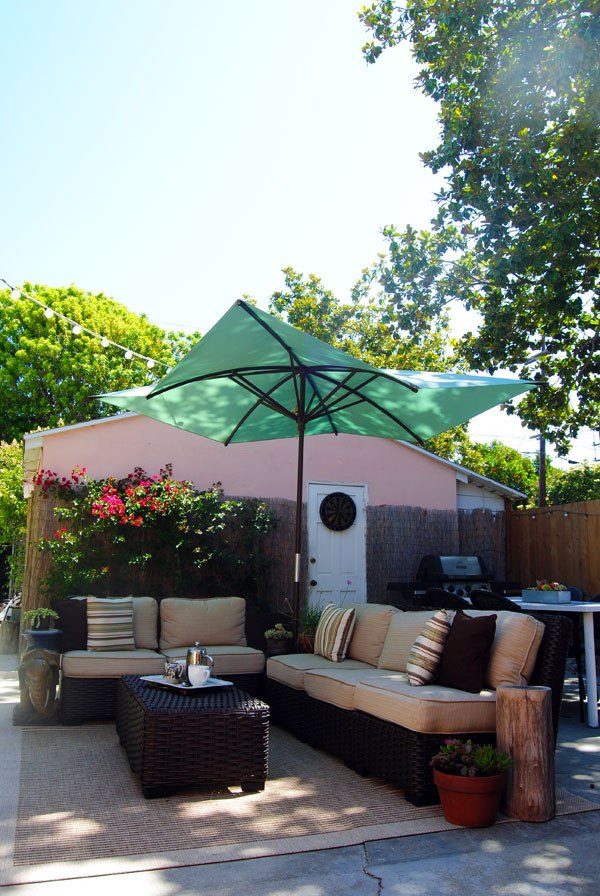 Disclosure: Lowe's works with bloggers such as myself to conduct product reviews. They do not tell bloggers what to say about their products or how to say it. Lowe's fundamentally believes that people should be free to form their own opinions and share them in their own words. Lowe's often provides product – free of charge – to bloggers for review as they did for this post. Lowe's policies align with WOMMA Ethics Code, FTC guidelines and social media engagement recommendations.