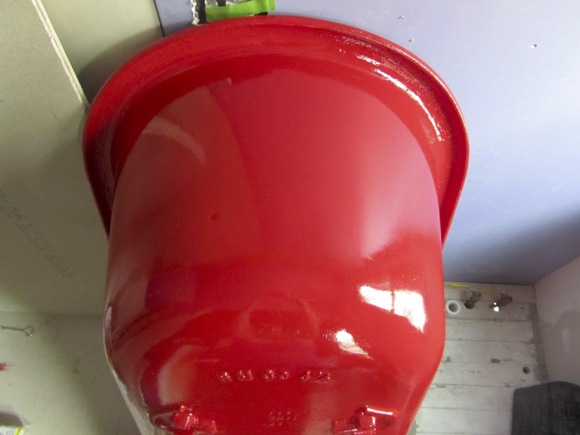 While we waited out the humidity that kept us from finishing our claw feet revamp, we turned our attention to the tub herself.
After removing the claw feet and cleaning her up, it was apparent that Clementine's exterior needed a wee more help than we anticipated. We turned her up on one end against the future wall of our master bathroom and gave her a good once-over.
There were a few spots of rust begining near where the claw feet attached, as well as by the drain hole. There were many places where her paint was chipped, scratched, or was otherwise blemished. So after brainstorming for a little while on how to stop further rust, cover her imperfections, AND give her a shiny, modern exterior, we went to our old stand-by … Rust-Oleum.
But because the tub is very heavy and was a feat to get into the house, taking her outside to spray paint her wasn't an option. And because she's currently residing in the space that will be an open-plan master bathroom directly next to our master bedroom, spray painting her inside wasn't really an option either.
So at our home improvement store we bought two quarts of Rust-Oleum Oil-Based Protective Enamel in Gloss Sunrise Red — the exact shade of Clementine's exterior. We stocked up on paint supplies and mineral spirits, and we gave her a good beginning coat of paint (and spent quite some time cleaning up after — it's been a long time since we've used oil-based paint).
At least one more coat will be necessary to give her a uniform finish, but already she's looking a million times brighter, fresher, and awesomer. Seeing this project and tub come together like this at long last really makes us believe in our DIY visions all the more. After painting Clementine and finishing her clawfoot restoration, it's just reattaching the feet and reglazing the interior of the tub, and then she'll be ready for plumbing. It's been a long trip so far from those first days spying her on eBay, but we just may have our antique clawfoot tub fully refinished by the end of the summer.