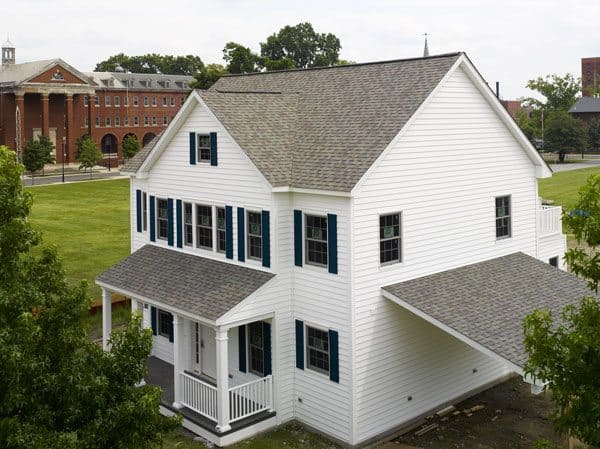 CertainTeed Corporation has partnered with Penn State University in the construction of a solar power training facility and the GridSTAR Net Zero Energy Demonstration Structure (shown above). The project is the second phase of the groundbreaking, new smart energy campus GridSTAR Center at The Navy Yard in Philadelphia.

Functionally designed with input from CertainTeed, the building will showcase the manufacturer's line of innovative solar roofing products and provide an outlet for training students and building professionals in contemporary solar roofing system installation. This will also be the first Multi-Comfort project in North America.
Multi-Comfort is a program designed by Saint-Gobain to recognize buildings that demonstrate the immense positive impact that thoughtful design and well-chosen building materials can have on energy efficiency, the occupant experience in overall comfort and well-being and also on long term cost effectiveness.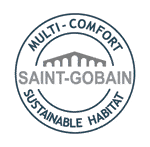 Combining five aspects of comfort – aesthetic, thermal, acoustic, visual and air quality – the Multi-Comfort Program shows through this project that it is not only possible but practical and prudent to deliver exceptional levels of occupant comfort and a high level of building performance at the same time. Multi-Comfort certified buildings are sustainable, energy efficient, low maintenance, cost effective and comfortable living environments.
The program works in the context of local building practices and hand in hand with leading building certification programs such as U.S Green Building Council's Leadership in Energy and Environmental Design (LEED).
CertainTeed and Saint-Gobain are committed to making a material difference in peoples' lives through the development of living, learning and healing spaces that enrich life's defining moments.
More details regarding the building envelope components and systems:
Roofing systems
• Landmark Solaris solar reflective shingles
• CertainTeed underlayments
• Apollo RIPV system
• Flintlastic low-sloped roofing system
• 2" Flintboard PISO plus R38 fiberglass batts
R68 attic
• Raised heel truss design
• Nominal 2 x 10 ceiling joists (9 ¼" depth)
• Two layers of fiberglass batt insulation
• Combined thermal resistance R68+
R30.5 exterior wall
• Nominal 2 x 8 wood frame (7 ¼" depth)
• OPTIMA BIBS with MemBrain SVR
• R2.2 CedarBoards Insulated siding
• CertaWrap water resistive barrier
• 1" R6.5 Atlas PISO Insulation board
R26.3 crawl space wall – unvented
• Form-a-Drain foundation drainage system
• ThermaEZE exterior
• Energy Edge
• Platon waterproofing membrane
• 2" CertaSpray closed-cell polyurethane on crawlspace ground over Platon and on walls
Gypsum board systems
• Standard and Type X
• M2Tech
• SilentFX
• AirRenew
EverNew Composite Decking
Kingston Vinyl Railing System with Porch Columns
Fiber cement floor board (thermal mass)
All product information can be found at www.certainteed.com.