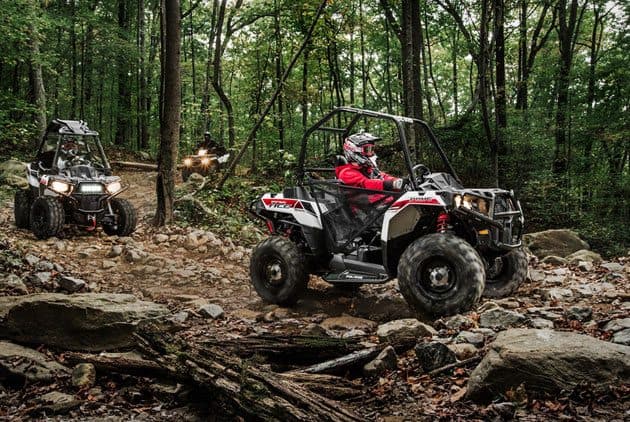 Polaris builds high-performance off-road vehicles, that in the past have been geared (no pun intended) to appeal to their hard-core user base. With the Polaris ACE, they have introduced an ATV that makes off-road riding approachable, easy and comfortable.
The Polaris ACE is a sit-in vehicle that is comfortable and easy to use. Automotive type controls, including a steering wheel as well as gas and brake pedals, make ACE the perfect machine for novice or experienced riders. The ACE combines the comfort and secure feeling of a side-by-side vehicle with the smaller size and easy handling of an All-Terrain Vehicle (ATV). Combining these two styles gives riders of all experience levels a completely new way to experience the outdoors.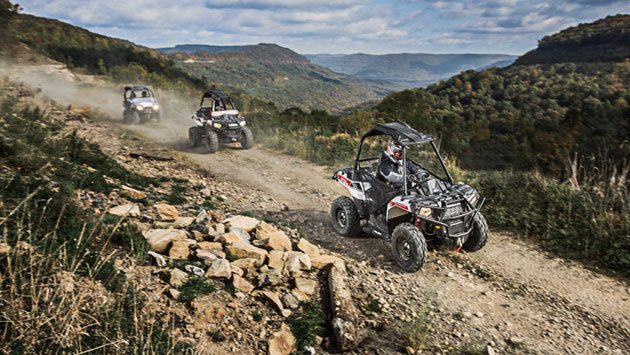 Features of the new Polaris ACE include:
Automotive style operation with steering wheel, gas/brake pedals and automatic transmission
A unique ROPS cab frame only previously found on side-by-sides.
A secure, high-backed, adjustable bucket seat paired with an adjustable steering wheel to give the driver unmatched flexibility when it comes to comfort.
3-point seat belt and side bolsters to keep the operator properly positioned in the center of the machine.
On-Demand True All-Wheel Drive (AWD) – This innovative system, found on all Polaris Off- Road Vehicles, eliminates the guesswork by automatically engaging when the rider needs more forward traction, then reverts back to two-wheel drive automatically when the AWD is no longer needed.
Choose from an all-new 45 horsepower Pro-Star® 570 Electronic Fuel Injected (EFI) Engine or a 32 horsepower ProStar® Electronic Fuel Injected (EFI) Engine.
5.25 gal/19.87 liter fuel tank provides excellent fuel range for long trail rides.
Fully independent rear suspension (IRS) with 10.25 in/26.04 cm of ground clearance and 9.5 in/24.1 cm of rear travel let you clear rocks, logs and stumps with confidence
Assured stopping power from the linked, four-wheel disc brakes with braided stainless steel brake lines that provide optimum response.
Powerful halogen lighting so the fun doesn't stop when the sun goes down.
Plenty of storage space with an integrated 2.8 gal/10.6 liter semi-dry, front storage compartment and a high-capacity Lock & Ride® cargo box with rack extenders and rear tie-down rails.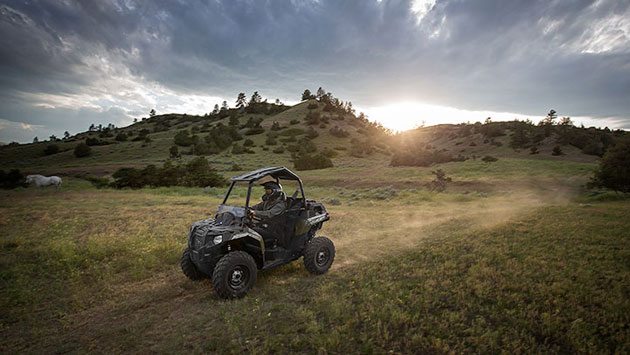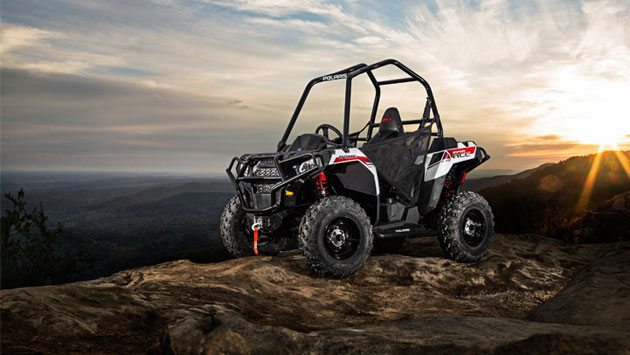 Polaris offers more than 25 accessories for the ACE including: doors, winches, cabs and storage options to customize and personalize your machine. The new Polaris ACE 570 is available in two colors, White Lightning and Voodoo Blue. The Polaris ACE is available in White Lightning or Sage Green. Look for both models at authorized Polaris dealers starting at around $7,499 USD.