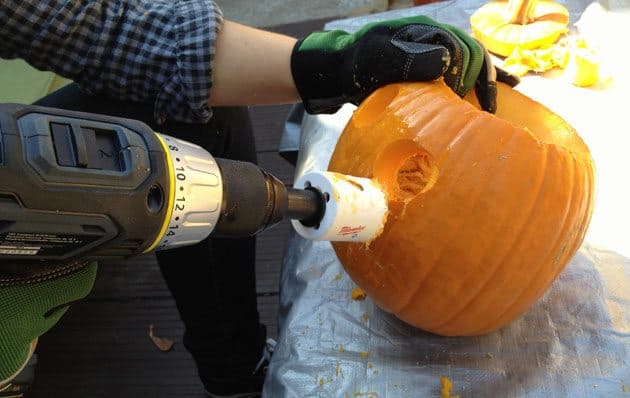 Pumpkin carving can be less of a chore by tackling it with your power tools. Nothing can replace the finesse needed to carve pumpkins but for some of the tougher jobs or larger pumpkins, a little 12 or 18 volt power can make the job go much faster.
Here are five power tools that can help you with your pumpkin carving.

1. Jigsaw
The jigsaw (shown above) is the perfect tool for cutting the tops off a pumpkin. Just plunge the blade straight into the pumpkin and go for it. We found that turning the pumpkin around the saw instead of moving the saw, works much better.

2. Oscillating Tool
There is a reason this is the fastest growing power tool category. Oscillating tools can do everything and that's no exception when it comes to pumpkin carving. Place a cutting blade on it and you can trim a stem or cut out eyes. Use a circular blade and cut tops out or carve eyebrows. The scraper is perfect for removing the pumpkin guts from the top giving you a smooth surface. You could even use the sander attachment and create some interesting textures on the pumpkin surface. You're only limited by your imagination with this tool.


3. Mini-recip Saw
Our Milwaukee Hackzall is a down-sized version of the popular Sawzall recip-saw which makes it ideal for slicing up a pumpkin. It's grip and size will dice up a pumpkin like butter.


4. Dremel tool
For carving details the Dremel tool can't be beat. You can use a variety of attachments for a desired effect and the pencil-hold hand position can give you precise control of how deep and straight you make a cut.


5. Drill with Hole Saw and Spade Bits
The hole saw is the perfect attachment for cutting jack-o-lantern eyes. You'll never get as perfect a circle and as quickly. You can also create interesting patterns by using various diameter spade bits.


6. Reciprocating Saw
When it's time to cut into the big boys, only a recip saw will do. No pumpkin is safe from this corded recip saw from DeWALT.
What's your favorite tool to carve pumpkins with?