Purple Mattress is one of the most popular bed-in-a-box mattress companies, with their scientifically designed mattresses that provide pressure-relieving comfort and support so you sleep better.
Every Purple Mattress uses their patented Smart Comfort Grid for one-of-a-kind pressure relief and cool, comfy support. The Original Purple Mattress has a dual-layer foam base and standard 2-inch Smart Comfort Grid. The New Purple Mattress offers a significant upgrade with a responsive support coil base and a customizable Smart Comfort Grid, available in three options, for a more personalized feel.
Our product testers had an opportunity to check out the new Purple 4 mattress in King size, and were very impressed. Here's their overall review and impression of the new Purple 4 mattress.
It's been a few weeks since we started sleeping on the New Purple 4 mattress, and I have to say, it'd be hard to imagine a more comfortable experience. The Purple 4 is the softest surface in the brand's lineup and may not be liked by those who prefer a firmer surface, but for us, the feeling of sinking into the comfort grid, though a little odd at first, became a fast luxury. And like they say, the result is that we do sense less pressure on our limbs and joints. Especially compared to our old mattress, we actually feel lighter when laying on the Purple and can sense the "zero gravity-like feel" that the company claims.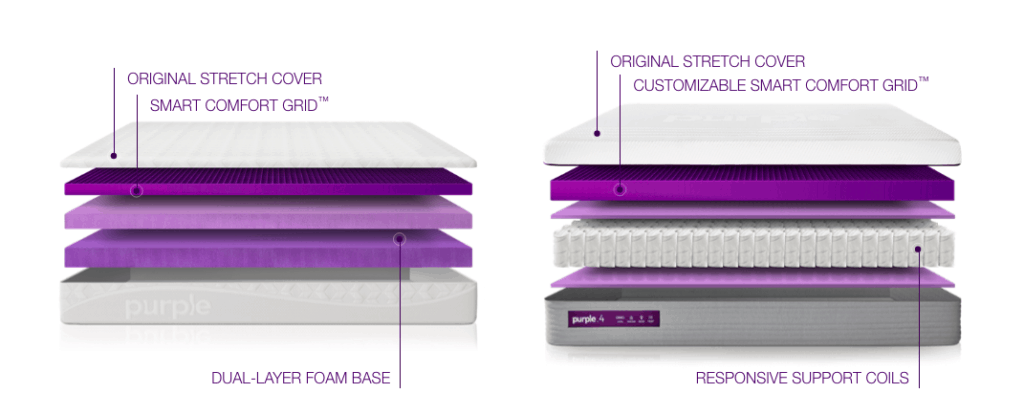 We ordered a King, and if there's any downside to consider, it would be that the New Purple 4 at that size is really heavy. When it came to hoisting the 200 lbs up the stairs to our apartment, the two delivery men struggled and needed an extra hand from us. So like a couch or other significant pieces of furniture, the larger size mattresses definitely require a team lift. You may even need more than two people to avoid drags and drops. That said, we wouldn't trade our Purple for anything. It's given us noticeably better sleep and made it even harder to stop hitting snooze!
Visit the Purple website today to buy or for more information.