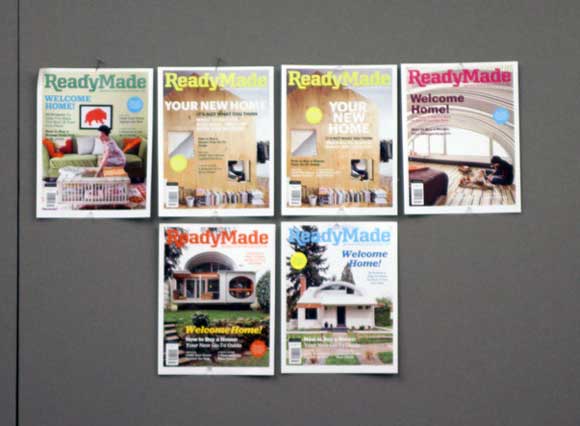 This year our intern, Lauren Chorpening of Iowa State University, had a unique opportunity to visit the Meredith office of ReadyMade in Des Moines, Iowa which isn't far from her campus in Ames. She received a guide behind-the-scenes tour of the popular DIY magazine/website and sat in on an editorial meeting as they were deciding cover art.
Lauren shares her experiences in her own words below. Thanks ReadyMade!
I had the unique and wonderful privilege of touring the ReadyMade offices in Des Moines. The entire ReadyMade team was welcoming and full of laughs. This magazine has a different work dynamic than even the other Meredith publications across the building.
ReadyMade is split between Des Moines and New York so the office changes frequently, depending on who is at the Des Moines location. The day I visited was atypical as Andrew Wagner, the Editor-in-Chief, Liz Armstrong, the Online Director and Caitlin Thornton, the Online Assistant, were all visiting from the New York office.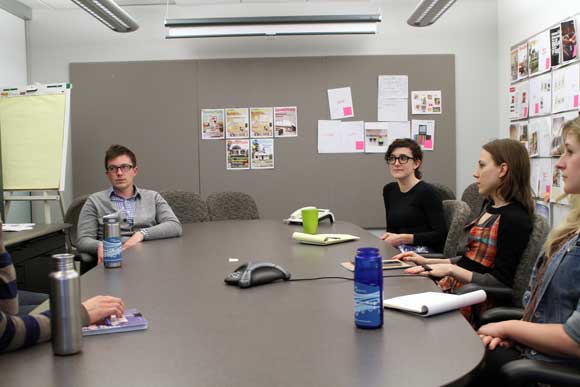 The June/July Cover meeting was a great insight into the vibrant character of the creative and editorial team. It felt like watching six friends getting together to catch up.
The office space perfectly mirrored the creative minds that work in it. The cubicles themselves could have been featured in the pages of ReadyMade magazine. Each workspace depicted the interests and tastes of the writers and designers. Alexa Fornoff, Assistant Editor, had a space that looked like a home with darling decorations and Adam Holt, Creative Director, showed his interest in music and screen printing in his space.
The team took their DIY mindset and made their cubicle walls lower and open. Everyone agreed that the wall change had a significant impact on the interaction and warmth between coworkers.
Projects were set out in the open, ready to make their way to the ReadyMade party in New York in May. Amy Palanjian, Deputy Editor, took us on a tour of the photography sets and the other fantastic amenities that Meredith Corporation offers the publication. From the conference room to the décor in the workspace, great design and energy was seen throughout the tour.
Thanks to the amazing team at ReadyMade for their hospitality and laughs. While it's an office with a small number of people, the energy and love for what they do is evident upon entering the office. We hope you enjoy the photos of the tour!