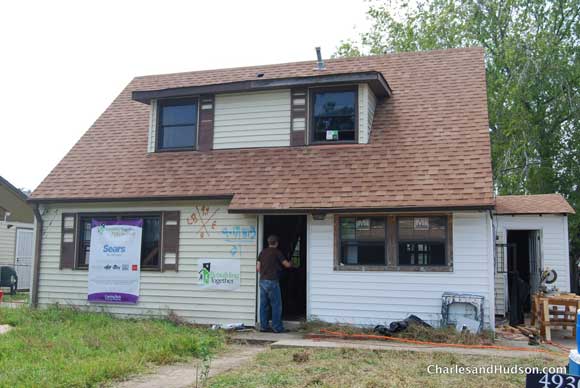 It's important to us that we contribute to our time to help homeowners in need. We had a great experience last year volunteering with Habitat for Humanity, so when we received the invitation from Sears to participate in Fifty for Five we were ecstatic.
Fifty for Five (50 for 5) was organized by Rebuilding Together which is a national organization dedicated to assisting homeowners preserve their homes. They focus on low-income, elderly, disabled or veteran homeowners who may not have the money or physical tools to maintain their home.
Rebuilding Together has been in New Orleans for 22 years and were at work rebuilding homes 3 months after hurricane Katrina. Since that day they've pledged to rebuild 1000 homes and are nearing their goal.

These events require a slew of participates all willing to give their time, energy and money. On the ground we joined by students from Tulane, members of Rebuilding Together affiliates from across the country, Americorps, volunteers from corporate sponsors and other good samaritans from across the country who answered the call of duty from watching PSA's on HGTV or simply wanted to do their part to help New Orleans continue to rebuild.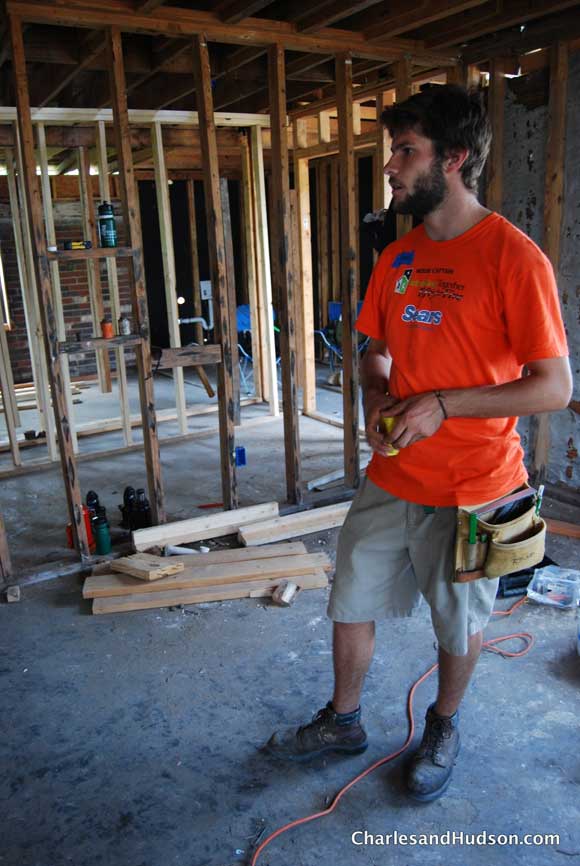 The presenting sponsor of Fifty for Five is Sears and they provided the energy-star appliances that will go into the rebuilt homes. They also sponsored the direct rehab of four homes by not only providing materials but man-power with a group of Sears employees volunteering to rebuild these homes.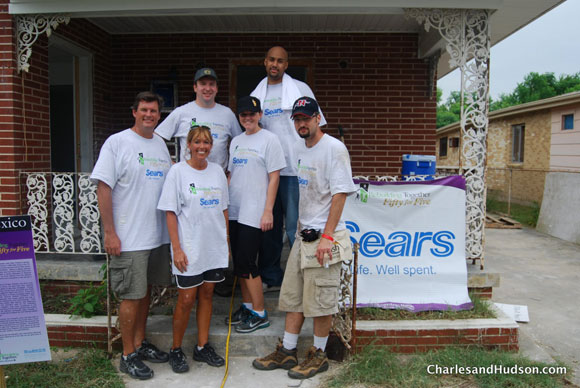 Sears recently launched the Big Switch campaign. Their goal is to educate homeowners in the value of switching to energy-efficient appliances while recycling their old appliances. They provide resources to help homeowners take advantage of various government rebate programs and the Sears Blue Crew Appliance Team is capable of installing the new and removing old appliances for you.
We had an opportunity to sit down with Kevin Brown of Sears Appliances and he shared with us the reason for Sears involvement with Rebuilding Together as well as details on the Big Switch campaign. We also threw him some curveballs which we feel he hit out of the park.

Our experience volunteering was eye-opening as we worked alongside Acey Byrd the operations director of Rebuilding Together Indianapolis, Paul Campbell a Director at Sears Holdings and Walter (a life-long resident of New Orleans).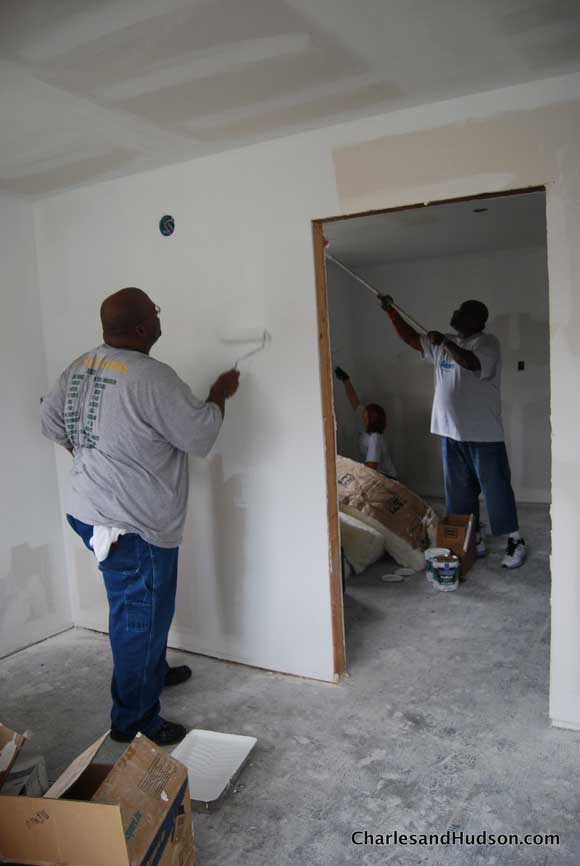 HGTV and the DIY Network covered this event and showed live feeds of volunteers at work. They also brought in a few of their most popular TV hosts to help shine some light on the event. Chris Grundy of Cool Tools, Carter Oosterhouse of Carter Can and Scott McGillivray of Income Property.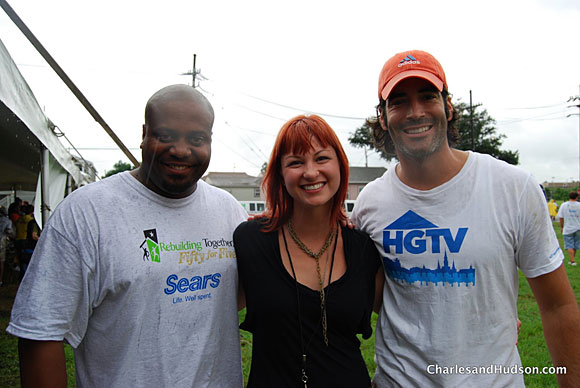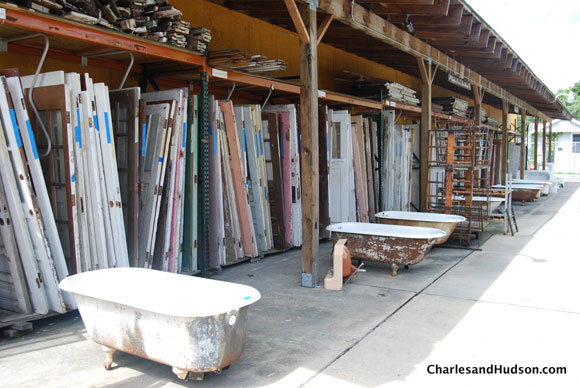 On our last day in New Orleans we visited the Reuse District which is comprised of numerous architectural and building supply salvage stores in the Baywater neighborhood of New Orleans. We visited the Preservation Salvage Store, the Green Project and Habitat for Humanity Restore. Rows and rows of lighting, doors, windows, paint and other building materials were all available for purchase.
We were all there for one reason, to help the homeowners. We met a few of them who were all as gracious as can be.
The first home was owned by George and Barbara Hansell, New Orleans natives who fled the city after hurricane Katrina flooded their home under 8 feet of water. After the storm they both lost their jobs and were forced to spend their insurance money for home repairs on health bills to assist their daughter and grandson through cancer treatments. George Hansell was a Vietnam veteran who raised three children all in the Navy. He passed away this year but not before hearing that his wife would be able to return to their home with the help of Rebuilding Together.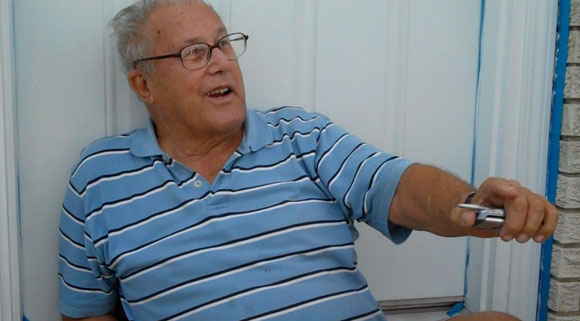 The second homeowner we assisted, Julius Wollforth, is 81 and going on 25. He was as feisty as they come and life-long resident of the Gentilly neighborhood. He was a talkative guy and shared his life experiences living in New Orleans and working at a bank, selling insurance and being a stagehand. He also gave us insights as to why he'll never be a Saints fan.
During Katrina, he evacuated to Lafayette and lived in a FEMA trailer for a year and a half and once he could return to his home he and a neighbor did as much work as they could on their homes.
Five years post hurricane Katrina it still seems that almost every other home we saw in the Gentilly neighborhood was boarded up and looked uninhabitable. The reasons for this vary. For many homeowners it was more expensive to move back and rebuild a home so they've left them. It's also been difficult for the government to locate some of the displaced homeowners. Tragically many of the homeowners (especially the elderly) died in their homes during the storm and locating relatives willing to keep these homes much less rebuild them contributes to the inventory of abandoned houses.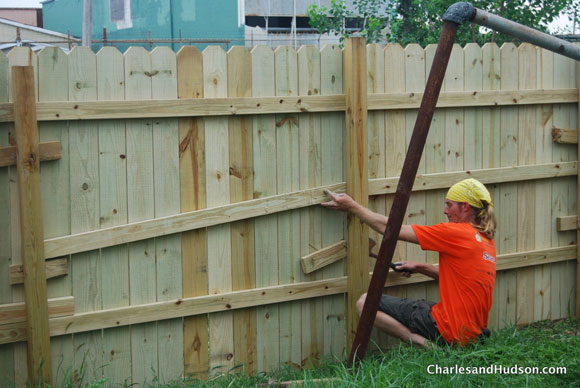 But there's hope that these neighborhoods will continue to rebuild as homeowners finally get an opportunity to move back into their homes with the help of organizations such as Rebuilding Together and more events like Fifty for Five. We need to do our part to continue to help the entire gulf coast region that still continues to rebuild from hurricane Katrina and Rita and is now suffering from the largest US oil spill in history that continues to batter the economies of the region.
Remember to donate time and money to help your local community. You can start by seeking out your local Rebuilding Together affiliate.

View more photos from Fifty for Five.
Other sponsors involved with Fifty for Five included HGTV, DIY Network, Choice Hotels, Plan!tNow, Wells Fargo, Sherwin-Williams, WD-40, Shell, On the House Media, NFL Player Care Foundation, Meredith Corporation, Neighborworks America, Cricket Communications, Administration on Aging, NRCA, GE, Lumber Liquidators, Enterprise Community Partners and Travelers Insurance.
Disclosure: Sears provided Charles & Hudson with travel and accommodation to participate in Fifty for Five.