Are you looking to level up on your next camping or overland adventure, look no further than the Roofnest Condor Overland Rooftop Tent!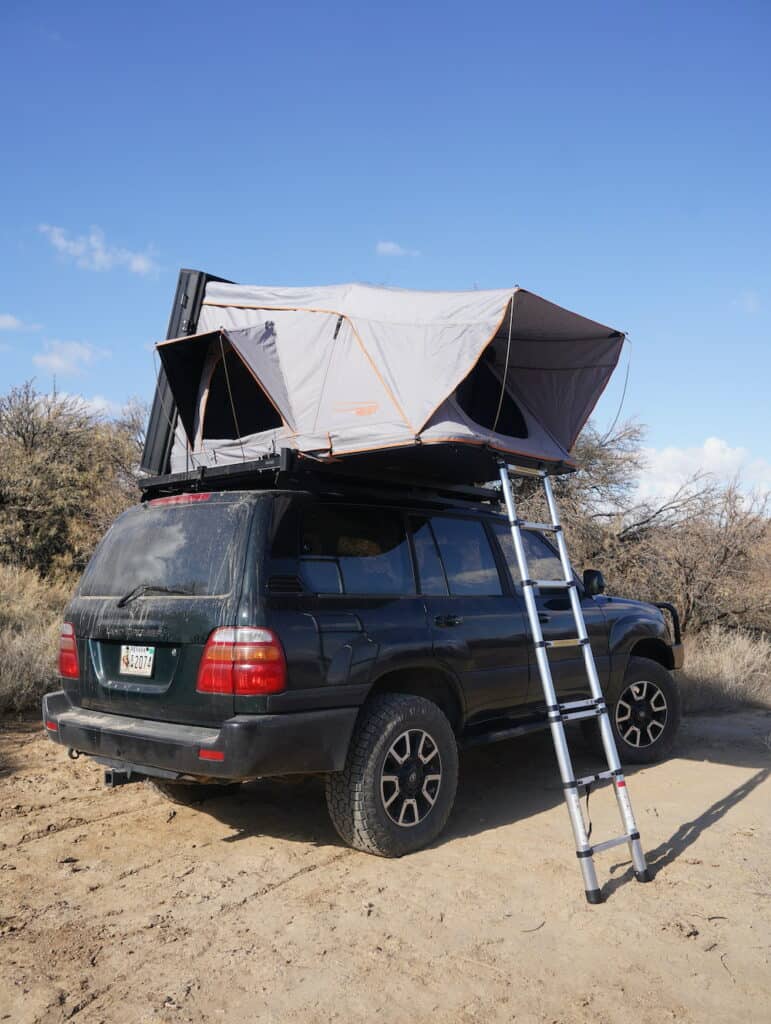 In this review, we explore this tent's setup, experience camping with it, and overall opinion of its features.
Setting the Scene: Introducing the Roofnest Condor Overland Rooftop Tent
We were looking for a unique way to explore the great outdoors and decided to check out the Roofnest Condor Overland Rooftop Tent. We've had experience with numerous other rooftop tents including the Roofnest Sparrow, but the Condor Overland is the first rooftop tent we've used that is purpose-built for rugged off-road adventure travel.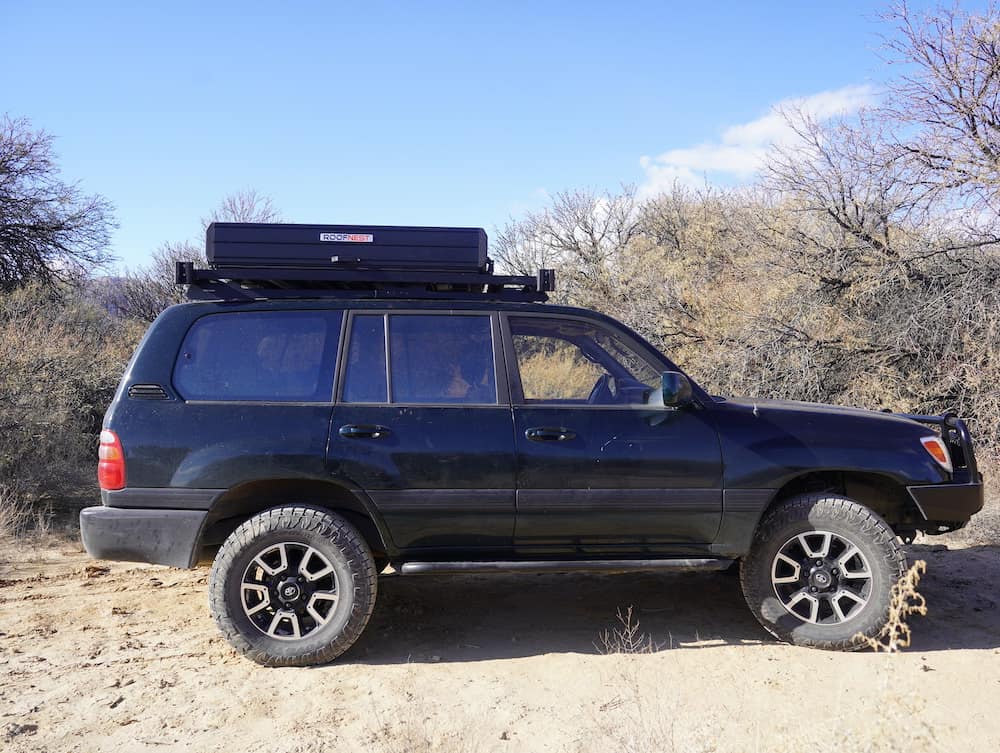 This tent is designed with adventure in mind, combining lightweight construction with a durable honeycomb aluminum hard shell, that allows it to fit on any vehicle's roof rack or cargo box. With its spacious interior and ample storage space, we knew this would be the perfect option for our next camping excursion.
Open channels around the sides of the tent can hold M8 bolts which will allow you to secure various aftermarket accessories such as ski holders, traction boards, and additional load bars. Adding extra utility to the tent and to help make up for losing valuable roof rack space.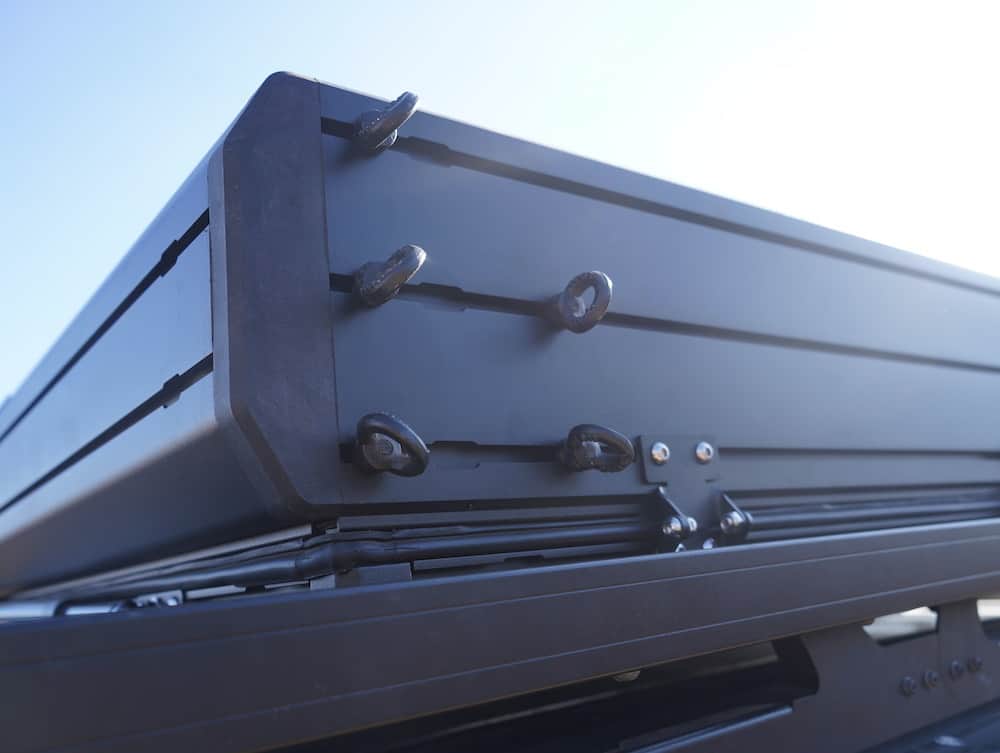 After unboxing the tent, we couldn't help but get excited by all of its features – from its large windows (including the sky view window) providing plenty of natural light and ventilation to the small details like interior pockets for organizing gear and built-in LED light strip – we were ready to hit the road!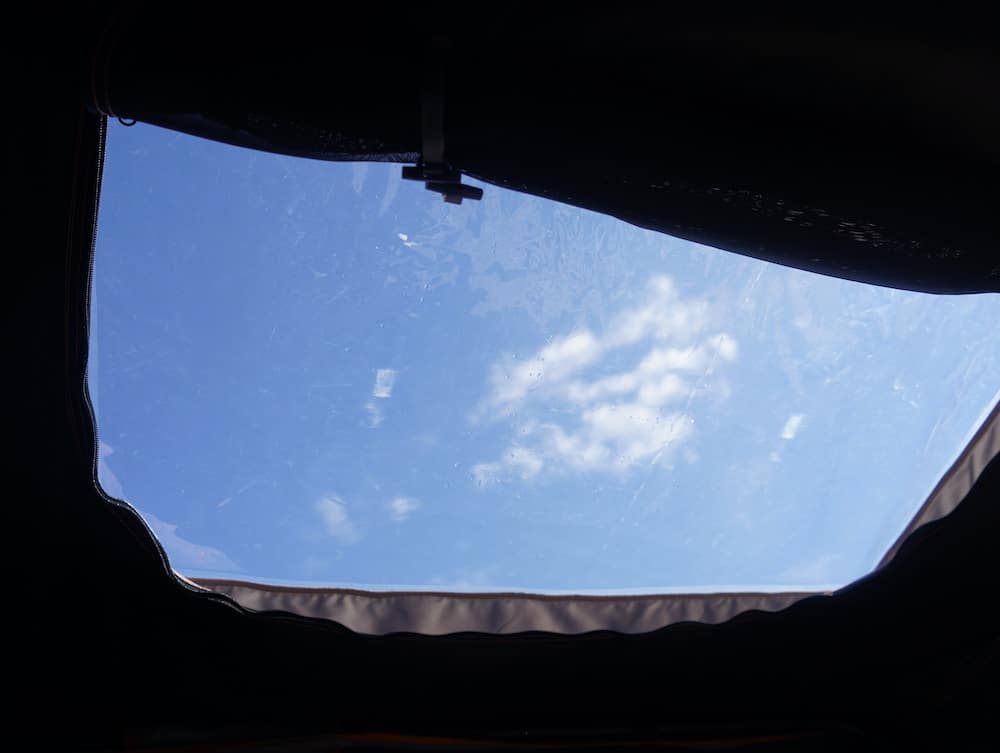 First Impressions: Our Thoughts Upon Setting Up the Tent for the First Time
The toughest part of setting up the Condor Overland is getting on your rack. You can do it with two people like we did, but four people will make the process much easier. At 165 pounds the tent isn't the heaviest around, but it's also not the lightest.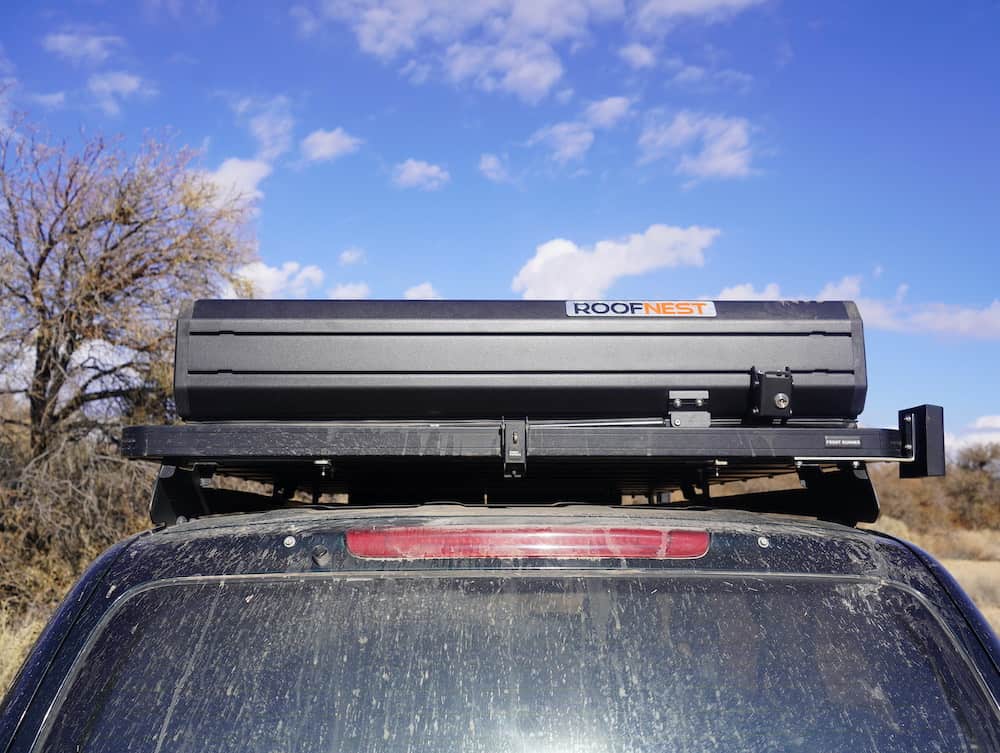 Once loaded on our Frontrunner Roof rack we used the included hardware to secure it directly to the rack. We experienced no rattle or additional sound issues which surprised us considering the Condor Overland isn't the most aerodynamic rooftop tent.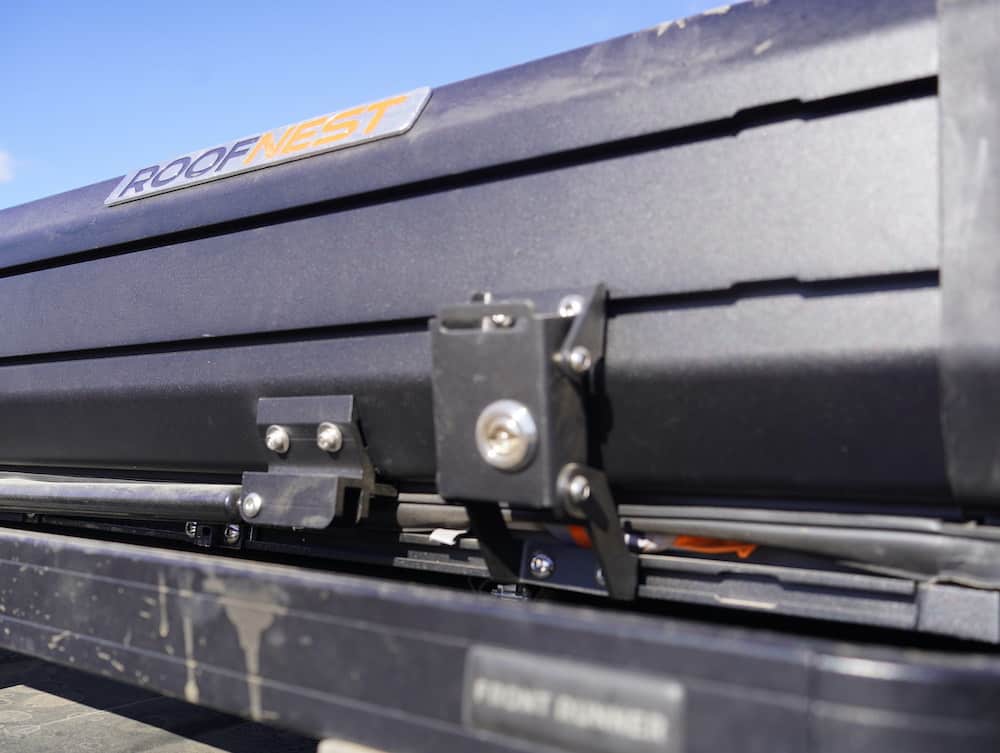 To open the tent you simply release the burley and lockable latches and the top pops open, you then use the ladder to unfold the remaining section and voila! You are ready to camp!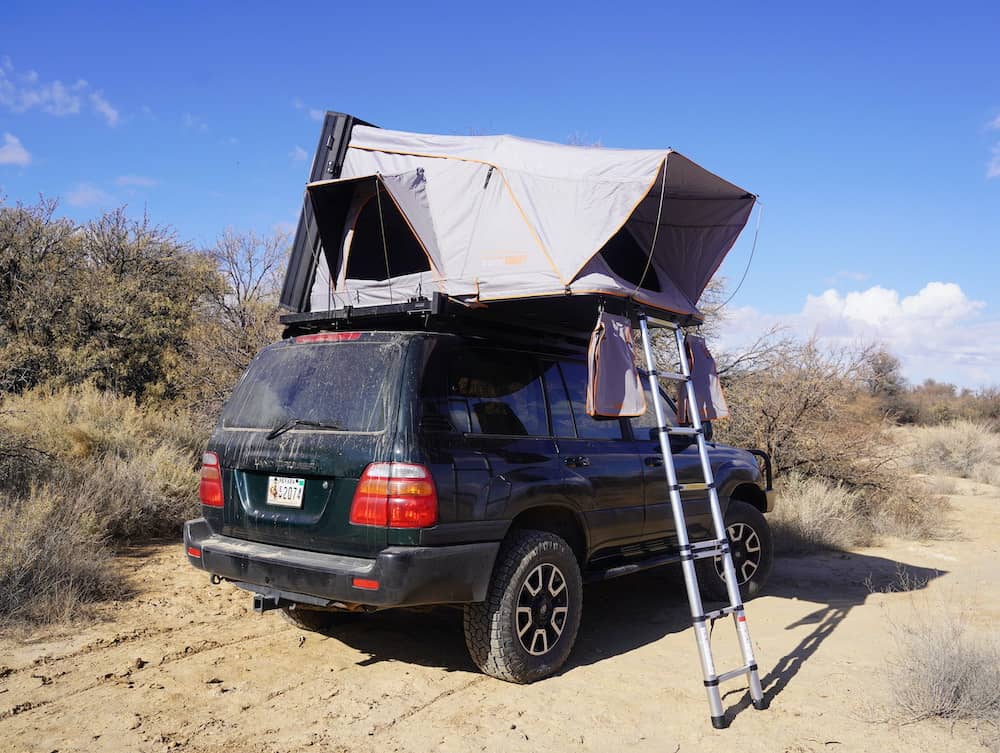 Living the High Life: What it's Really Like to Camp in a Rooftop Tent
Camping in a rooftop tent truly is an unforgettable experience! From the moment you arrive and set up camp, it's like living on top of the world – literally.
You'll be able to take in panoramic views from your perch high above the ground and enjoy sleeping under the stars. Plus, with all of your gear stored securely above, there's no need to worry about wild animals getting into your stuff!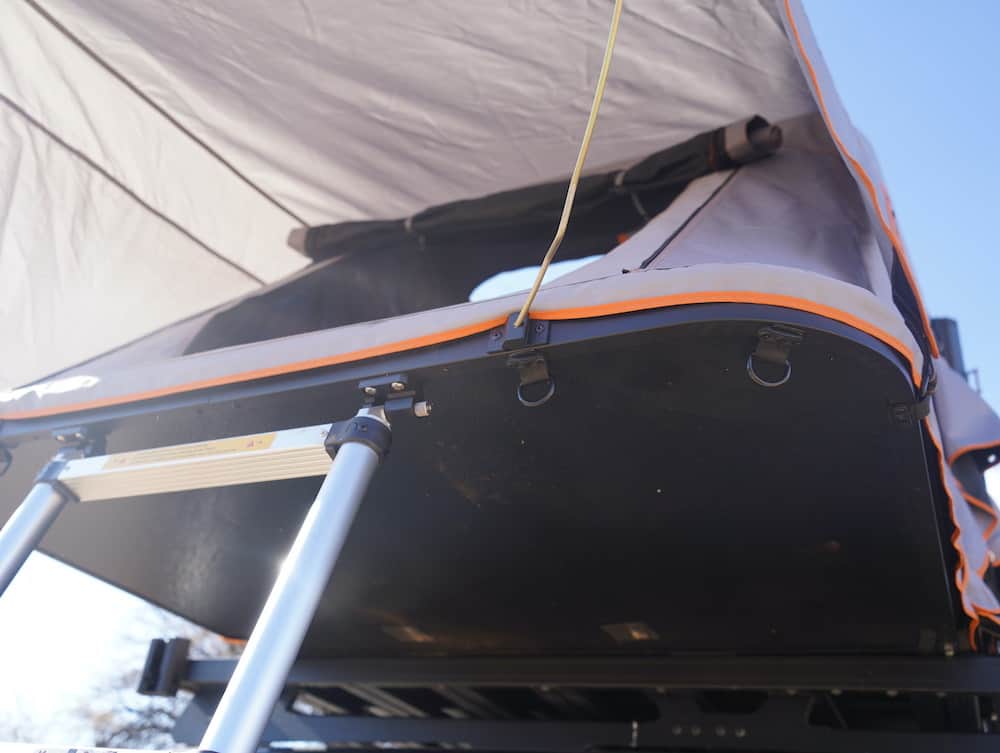 Roofnest includes plenty of storage pockets inside the tent as well as two weatherproof bags that can be secured to the bottom of the tent and are great for holding dirty shoes as well as flashlights or anything else you need for easy access.
To complete the setup of the tent use the included poles to extend the rainfly/window awnings for the front and sides.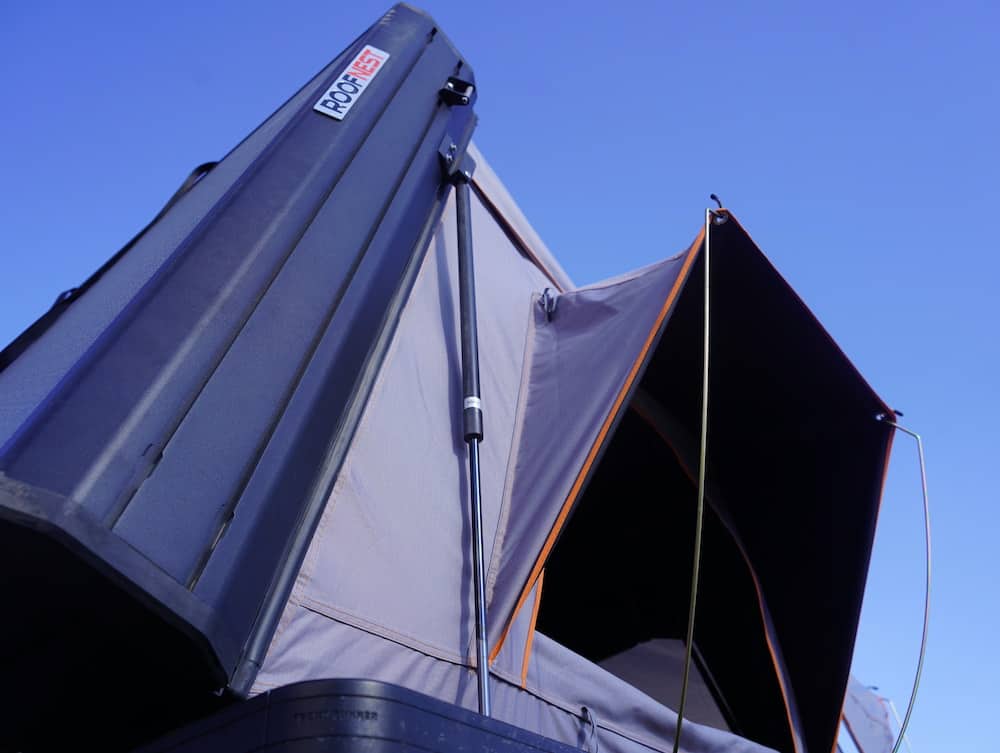 The Condor Overland has plenty of room for two adults or even more people if necessary, you can also bring along family or friends for an incredible group getaway. We can confirm there is plenty of room for one parent and two small kids. Adding another adult might make it a bit tighter but it's definitely doable.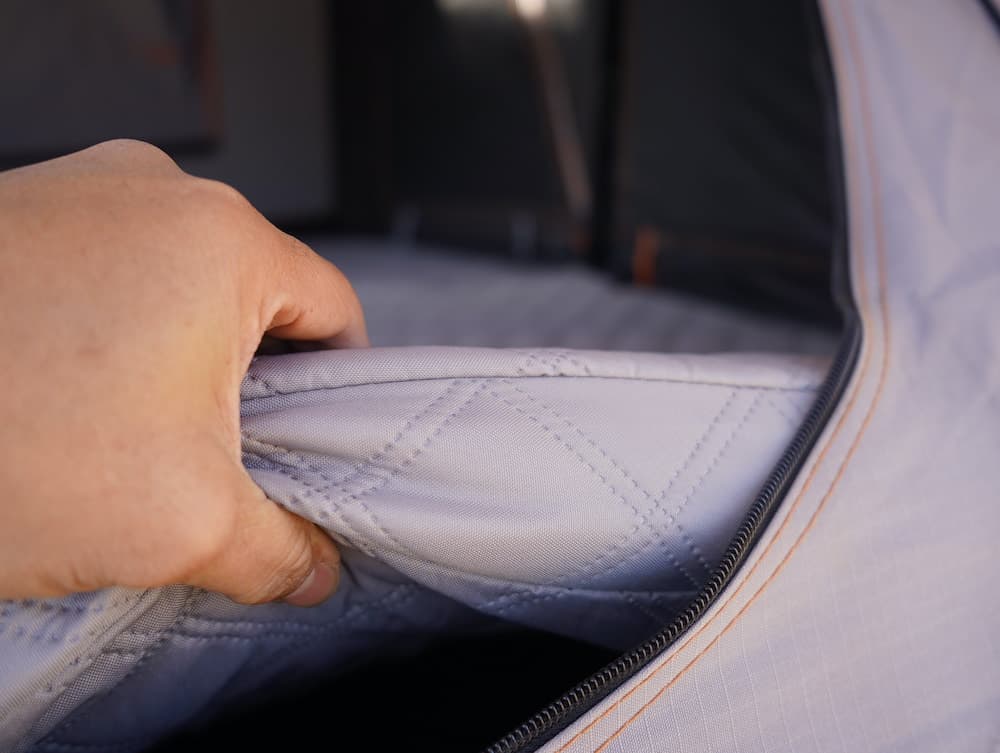 The 2-inch foam mattress is very comfortable with just a sleeping bag and a few blankets. Our boys love sleeping in a rooftop tent as it's like staying in a treehouse.
All-in-all, camping in a rooftop tent gives you that sense of freedom and adventure that can't quite be matched by traditional methods.
Coming Down from the Clouds: Our Overall Experience with the Roofnest Condor Overland Rooftop Tent
Overall, our experience with the Roofnest Condor Overland Rooftop Tent was amazing! From its thoughtful features like interior pockets for organizing gear to its spacious interior that allowed us to bring along family the family – it truly made for an unforgettable trip.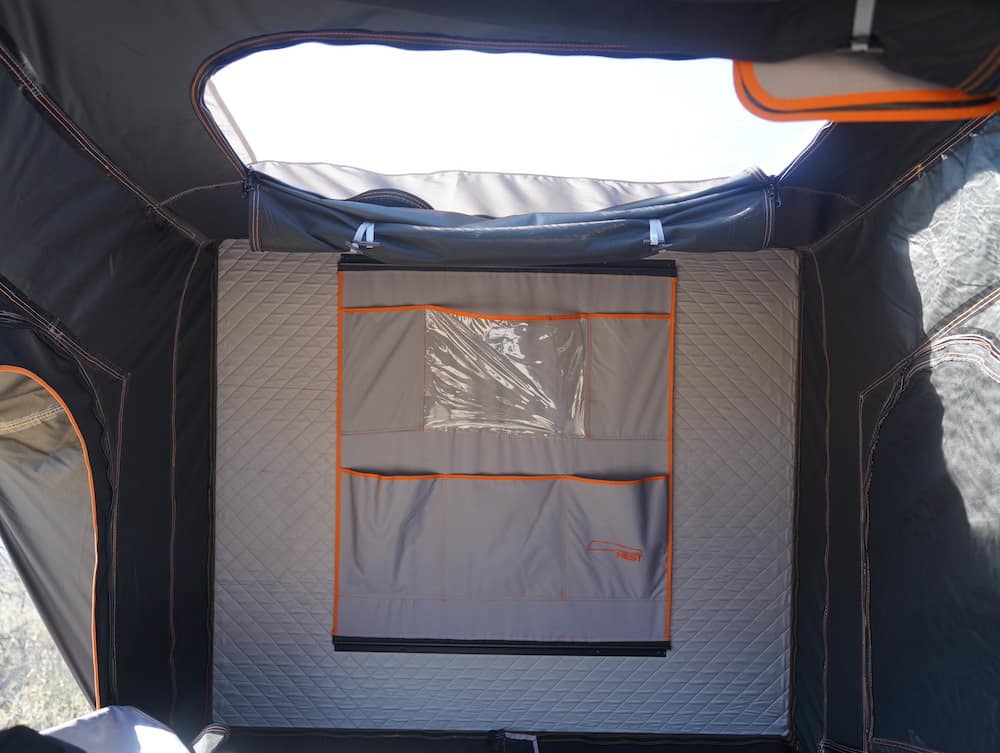 We loved how secure it felt having all our stuff stored safely above ground, as well as being able to enjoy sleeping under the stars each night. If you're looking for an adventurous way to explore nature while still having all the comforts of home, this is definitely one tent worth checking out!
Overall, camping with the Roofnest Condor Overland Rooftop Tent was a great experience and it's something that we'd highly recommend. From the easy setup to the great night's sleep, everything worked out perfectly! We would highly recommend this tent to anyone who is looking for a bit of luxury while camping as well as a unique adventure.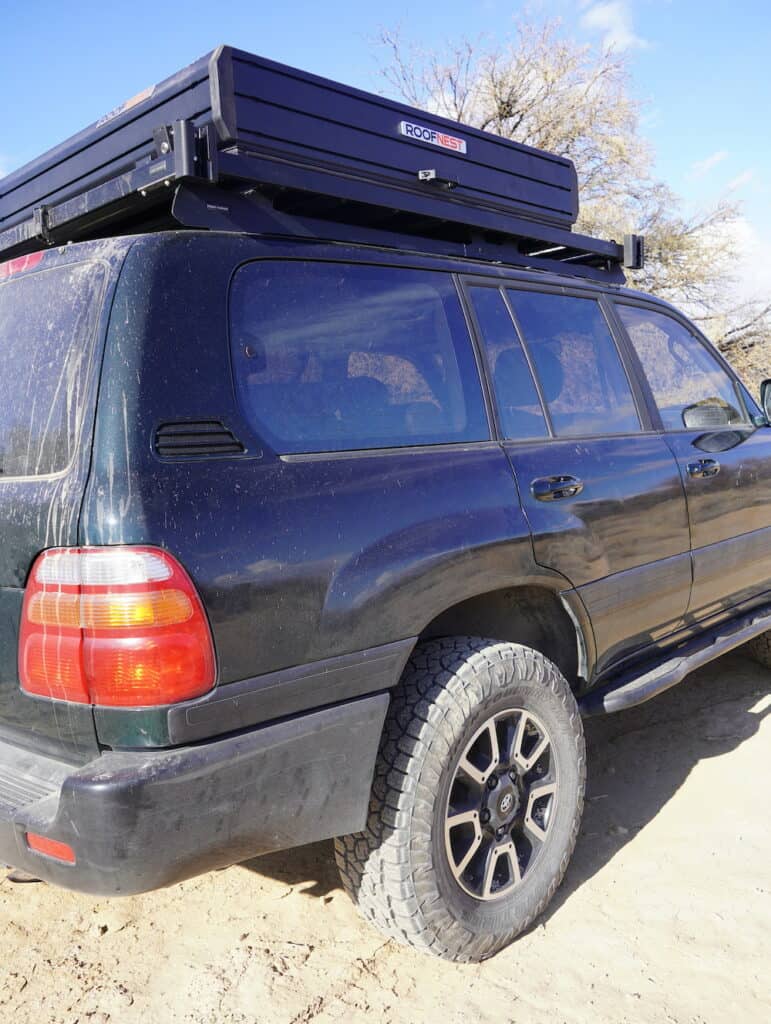 More Details
Sleeps: 2-3
Interior: 84″L x 55″W
Exterior: 60″L x 50″W
Height: 10″ when closed
Max Headroom: 50″ when open
Width left-right between Roofnest mounting rails: 29.5″
Minimum distance front-back between rack crossbars: 28″
Weight: 165 lbs
Included With Tent: 2" Foam Mattress, 7.5′ Ladder, Universal Mounting Kit, 2 Detachable Pockets, 4×4 Ground Mat, Roofnest Privacy Tent, and Interior LED Light
Shell: Honeycomb aluminum shell with extruded aluminum accessory channels for M8 hardware
Tent Material: Coated Polycotton (waterproof rating of 3000mm)
Rainfly: Coated Polyoxford (waterproof rating of 3000mm)
Ladder: Integrated 7.5′ aluminum telescoping ladder
Mattress: Integrated 2″ dual-density foam mattress with cover
Lighting: USB-powered LED light strip
Doors and Windows: Full zip mesh and canvas. Includes skylight