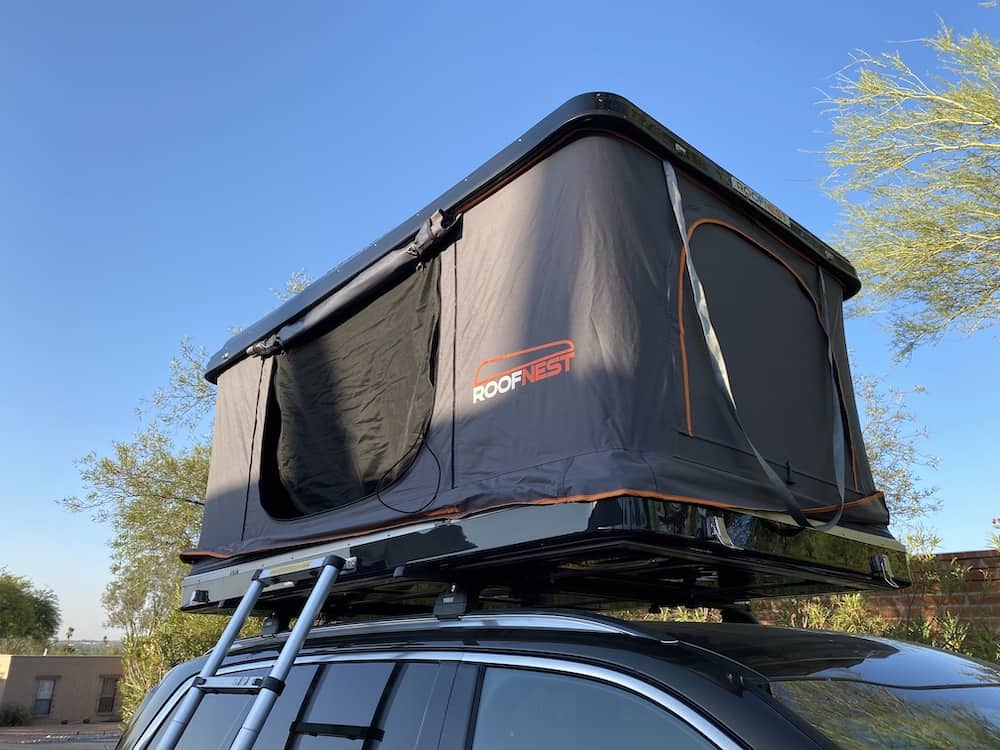 Rooftop tents have revolutionized car camping, and the new Roofnest Sparrow rooftop tent is the perfect example of what a rooftop tent should be.
We've spent many nights in our soft shell rooftop tent, but have yet to own a hard shell rooftop tent–which is why we jumped at the opportunity to review the new Roofnest Sparrow.
We spent a week with the Roofnest Sparrow, which was delivered affixed to the top of a 2020 Kia Telluride. We've been waiting to also review the highly-acclaimed Telluride, and it did not disappoint.
On the Road with the Roofnest Sparrow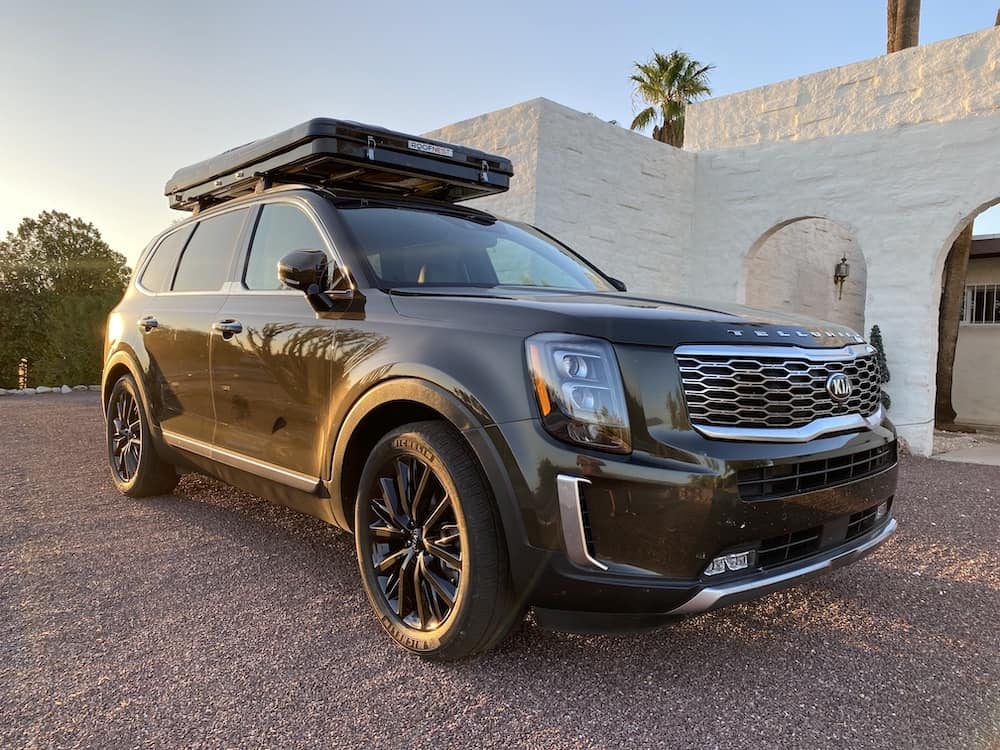 The best way to review a rooftop tent is to take it on a road trip. It's still hot here in Southern California, so our local favorites including Joshua Tree and the Mojave National Preserve were out of the question. While the Telluride is all-wheel drive and extremely capable, it's not set up for taking us very deep into the desert.
So we opted to drive 500 miles from Los Angeles to Tucson to visit family, with a couple of overnight stops along the way. We also enjoyed a night in the tent from the comfort of the driveway at my parents home in the Catalina Foothills.
First Impressions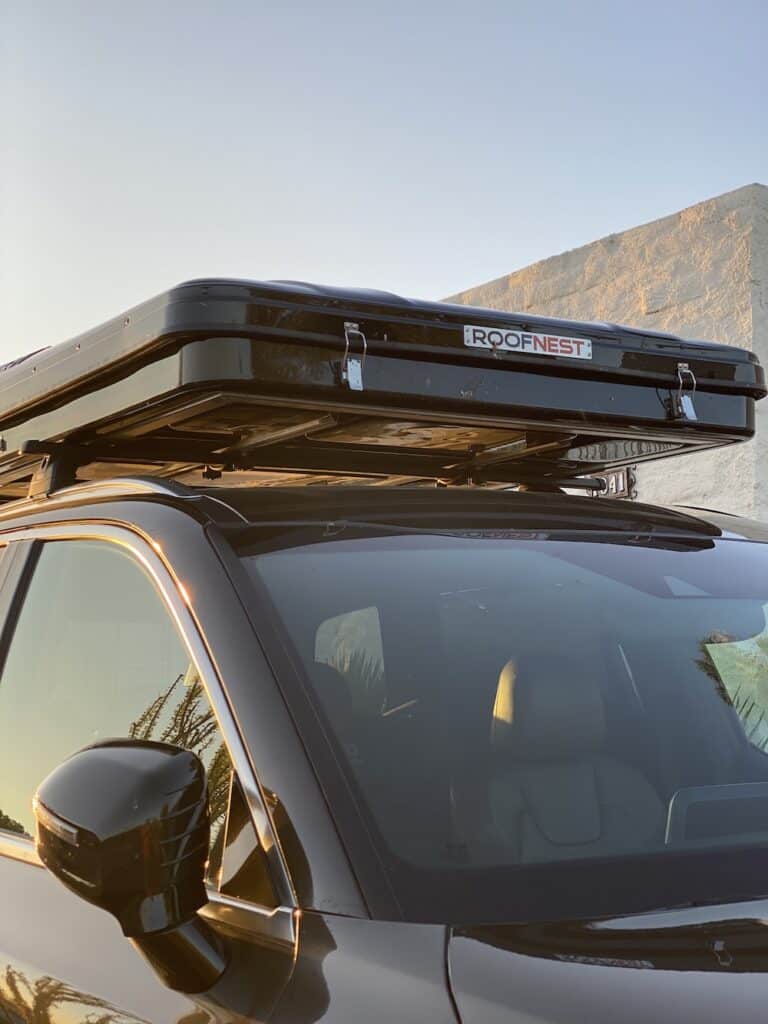 The Roofnest Sparrow is one of the sharpest looking rooftop tents we've ever seen. While closed, the side profile looks smaller than a typical cargo box and is much more aerodynamic than boxy soft shell tents. That means you'll take a smaller hit at the pump.
Nothing interrupts the clean lines of the Sparrow, except for the sleek stainless steel latches.
The tent was secured to the roof of the Telluride with Aero Thule crossbars, so everything was sleek and looked almost factory.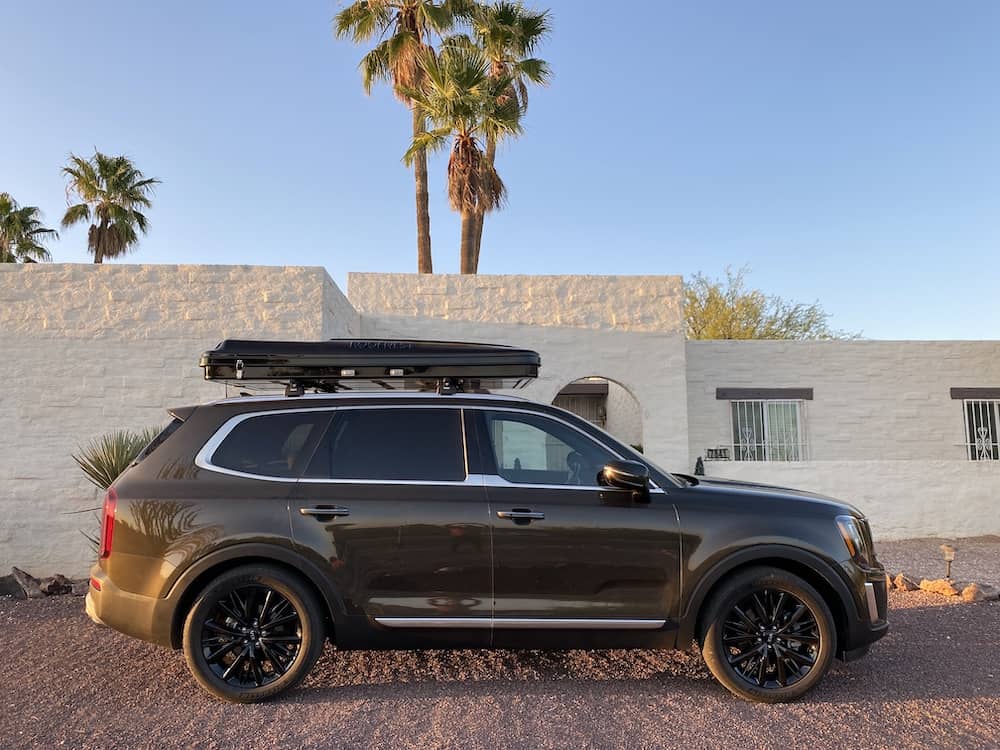 Surprisingly there was very little wind noise from the tent, even at highway speeds. This can be attributed to the fact it's only 11-inches tall when closed and constructed of fiberglass reinforced ABS, so no rattling.
The Sparrow only weighs 130 pounds, which is light for a full-size two-person hard shell tent. Two people could easily lift the tent onto the roof and remove it. Overlanders always have to consider added weight, and the Sparrow is among the lightest in the category.
Setup the Roofnest Sparrow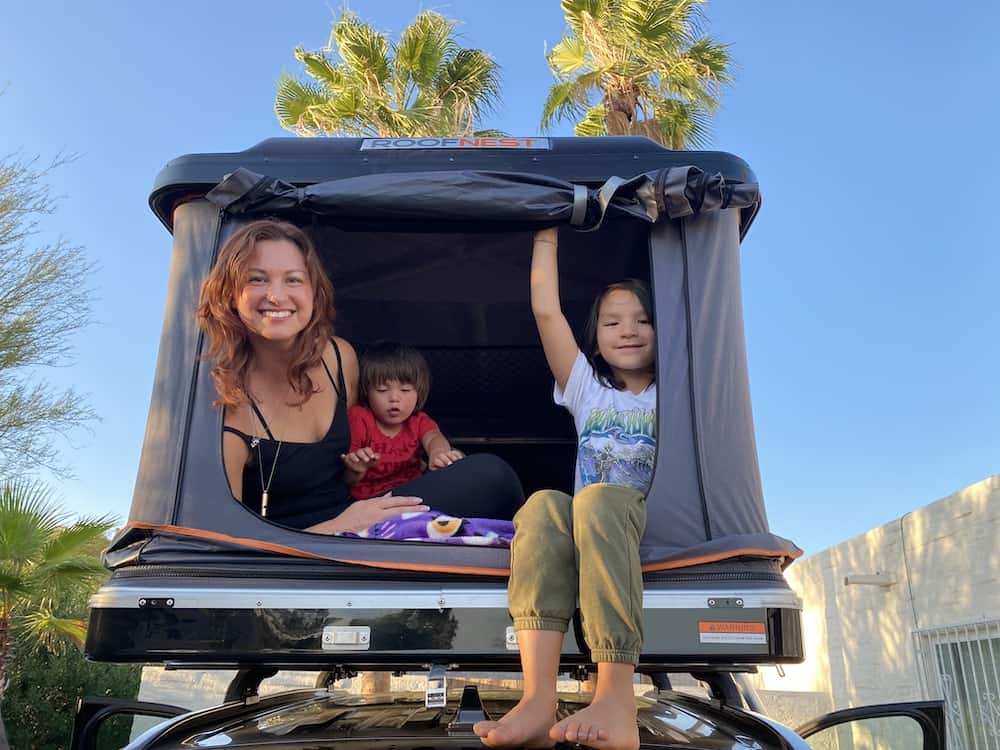 One of the main advantages that hard shell rooftop tents have over their soft-sided siblings, is the ease of opening and closing.
Before opening your Roofnest, make sure your vehicle is on a flat surface. If your vehicle is uneven, then you'll be sleeping at an angle, which isn't always pleasant.
If you need to build up a platform for one or two tires, then try to do that or else consider moving to a different location. You need to prep your location just as you would if you were going to be setting up a ground tent.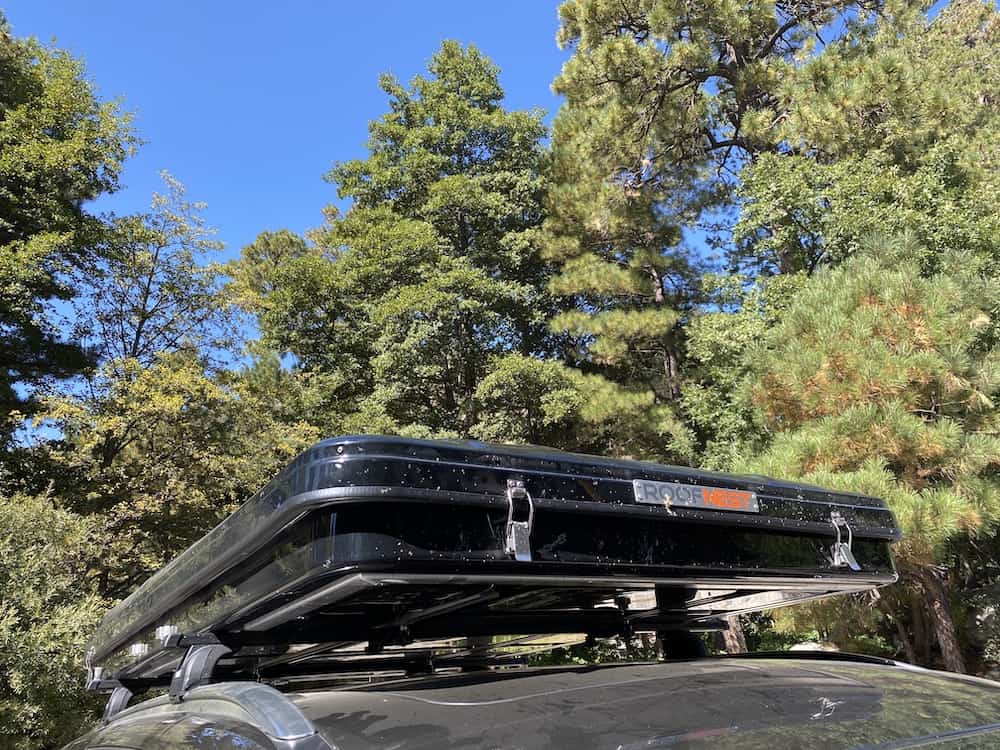 To open the Roofnest Sparrow, you simply open the latches and give the tent a little shove up. The gas-charged struts at each corner will then activate and instantly deploy the tent.
All that's left to do after that is attach the telescoping ladder to the side or back and climb in!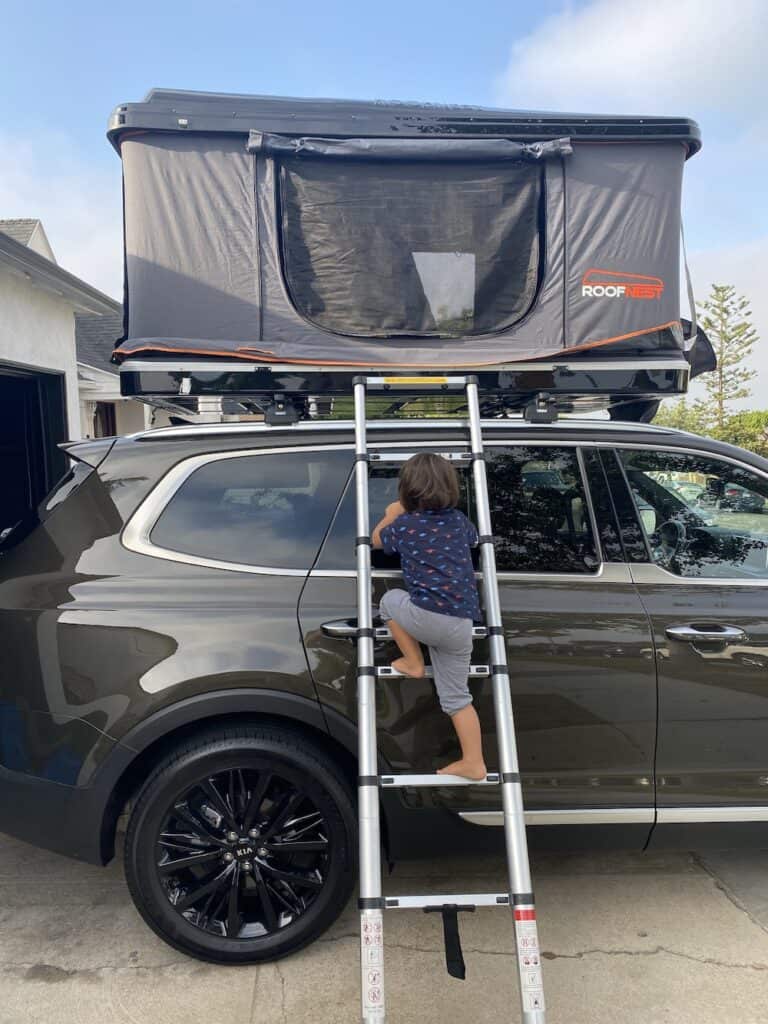 The tent walls are made of 280 gram polyurethane-coated polyester and cotton blend with a waterproof rating of 3000mm (for comparison a typical waterproof rating on a backpacking tent is 1000mm). This means you'll have plenty of protection from the cold, wind, and rain.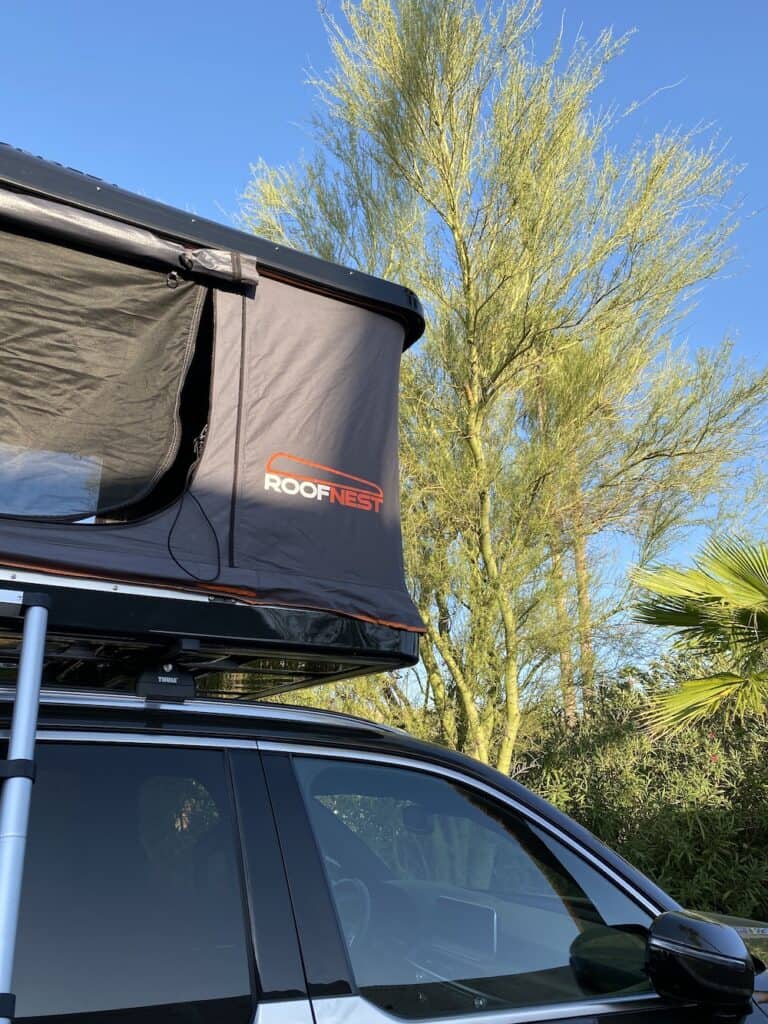 Each window also can be converted to a shade awning using the included awning poles. And, mesh windows allow for cool cross breezes, but keep the bugs out.
Sleeping in the Roofnest Sparrow
After a 4 hour drive through heavy LA to San Diego traffic, we stopped at a primitive campground just outside El Centro, CA (yes, El Centro). The kids were already asleep, but in less than 10 minutes, we had the Roofnest Sparrow open and since they are still small we could easily carry them up the ladder and plop them down on the mattress.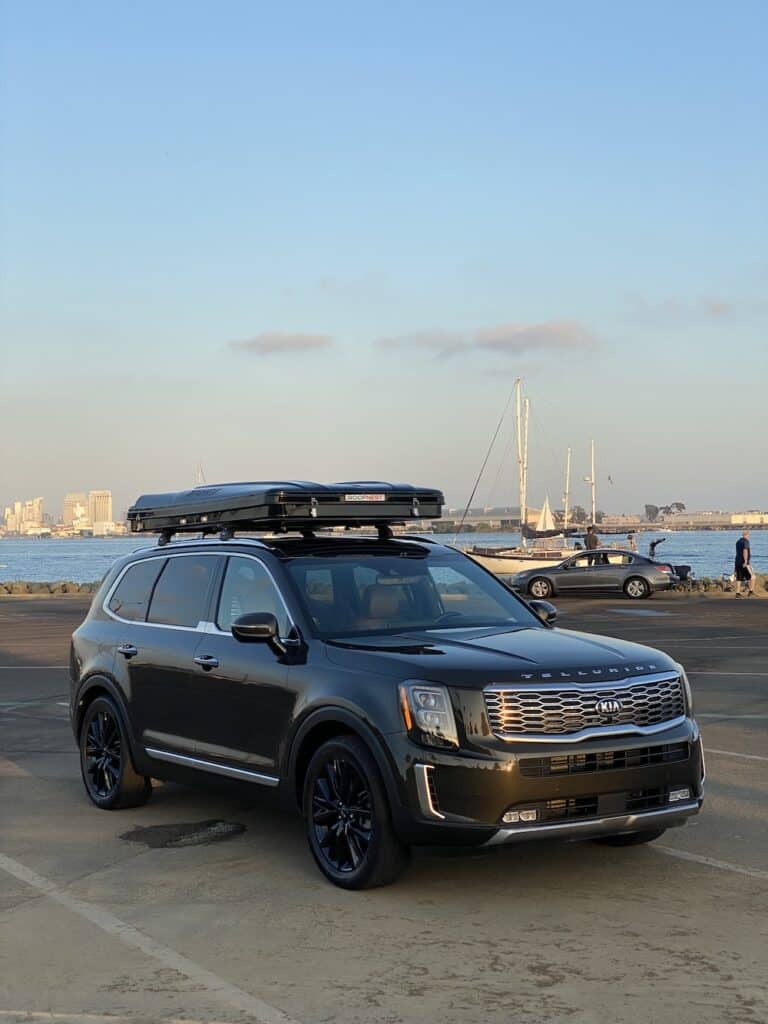 Setting up the 7.5-foot telescoping ladder to access the Sparrow is a cinch. Roofnest has ladder clips on all three sides to suit your needs and vehicle setup.
Everyone slept great for the first few hours, but unfortunately we awoke to the smell of wildfire smoke and decided to make an early exit while it was still dark, which is why we only have this grainy photo of our campsite.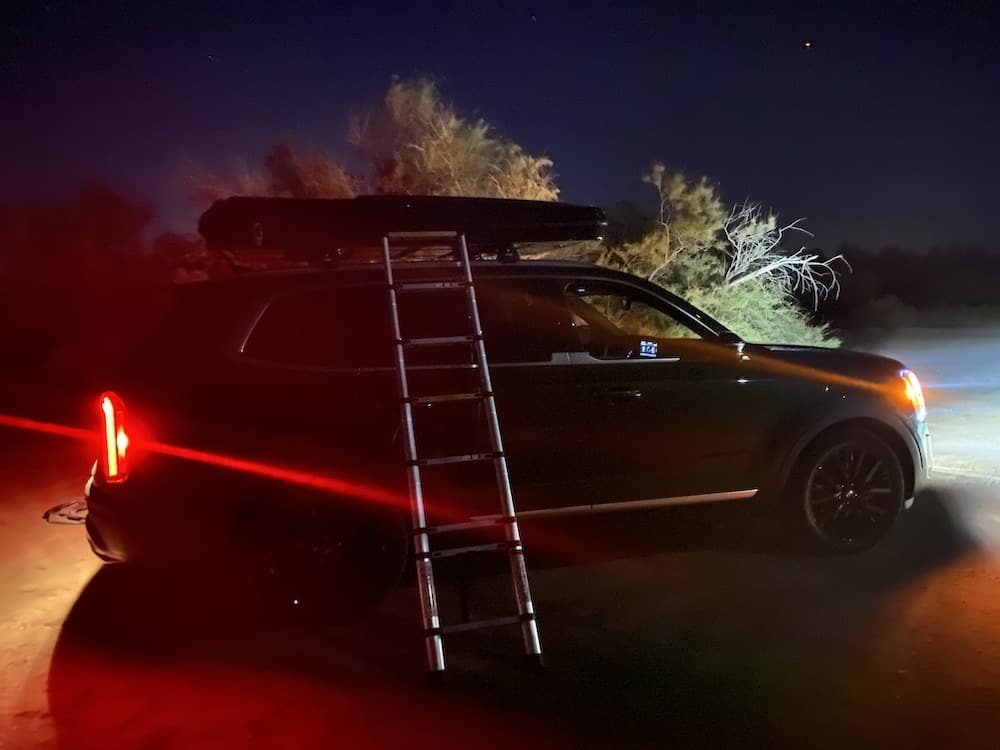 But, once we arrived in Tucson we proceeded to get a full nights sleep in the Sparrow under clean air conditions.
Sparrow Interior
Once inside the Sparrow you'll immediately love the 360 degree views that only a pop-up hard shell tent can offer, and with 40-inches of headroom you won't feel cramped at all.
What makes the Sparrow a winner is the mattress (it's all about getting the best nights sleep). The 3″ foam mattress is custom fit to maximize every square inch of the Sparrow tent floor and is extremely plush. I'm starting to nod off, just thinking of it. I packed it with two sleeping bags and pillows before we left so the bedding was ready to go when we reached our destination and didn't take up room inside the vehicle.
But the secret to maintaining a rooftop tent mattress is to avoid moisture, which is why the Sparrow bed includes an anti-condensation mat that creates an air-permeable layer between the mattress and lower shell. This layer allows for great air circulation and prevents moisture from building up. It also adds a bit more padding for the mattress.
The Sparrow is sold as a 2-person tent, and we comfortably fit one adult and two small kids. If you need a bit more space, you can opt for the Sparrow XL.
Specifications
Here's the full set of specs on the Roofnest Sparrow.
Sleeps: 2
Interior: 83″L x 49″W
Exterior: 85″L x 50″W
Height: 11″ when closed
Max Headroom: 40″ when open
Width left-right between Roofnest mounting rails: 21.5″
Minimum distance front-back between rack crossbars: 28″
Weight: 130 lbs
Included With Tent: 7.5′ ladder, anti-condensation mat, detachable pocket, 4'x4′ ground mat
We were sad to see the Sparrow go at the end of our loan. Camping in a rooftop tent adds a level of adventure to any excursion, and our kids really loved it. Ground tents have their place, but for ultimate on-the-go exploring and overlanding, a rooftop tent can't be beat.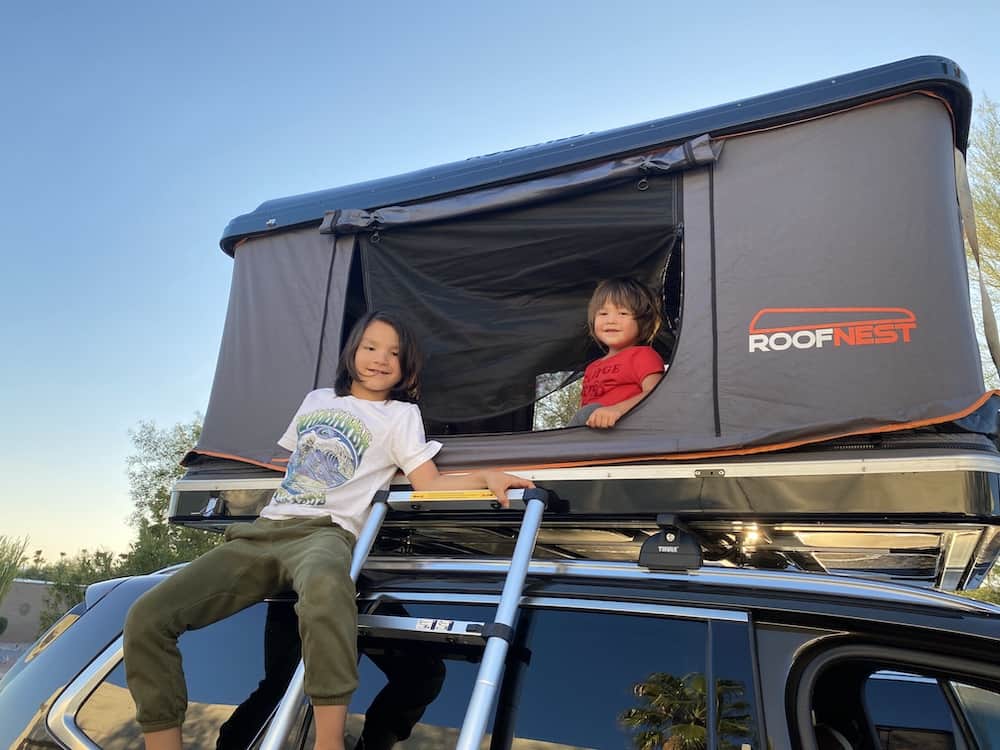 Camping with a hard shell rooftop tent is a very different experience compared to soft sided rooftop tent. If you can swing the budget and have the room for it, camping with a hard shell rooftop tent like the Sparrow is a superior experience.
The Roofnest Sparrow is available to order on their website for $2,895.