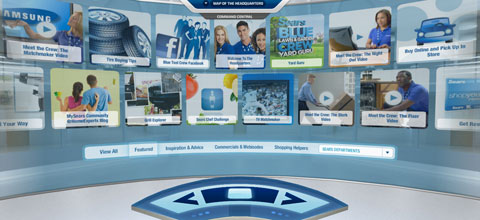 We just got note that the Sears Blue Crew has launched a new website. It looks like it's straight out of Starship Enterprise!
They are calling it the Sears Blue Crew HQ digital platform where "the Sears experts will come to life in both an entertaining and educational way to help customers get all the information they need to find their perfect product."
The Sears Blue Crew folks have received a positive response from in-store customers and they are attempting to replicate this experience online so customers can engage on a personal level with their Blue Crew experts.
There's a ton of information available in easy to see panels such as the Yard Guru, Grill Expert and Craftsman Labs. Plus they've got quite a few how-to videos and help.

Other features include:
Live Greener – Identifies eco-friendly products and services for customers looking to make greener choices
Personal Shopper – Connects customers with a live personal shopper. The iPhone application allows customers to snap a picture of their desired product, send it to Sears' team of personal shoppers and then receive a notification via a phone call or e-mail when the team has found their product
Although its a slick interface and I'm on a fast connection so it runs smoothly, the flash user-interface is going to turn off a lot of folks who either can't run flash on their browser or the application takes too long to load. We'd like to see this in an HTML version or even an iPhone app as we've found ourselves tethered to our iPhone while out shopping and if no Blue Crew person is in site we could access one ourselves via an app.
If you shop Sears or have questions about tools we recommend you visit the Blue Crew HQ (http://www.sears.com/bluecrewhq).