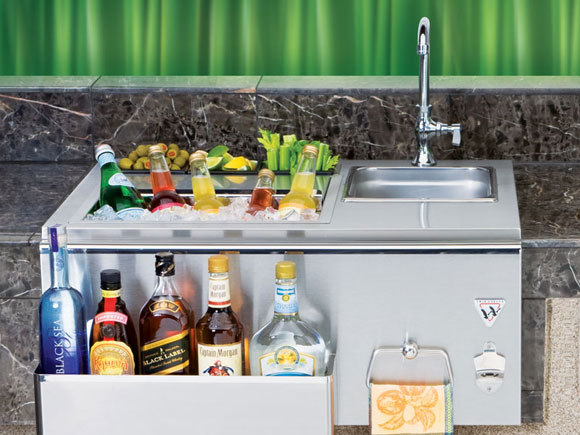 After you've finished prepping your yard and patio for Spring, consider setting up an outdoor bar area to take full advantage of the warm weather. There's nothing more enjoyable than hosting happy hour from the comfort of your own back yard. But forget the keg and six-packs and setup a proper area that is great for socializing and drinking. Here are a few tips that will ensure return visits to your party.
Make it Comfortable – You don't need chairs for everyone, in fact it's best if some people are standing as that encourages conversation and mingling, but make sure that you have enough space for the amount of people you've invited.
Know your Guests – Don't serve beer to a wine crowd, it's as simple as that. You don't need a fully-stocked bar to have fun but make sure that your guests have the drinks you think they'll want. Stocking wine and beer is always safe and for summer parties, sangria and margaritas are always a hit.
Food or Not? – You can keep it simple with chopped veggies and dips or go all out with tasty finger foods. Food isn't always necessary so consider the timing of your party and the mood your guests will be in.
Be Prepared – To keep the party outside make sure you have plenty of cups, napkins and ice. No one wants to keep running inside for supplies.
Music Sets the Mood – Invest in some outdoor speakers and see what a difference music makes to get a party going. Whether you are planning on a dance party or a casual mixer, your music selection will be vital.
Light it Right – Big spotlights don't create warm inviting atmospheres which is the goal with an outdoor drinking area. Think of the coolest outdoor bars you've seen at restaurants or hotels and they all keep the lighting low.
Check the Weather – Rain can spoil a party but if you've got a covered porch it can be a joy to smell and hear the rain on a summer day while unwinding with a nice cocktail. Consider heat lamps if the weather is a bit chilly or add an outdoor fireplace for more warmth and to really set a mood.
What works for you when setting up an outdoor party?