Our intern this year, Lauren, is a design student at Iowa State University and she's done a tremendous job working with us to improve and grow all facets of Charles & Hudson.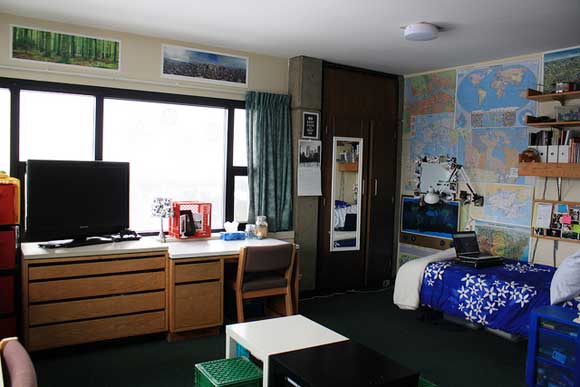 Lauren lives in student housing (dorms) like thousands of other college students across the country. We asked her to provide some small space tips for living in a dorm room that should be required reading for any Freshman but you can also apply to your own small space living situation.
For most people, a college dorm room is the smallest space they will ever call "home." Making a dorm room practical, comfortable, and stylish will allow for more productive studying and for more successful entertainment of others. The following tips will help you turn a generic dorm room into a space you'll love to live in.
1. Purge it
When going through your things to bring in your dorm room, leave out kitschy things without practical or sentimental use. It's no secret that there is very little storage in a dorm and bringing things from home that you won't actually use will make your room seem cramped and messy. Of course, framed pictures and a few sentimental objects should come with you but leave the rest at your parents' house.
2. Use Fabric Wisely
College dormitories don't give you much choice when it comes to the kind of furniture you can use in your small space. To show your personal taste and to create a homey feel, be intentional in buying sheets, duvets, curtains, futon covers and towels in prints and colors that convey who you are and how you want your space to be perceived.
3. Prints, Not Posters
Dorm rooms are no strangers to movie and band posters. Showing your interests on your wall can break up the white paint and create conversations between others on your dorm floor. However, scale is a huge issue when it comes to a small living space. Instead of plastering your walls with 3 foot posters, find the 16 inch versions of the prints and put them in frames to hang on your wall. This improvement will make your space look more like a sophisticated home and less like a cave.

4. Dual Purpose Furniture
Aside from the bed and desk usually already provided in the room, small scale furniture might be able to fit in your room. When choosing furniture, look for things that can be used in at least 2 ways. Lofts that are tall enough to put your desk/sofa under, ottomans with removable lids for storage, futons or small sleeper loveseats, and mini-fridges at heights that can be used as end tables are all great options when looking to bring practical furniture into your space.
5. Extra Lighting
Aside from a fluorescent ceiling light and maybe a small window, most dorm rooms lack sufficient lighting. Make sure you bring at least one task light for your desk. This work light will be very valuable if you stay up to study after your roommate goes to bed. Bringing in a floor lamp will also brighten up the room and make it feel inviting for when you are entertaining your friends from down the hall.
6. Plant Life
Bringing in one or two real plants into your room can really transform the feeling of your space. The boxy, white look of your dorm room can use the homey look of plants to make your space feel inviting and warm. Plants usually need regular water and sun, so don't neglect them if you buy them! If taking care of live plants is overwhelming, try fake plants.
7. Closet Storage
Depending on how your dormitory is set up, you might have a wardrobe or you might have a closet. In either case, you want to get as much as you can from the storage space. Hanging shoe racks can be used, not only for shoes but can also be used by storing folded clothes, cleaning supplies, or extra things that you don't need to be displayed in your room. Plastic drawers are another great way to store in your closet as they come in a variety of size and can be stacked on easily. Look for inventive ways to use every bit of space in your closet area.
8. Work Area
Don't forget why you're living in such a small space, you're working towards a degree! You need the proper supplies and organization of those supplies to do your best in school. A laptop computer, printer, printer paper, pencils and pens, stapler, scotch tape are must-haves. If your desk is large enough, look into buying a shelving unit to rest on top of your desk. This can then store your printer paper, homework that you need to do, and your small office supplies.
9. Space Separation
Creating a furniture layout that allows you and your roommate to have workspace separated from the lounge area can make a large impact on how effectively the space is used. Place the desks and file cabinets on one side of the room and place the lofts with the sofa and television console underneath on the other side. Adding rugs to these separate spaces can also help divide the room. This definition of space will allow you to be more focused when working on school work and give you more area to relax in your room.
10. Cleaning
In such a small space, your dorm is going to get messy quickly. Keep a small broom and small vacuum in your closet to make sure your floor is company-ready. By keeping a container of cleaning wipes, you can easily clean up spills or dust with only using one supply. Making your bed everyday can greatly impact the perception of your room's cleanliness. Tidying your desk every night will make you more motivated to do work the next day. Picking up your space can make it a place you and your guests feel comfortable being in.
Photo credit laceyj