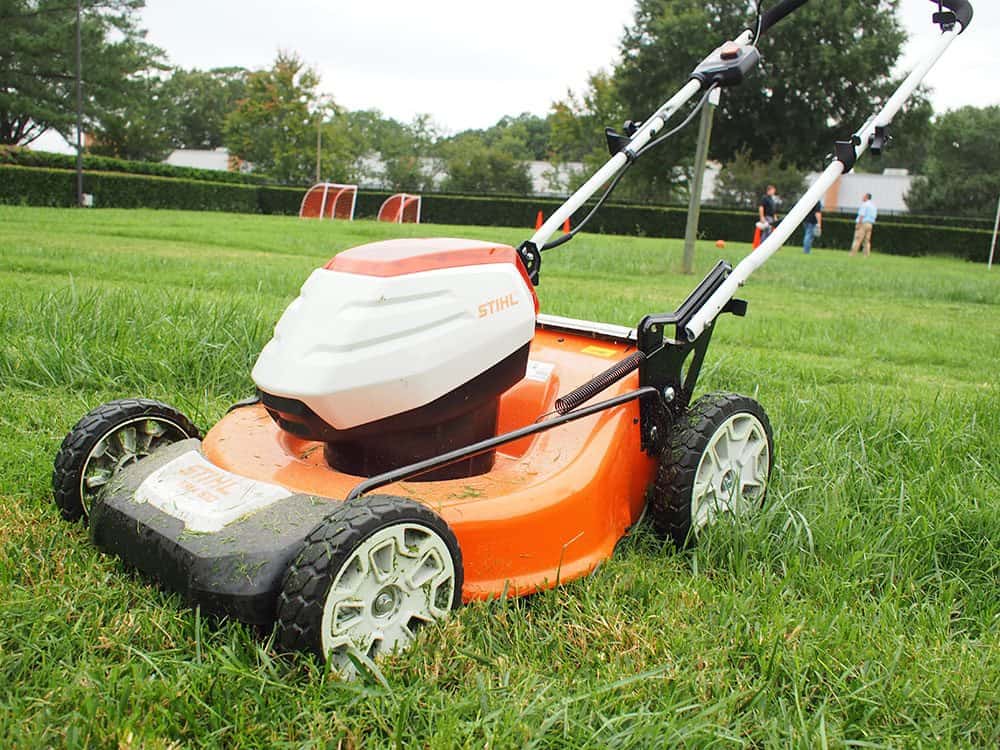 After a few months with our Stihl AP Lightning cordless power tools, our yard has never looked better! When we moved in last year the yard was a complete disaster, but after a few weekends we finally got it under control.
We've always been fans of cordless tools, but when it came to serious yard work we believed that gas was really the only option. Batteries are expensive and we didn't have time to charge and wait or buy multiple batteries. The Stihl Lightning lineup of cordless tools promised extended run times with gas type power, so we took the Single Charge Challenge to see if they were right.
We started with a fully-charged AP 300 6.3 Ah lithium-ion battery and loaded it into our Stihl RMA 510 cordless mower. We don't have a big lawn, but we figured the mower would really draw down the battery compared to a string or hedge trimmer. We weren't pulling punches, and really wanted to put the battery to the test. We did run the test in eco-mode which was more than enough power to mow our lawn. After 20 minutes of mowing we checked the fuel gauge and it was only down one light. We maximize battery life with all of these tools by only running them when we are cutting, trimming, or blowing. At rest the tools is never engaged.
We then moved onto our Stihl HSA 66 hedge trimmer. We needed to cut back on some overgrown oleanders and brush. This task took another 20-30 minutes and after checking the fuel gauge it was still down only one.
Next we used the same AP 300 battery with the Stihl BGA 85 blower. We cleared our entire yard and pool/patio area of debris and then used the blower to clean out our garage and driveway. This finally did it as the blower clocked out at after 25 minutes, which ended up being enough time to finish the job.
We've got extra batteries to finish the job, but we've never had to use them. We have a medium to large size yard at 14,000 square feet (especially for Los Angeles standards), and our Stihl equipment has always been more capable of handling any task around the house.
We recently used the chainsaw to cut down a dead tree and trim it up. This took two batteries, but it was a big job that took about 4 hours to do. We also cut up the tree into small enough pieces that we could easily transport it from the rear of our property to our truck.
We are all in on the Stihl Lightning cordless system. Check out your local Stihl dealer when you are ready to go.
This post is sponsored by Stihl. All opinions are 100% our own. This post complies with the Word Of Mouth Marketing Association (WOMMA) Ethics Code and applicable Federal Trade Commission guidelines.