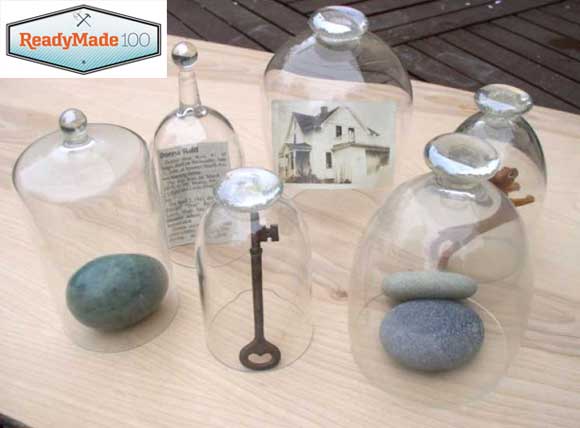 ReadyMade Magazine recently announced a big contest called the ReadyMade 100. This ambitious contest is seeking to celebrate the best 100 projects from around the world of DIY.
They're calling on the DIY community to submit their most "functional, beautiful, interesting, sustainable manifestations of creativity" to enter the contest. From now until December 15 entrants can upload their projects to ReadyMade.com in the following categories: Home & Garden, Food & Entertaining, Design, Craft, Fashion & Style, Culture, Travel & Places, and Technology & Work.

After the submission deadline, readers, whether submitting a project or not, can vote on the projects. Next, a panel of eight expert judges, including Jonathan Adler, Instructables founder and CEO Eric Wilhelm, Grace Bonney of home and product blog Design*Sponge, and DIY Network's Amy Devers will select their favorite submissions. The winner will be named "Main Maker" and will be awarded $500 as well as a three-night stay in New York City, including one night at a ReadyMade 100 party in his/her honor. In addition, the Main Maker's winning project will be featured on the cover of the 2011 April/May issue. To complete the package, the winner will have the opportunity to contribute to ReadyMade's website throughout the year with updates on his/her projects.
A group of Top 50 Makers will also be selected and will receive prizes, including special badges, T-shirts, notoriety, bragging rights, and a spot in the 2011 April/May issue.
Sound good? To enter the ReadyMade 100 annual contest, submit your project using the Project Uploader Tool.
You can check out and vote on all the ReadyMade 100 projects here.
Here's the official announcement from their blog.
If you submit your own project let us know! Good luck!