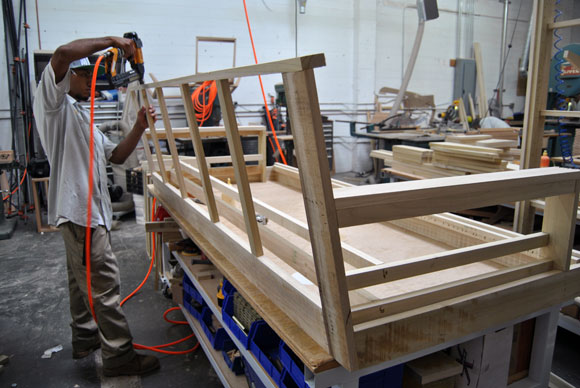 Thrive Furniture is absolutely crushing it! This was my main takeaway after visiting their factory here in Los Angeles where they design, manufacture and ship all product.
Alex Del Toro (Thrive's talented online director and the man responsible for their slick website) gave me an extended tour throughout the Thrive factory as well as their other workshop where they manufacture Versa office furniture and Vanity Girl Hollywood.

According to Alex every product is built by hand in their factory and it was easy to see how true this was. Fabric sewing machines were being used next to the wood workers who were next to the painters who were next to the staplers and on and on. In the course of 10 months they have outgrown their warehouse space and are looking to expand. They can finally keep up with demand but that means rolling back some marketing efforts. Once they have more space and can staff accordingly they should continue to grow.
I feel fortunate to see how they have managed their growth and they also continue to invest in their customer service as one of the larger pieces of machinery they purchased is used almost solely for cutting free fabric swatch samples which otherwise was done by hand. This is a direct investment in their customer's experience with Thrive and it seems to be paying off.