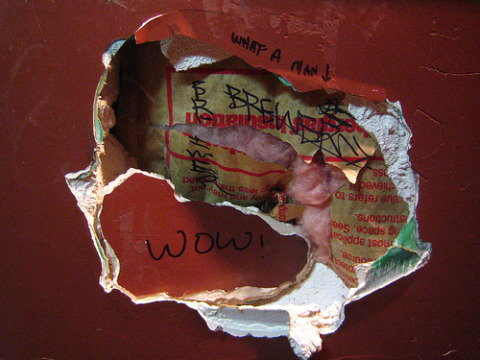 Life delivers plenty of bumps, chips, dents and scratches. To your walls, of course. Who are you calling dented?
What I mean is that the walls of your house take a beating. Furniture gets bumped and pets scratch, leaving all sorts of marks. Kids just seem to walk by and the evidence is plain to see, nicks, smudges, grooves and even chunks left on your pristine drywall.
So how do you tackle these pesky problems?

Black and Blue Blemishes
Smudges and marks can be chased away with rags and a good cleaner. But if your kids are magnets for some sort of ultra strong, tar-like substance (as my kids seem to be), then you may need to call in some help.
Those magical erasers work really well and honestly seem to get off just about anything. The fact that they dissolve in your hand while you're cleaning is… strange. But who can argue with the results. Wear gloves if you use these products.
The First Cut is the Deepest, Until the Second Comes
Nicks, dents and grooves may require a bit of drywall compound (a.k.a. mud). Make sure you sand the area down beforehand to help the mud attach well.
Apply using a 3″ or 4″ spreader and press firmly to make sure the material gets inside the scratch or dent. Most of the time, you'll only need one coat. If an especially deep part stays soft, wait 24 hours and apply a second coat.
After it has time to dry, sand well and prime or paint as you like.
Major Catastrophes
If someone or something, um, goes through the wall, you'll need to resort to a more extensive method of repair. Holes happen and they're probably easier to fix than you think.
Check out this post from the past that includes a bunch of helpful links for drywall repair.
So when life puts a few dents or marks in your walls, don't panic. Put on your work clothes and get moving. Soon, all will be good as new.
But for how long?
photo courtesy of flickr/rick