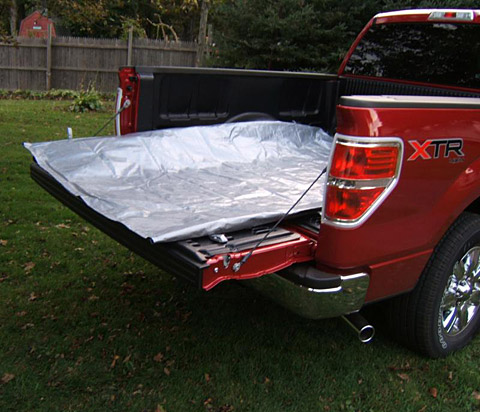 If you're hauling plywood or drywall in the back of your pickup or open trailer, it's best if the materials stay dry and out of the elements. This can be a problem living in the Pacific Northwest or somewhere that rains and snows often and you don't have a covered cab.
An enterprising woodworker named Lloyd Kerry has a solution he calls the Kerry-All Pouch. They come in a variety of sizes and will fit drywall, plywood sheets, pallets and even cover a mattress. They range from – Canadian dollars.

Kerry-All Pouches are made from woven polyethylene, 10 x 8 weave, with a thickness of 11 mil. They are silver on the outside and black on the inside, with a Velcro opening that is easily opened and closed. The silver outside is treated with an ultraviolet inhibitor to prevent premature aging in sunlight.
If you are tired of using plastic wraps or messing with tarps, the Kerry-All may be a great solution to your transportation needs.