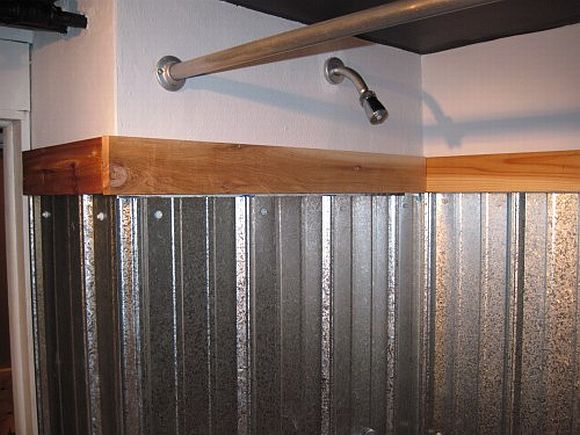 One of the best things about DIY is that by tackling projects yourself, you can typically save a lot of money as opposed to calling in a contractor. Of course, sometimes you need a professional to finish the job, but if you can manage something on your own, you'll definitely notice more freedom in your budget.
In addition to performing your own labor, searching out unconventional building materials can also save you big bucks. Instead of buying a couple walls' worth of tile for a bathtub surround, for example, try installing a sheet of galvanized steel.
We can't get enough of this project, introduced to us by our friends at Shelterrific [www.shelterrific.com]. Their inspiration? The pages of Country Living magazine!

We can definitely see this look in a country abode or farmhouse, but it would also look fantastic in an industrial loft space.
Catherine and Jarrett of Bungalow Bungahigh [http://bungalowbungahigh.wordpress.com] installed a galvanized steel shower surround and we culled a few tips from their informative how-to.
*When you're shopping for sheets of corrugated steel, be sure to add about 5 to 10 percent to your desired length.
*Use polebarn screws to attach the steel to the wall. They include a self-sealing rim around the head of the screw to ensure you've created a watertight seal–a very important component when dealing with showers!
*Other supplies you'll need: Trim (a light plywood, perhaps) since the steel won't sit flush against the wall; caulk, aluminum flashing and a can of Rust-Oleum's Rust Inhibitor, which you can spray on the steel to create a protective seal.
What's your take on the galvanized steel shower surround? Do you like industrial chic, or would you stick with tile?
Photo courtesy of Bungalow Bungahigh