Recently, we were filling out an application for a building permit that required a recent floor plan of our home to illustrate the changes we wanted to make. When we found the blueprints provided to us when we purchased the home we were surprised to find that they were older than we are!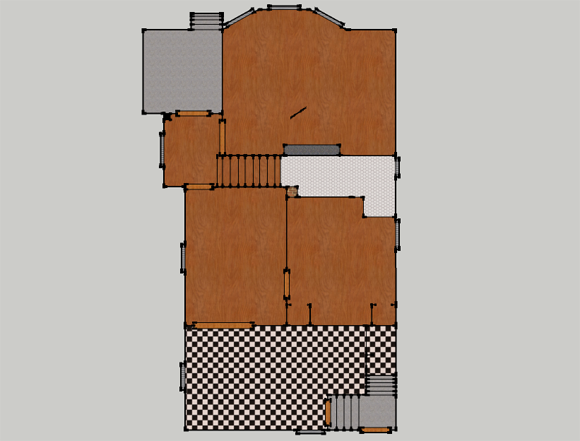 Not only were walls in nearly completely different places, our entire kitchen wasn't on them — apparently where we now cook our meals used to be the back porch, and where our master bedroom is now is the old kitchen. Slightly more than embarrassed about this fact, we went on the lookout to find a quick and simple way to informally update our floor plan not only for our permit, but for our own personal records.
We know that many people use Google SketchUp to assist them in their home improvement projects, but we had actually never really taken the time to sit down and learn the program even at it's most basic level. To be completely honest, we were a bit intimidated by the whole thing — without much architectural expereince to guide us, we thought we'd be lost in a sea of confusing terminology and complicated equations. Ever the eager learner, we decided there was no time like the present to gain a new skill!
After measuring every wall, window, doorway, hallway, and closet, we sat down with SketchUp and watched nearly every tutorial video, while also searching out written step-by-step guides for reference. We only wanted a 2D model for the task at hand, which cut down a great deal of time both designing and tinkering with the image (though we'd love to arrange furniture and create a virtual tour of our home someday) though it was fun to play with the different textures and floor coverings to help delineate space.
For a complete beginner at this program it did take us the better part of an afternoon to get the hang of SketchUp, but now we're confident we can update our home's floorplan whenever the need arises, or just whenever we want to see the improvements and changes we've made over the years. We can't wait to catch a few extra hours to play around with the features and 3D settings, though that'll probably have to wait until our holiday prep projects are complete.
What are your experiences and favorite parts or tricks with Google SketchUp? Share your wisdom in the comments below!