The key component to our laundry room makeover was of course the appliances. Our previous units were at least 10-15 years old and still worked! But they lacked all of the energy and water saving features that modern washers and dryers have.
We also knew that with a new baby in the home we'd be doing a lot more laundry and different types of laundry so we needed more bells and whistles from our washer/dryer.
When shopping for these units the colorful Samsung and Electrolux really caught our eye but when it came down to overall features and reliability we went with the Whirlpool Duet models. Specifically the 4.3 Cu. ft. front loading washer and the 7.4 Cu. ft. gas dryer.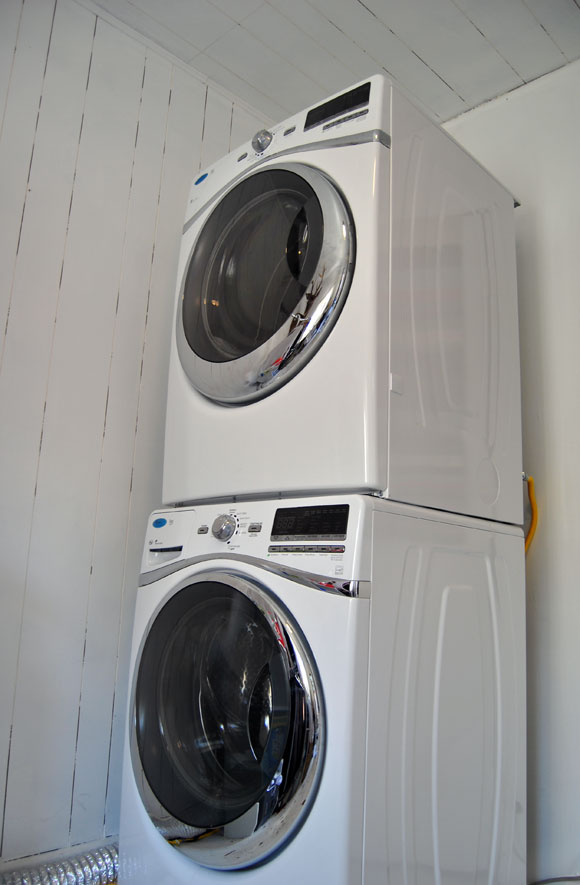 We've never had front-loading appliances but we wanted to make the best of our space so stacking was the best option. We did have to change the door swing out direction on the dryer to match the washer but it was very straightforward and only required a phillips screwdriver.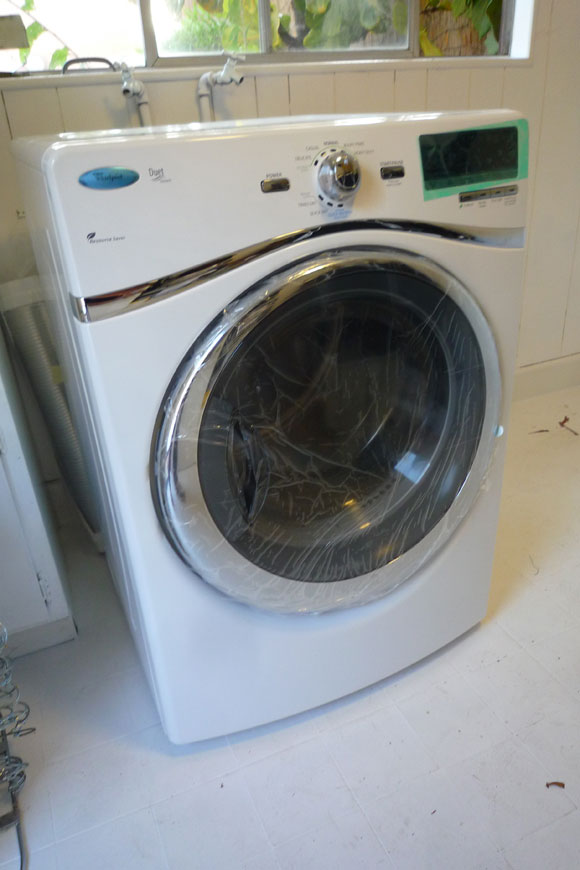 Once these units arrived the Lowe's crew helped us install them and even shared a trick of the trade, spray Windex on the floor to help you slide them easily across the floor. This will save your back and the floors.
Among the features of these units that really made sense to us on the dryer were the steaming capabilities and quick dry. It also pays to make sure you know how to use the proper settings as this will ensure you are saving energy and getting your clothes to turn out just as you like them.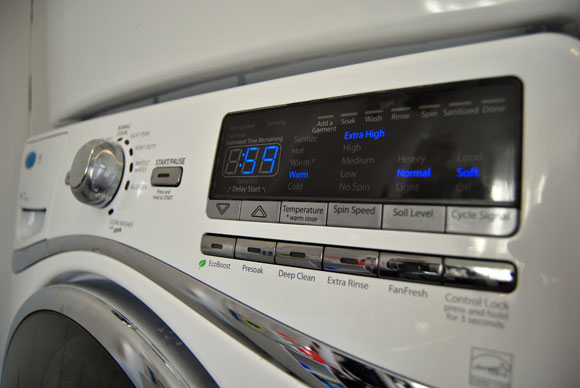 The washer is also very energy efficient and only uses the exact amount of water you need by "sensing" each load. It's also got a helpful wash now/dry later feature that allows you to wash clothes but then come back a few hours later to dry. It will keep refreshing the load so it doesn't just sit in the washer wet.
We've been using the Whirlpools for a couple months now and maybe it's just in our heads but our clothes are definitely feeling fresh and don't get as wrinkled. The washer only uses HE detergent which is important because it results in both energy and water conservation.
HE washers use 20% to 66% less water than a traditional agitator washer, and because there's less water to heat, HE washers use 50% to 80% less energy. Due to their low water wash and rinse cycles, HE washers work best with an HE detergent that is low-sudsing and easily rinsed away.
We always recommend any appliance or technology that makes life easier and the Duet washer and dryer from Whirlpool definitely upgrades your life. You can check out these units at any Lowe's store where they will have knowledgeable staff to help you make your decision